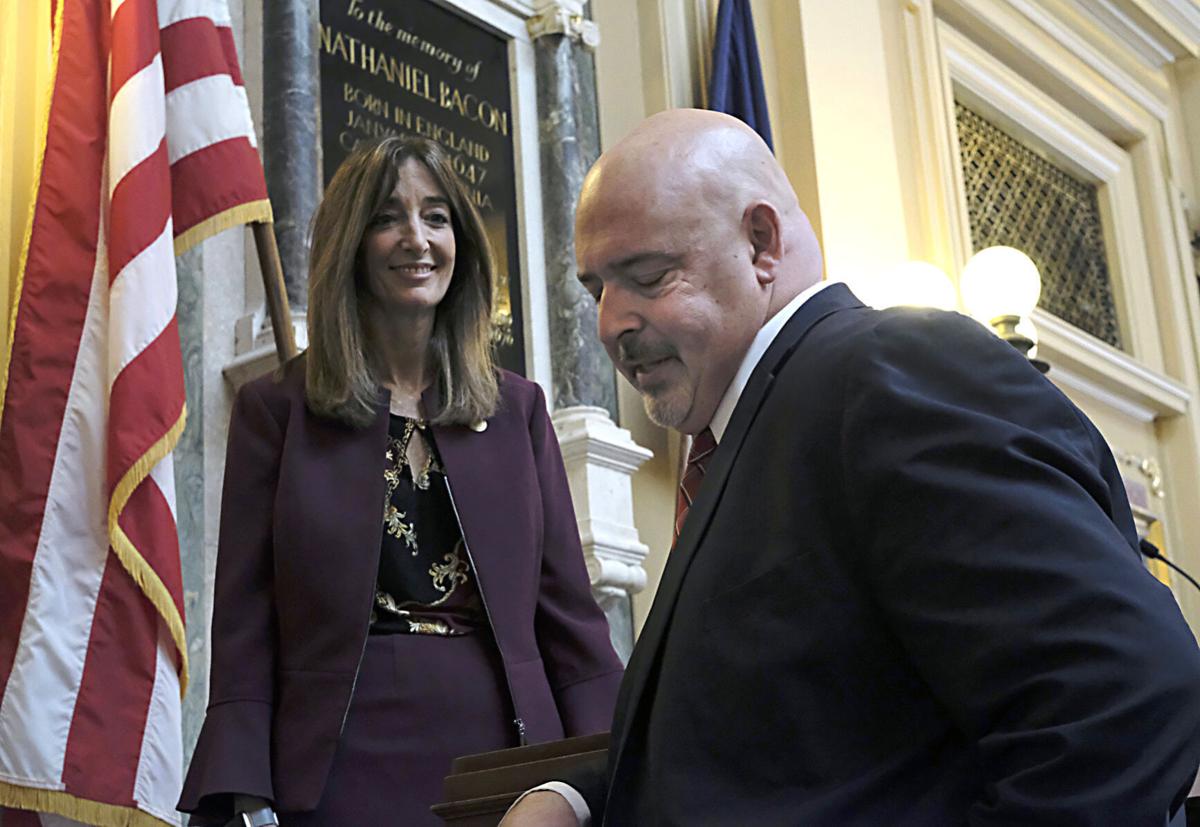 House Speaker Eileen Filler-Corn isn't conceding the loss of the Democratic majority in the House of Delegates, despite a Republican surge to a 52-48 seat advantage in the wee hours of Wednesday morning.
Filler-Corn, D-Fairfax, said she is waiting for final results in at least two House races - one in Hampton and the other in Virginia Beach - in which the margin of Republican victory was less than 1 percentage point of the vote in elections on Tuesday.
"While the results across the Commonwealth were not what we were hoping for last night, we have several races that will determine the majority that are still within the margins with votes still to be counted until Friday," she said in a statement on Wednesday. "We are going to make sure every Virginian's voice is heard and every vote is counted."
Filler-Corn, who won a seventh term in the 41st District, is hoping to avoid the same fate as her predecessor, former Speaker Kirk Cox, R-Colonial Heights, who was limited to two years in the long-coveted position before Democrats seized the majority two years ago.
If Republicans hold their new majority after vote canvassing and possible recounts, they will face a contest for speaker to succeed Filler-Corn.
House Minority Leader Todd Gilbert, R-Shenandoah, is seeking the job, but so is Del. Terry Kilgore, R-Scott, who lost the position of House floor leader to Gilbert in a caucus vote two years ago.
Democratic hopes rest on the narrow losses suffered by Del. Alex Askew, D-Virginia Beach, who appeared vulnerable going into the election, and Del. Martha Mugler, D-Hampton, who did not.
Askew lost to Republican Karen Greenhalgh by 202 votes in District 85 and Mugler fell to Republican A.C. Cordoza by 272 votes in District 91, according to unofficial totals reported by the Virginia Department of Elections.
Filler-Corn also is relying on Del. Kelly Convirs-Fowler, D-Virginia Beach, to retain her victory over Republican Tanya Gould in the 21st District, which she won by 234 votes, also less than 1 percentage point.
"Mugler shocked me," said Chris Saxman, a former Republican delegate who now serves as executive director of Virginia FREE, a politically influential business organization.
So did Republican Kim Taylor's upset victory over Del. Lashrecse Aird, D-Petersburg in District 63, which pushed the GOP into the majority about 1:40 a.m. on Wednesday, after the delegate appeared to have survived to win a fourth term.
Taylor, a lightly funded first-time candidate, was trailing by 324 votes late Tuesday, but ended up winning by 741 votes. Her campaign raised about $250,000, compared with $1.3 million for Aird.
She won by wide margins in Chesterfield and Dinwiddie counties to overcome Aird's lead of 6,185 votes in heavily Democratic Petersburg.
Taylor, who lives outside of Petersburg in Dinwiddie and owns a pair of automotive repair shops with her husband, said early voting in Chesterfield put her over the top when they were counted.
"Republicans came out and voted early," she said.
Saxman said he was surprised by "a very non-traditional shift in the outcomes," with some of the seemingly most vulnerable Democrats winning comfortably in suburban districts, while others, such as Mugler and Aird, lost in less prominent races in more working-class areas.
"It's largely cultural," he said.
Taylor agrees, citing concerns in her district about education and small businesses, after the COVID-19 pandemic severely restricted both, as well as public safety in Petersburg.
She said district residents "were desperate for representation" because Aird didn't listen to their needs and concerns.
"She voted her own agenda," Taylor said. "She voted with the far left at every opportunity. People were fed up with it."
Yet in western Henrico County, Democratic Dels. Rodney Willett and Schuyler VanValkenburg, were at the top of the Republican list of targets, but won re-election by convincing margins after votes cast early were counted, late on Tuesday.
VanValkenburg faced a surprisingly stiff challenge from Republican newcomer Chris Holmes, but the incumbent won a third term by nearly 2,000 votes in the 72nd District.
Willett won a second term in the adjoining 73rd District, defeat in Republican Mary Margaret Kastelberg by more than 1,300 votes - roughly the same margin in his victory over her two years ago, when Democrats seized a 55-45 majority.
"That was an extraordinary campaign, for him to give no ground after the statewide [Democratic] ticket lost 10 points from 2020," Saxman said.
Del. Dawn Adams, D-Richmond, also appeared vulnerable in her race for a third term against Republican Mark Earley Jr., son of a former attorney general, state senator and unsuccessful GOP gubernatorial candidate.
With three precincts out, Adams won by more than 2,700 votes in District 68, relying on a big 4,550-vote cushion in Richmond precincts to offset Earley's 1,731-vote margin in Chesterfield, as well as small edge in a handful of Henrico precincts.
On the Republican side, Del. Roxann Robinson, R-Chesterfield, held a seat that Democrats had hoped to flip, winning by more than 1,400 votes over Democrat Debra Gardner in the 27th District. Robinson had survived two challenges by less than 200 votes each to Democrat Larry Barnett, but that was while President Donald Trump was in the White House.
Colonial Heights City Councilman Mike Cherry defeated Democrat Katie Sponsler by 1,700 votes to hold the 66th District seat vacated by Cox, who did not seek re-election in order to run for the GOP gubernatorial nomination, finishing fourth.
Other results in the Richmond area were unsurprising. Del. Betsy Carr, D-Richmond, won a seventh term in the heavily Democratic 69th District with 85% of the vote against Republican Sheila Furey.
Del. Carrie Coyner, R-Chesterfield, won a second term in the heavily Republican 62nd District by 4,800 votes over Democrat Jasmine Gore.
The other Democratic seats that Republicans flipped were held by Del. Roslyn Tyler, D-Sussex, a 15-year veteran who lost a rematch to Republican Otto Wachsmann in District 75; Del. Nancy Guy, D-Virginia Beach, who lost to Republican Tim Anderson in District 83; Del. Chris Hurst, D-Montgomery, who lost to Republican Jason Ballard in District 12; and Del. Josh Cole, D-Fredericksburg, who lost to Republican Tara Durant in District 28, that had been long held by then-Speaker Bill Howell, R-Stafford, before he retired in 2018.
Kilgore managed the House campaigns this year and appears to have a close relationship with Gov.-elect Glenn Youngkin, who defeated former Gov. Terry McAuliffe to end a 12-year drought for the GOP in victories for statewide office in Virginia.
"It is time for fresh leadership and leadership that will keep and grow our new majority," Kilgore said in a news release on Wednesday.
Del. Barry Knight, R-Virginia Beach, senior Republican in line to chair the House Appropriations Committee, isn't taking sides publicly in the leadership contest between Kilgore and Gilbert.
"I want unity within our caucus," he said in an interview on Wednesday, a day after winning a seventh full term in the 81st District.
Knight won by more than 16 percentage points this year, compared with a little more than 4 percentage points two years ago, when Democrats won control.
"We had the wind in our faces last time," he said. "We had the wind at our backs this time."