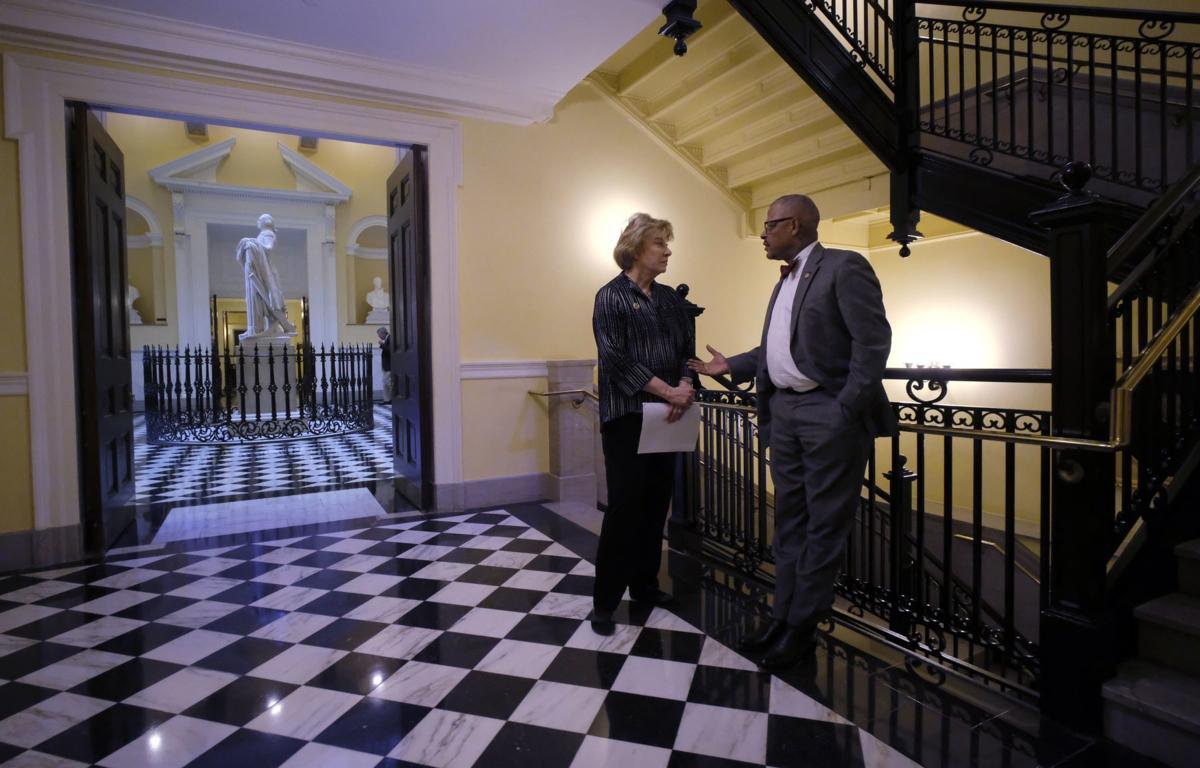 More than six months after the General Assembly adjourned with a biennium budget, legislators are closer to adopting a new state spending plan to consider lost revenues and new priorities brought on by the coronavirus pandemic.
The House Appropriations and Senate Finance committees tasked with writing the budget unveiled new and revised spending measures Friday, six weeks after the legislature went into a special session to primarily focus on coming up with a new budget. Changes to the budget are primarily aimed at K-12 education and child care, higher education, health care, housing and evictions, broadband, and criminal justice and police reform.
"This budget is still a great budget for the people of Virginia," said Sen. Janet Howell, D-Fairfax, chairwoman of the Senate Finance Committee.
After the legislature left Richmond in March, it had a $135 billion budget. Gov. Ralph Northam froze new spending measures, and he put forward proposed changes before the special session that reflected a $2.8 billion shortfall in revenues as a result of the economic fallout from the pandemic.
"This is a special session, and this is not our last opportunity," Del. Luke Torian, D-Prince William, said. "It's my hope that when we return in January, the economic environment will have stabilized and we can make further strides toward addressing our priorities."
The legislature will return for its regular session in January to work on another revised budget.
School officials at divisions have expressed being overwhelmed with providing a quality education to children with schools closed or children only attending in-person classes a few days a week and online on other days. The House budget calls for allocating $95 million from new tax revenue from electronic gaming machines to K-12 public schools to backfill reduced sales tax revenue.
There's a proposal to put a halt to adjusting state funding to schools based on new average daily membership. The number of students sitting in desks is counted at different points throughout the year, and that information is used to determine how much state funding the school gets. The new student membership tally will be done in December.
Enrollment has declined at schools across the commonwealth when parents found alternative learning options for their children. The pause on using any new student counts for state payments will allow the legislature to deal with the issue during the regular legislative session.
The Senate budget also would provide a 2% bonus for state and state-supported local employees and teachers.
The House's plan would allocate $210 million in federal aid to provide additional unemployment benefits to people who lost their jobs because of the pandemic or help deal with the shortfall in the state's unemployment insurance trust fund.
Both the House and Senate also would provide $11 million to provide a $20 per day Medicaid stipend to skilled nursing homes through March to help them maintain staffing while they try to safely provide care to residents at a high risk of contracting the coronavirus.
The House and Senate will pass their own versions of the budget and then work together on agreeing to a final spending plan.
The House and Senate are still working out which criminal justice and police reform bills they want to send to the governor. The chambers have been divided on some proposals that come with different price tags.
Citing the concern about the potentially high cost, the House Appropriations Committee slapped a reenactment clause on a bill from Sen. Joe Morrissey, D-Richmond, that would allow judges rather than juries to sentence defendants in jury trials, so the General Assembly will have to pass the bill again next session for it to go into effect.
The House panel also tweaked a massive police reform Senate bill to remove language that would have withheld state funding for police departments if they don't gather and report certain data, like use of force and traffic stops.
"I don't want the Virginia public to believe we want to reduce police funding," said Del. Mark Sickles, D-Fairfax, who proposed the change.
The bill's sponsor, Sen. Mamie Locke, D-Hampton, pushed back on the change, saying if police comply, they'll get their funding. Sickles said he was confident if police are mandated to provide data, they will do it. Localities provide most of the funding for police departments, while this state funding is a small additional amount.
"There must be a way to hold people accountable," said Del. Delores McQuinn, D-Richmond.
The Senate Finance Committee has proposed a one-time $500 bonus for Virginia's police officers. Howell said the proposal would signal support for law enforcement as the legislature moves forward with police reform measures.