There will be an empty chair when the Virginia Senate convenes for the 2021 session because there isn't time to determine a replacement for Sen. Ben Chafin, who died Friday of complications from COVID-19.
Gov. Ralph Northam doesn't have the authority to appoint a temporary replacement to the Virginia General Assembly, unlike a vacancy in a U.S. Senate seat. He does have the authority to call for a special election. So far Northam has not indicated when a special election will be called.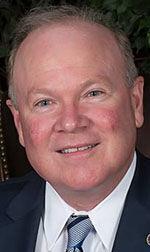 State law prescribes, "The governor shall issue a writ of election to fill the vacancy. If the vacancy occurs during the session of the General Assembly, the Speaker of the House of Delegates or the President pro tempore of the Senate, as the case may be, shall issue the writ unless the respective house by rule or resolution shall provide otherwise."
Chafin, 60, was a lawyer and farmer from Russell County.
Since 2014, he represented the 38th Senatorial District, which includes Bland, Buchanan, Dickenson, Pulaski, Russell and Tazewell counties, the cities of Norton and Radford as well as portions of Smyth, Wise and Montgomery counties.
The General Assembly is scheduled to convene Jan. 13 for what is expected to be a 30-day session, shortened after extended special sessions in 2020.
The state Senate is schedule to resume meeting in person at the Virginia Science Museum in Richmond, where desks are physically distanced and access is restricted, to limit the possible spread of the virus.
The 100-member House of Delegates met virtually during last year's special session and that is expected to continue.
Additionally, the Pocahontas Office Building, which houses legislative offices, is to only be open to legislators and legislative employees during the session, due to COVID-19. However, a state senator from Virginia Beach, Bill DeSteph, has filed a lawsuit challenging the closure to the public. DeSteph said in a news release Friday that the court had agreed the office building should be open to the public during the session as a First Amendment matter. However, a final ruling is pending in federal court.
State Sen. Todd Pillion, R-Abingdon, said Monday the remainder of the Southwest delegation will work to carry on in Chafin's absence.
"The Southwest Virginia delegation is a close group and will handle all his legislative priorities as needed," Pillion wrote in a Monday text message.
As a senator, Chafin also served as a member of Senate committees on Education and Health, Judiciary, Privileges and Elections, Rehabilitation and Social Services.
He also served on many state boards and commissions, including the Tobacco Region Revitalization Commission, Virginia Commission on Coal and Energy, Southwest Virginia Health Authority, Southwest Virginia Cultural Heritage Foundation, Southwest Virginia Higher Education Center Board of Trustees, Southwest Virginia Public Education Consortium Governing Board and Subcommittee on Agriculture.