MADISON — Bob Good, the Republican candidate vying for Virginia's 5th Congressional District seat, held a closed-door meeting with central Virginia pastors in Madison County on Tuesday after canceling a similar event in Charlottesville the day before.
Billed as "Pastor Summits," by Good's campaign, the self-described "Biblical conservative" candidate initially scheduled six events over the course of three days this week across the sprawling central Virginia district, which includes Franklin County and part of Bedford County.
The first event had been scheduled for Tuesday morning in Charlottesville but, according to Good, was canceled due to lack of local interest and folded into the Madison County event held later in the day.
Journalists are not allowed into the summits because the events are tailored to pastors and are trying to stress "the importance of this election," Good said.
"We're trying to inform pastors on the importance of the election, on the importance of making sure folks are registered to vote and to participate and to make sure they understand the freedoms that we do have in this country as it relates to religious expression and our constitutional rights to support candidates," Good said.
An Eventbrite page for the Charlottesville event said that Good was holding the meeting to inform churches about new laws passed by the state legislature that would impact churches.
"Bob Good, candidate for Congress in the Fifth Congressional District, is concerned about the impact these new laws will have on places of worship, Christian daycare centers, church employment practices and the preaching of God's word," the now password-locked event page read.
Listed topics included: what churches can do to protect themselves from lawsuits; where the next attack on religious liberty will originate; when to make the decision to protect your church; why documenting church policy is so important, including what the Bible says about specific issues; and how to support godly candidates during and after the campaign season.
Tuesday morning, protesters associated with Indivisible Charlottesville gathered outside Connect Church where Good had been set to appear.
A news release from Indivisible Charlottesville said that the protest was prompted by Good's belief that "laws preventing discrimination on the basis of gender or sexual orientation are a violation of his own religious freedom."
Tuesday afternoon, seated in a folding chair outside Fellowship Baptist Church in Madison County, Good answered questions following the Madison event.
When asked his stance on the Virginia Values Act, a recently passed law that extends protections against housing and employment discrimination to LGBTQ individuals, Good stressed his belief in religious freedom.
"I don't believe the government has any constitutional authority over religion and so I will stand up and fight for religious freedom," he said. "I think that's very important to stand up and fight for the religious freedoms of individuals, as well as charitable organizations, as well as ministries and churches."
When asked specifically whether he supported the portion of the law that relates to anti-discrimination protections for LGBTQ individuals, Good said he was guided by Christian scripture to love all people but was concerned about the impact the law could have on religious organizations.
Good later said he believes those who drafted the U.S. Constitution were men of faith guided by Judeo-Christian values and "divine inspiration to provide the protections that allow folks to peacefully protest."
"The violence that we see on display in our cities and the Marxism that they're celebrating around the world would not permit them to protest the way they are protesting here in our country," he said.
As first reported by The New York Times, an invitation to the summits attributed to Travis Witt, a former state Tea Party official, included inflammatory and offensive language directed at transgender individuals. Good said the invitation was not sent by his campaign and he had not seen the language prior to the Times story.
During the lead-up to the 5th District Republican convention in June, Good attracted attention for comments he made arguing that his then-opponent, Rep. Denver Riggleman, should not have officiated a same-sex marriage.
Good said this was only one of the reasons he decided to run , accused the media of portraying him as a single-issue candidate and said he does not sense a division among 5th District Republicans.
"When I declared my reasons for running and as I spoke throughout the campaign, we contrasted my views on my previous opponent's voting record in Congress and our difference in positions," he said. "The media chose to try to conveniently make it about one issue."
Dr. Cameron Webb, Good's Democratic challenger, condemned Good's views, saying Good's rhetoric is inconsistent with the values of the district.
"I strongly oppose any effort to weaponize faith to marginalize, denigrate, or oppress any American," Webb wrote. "The discriminatory and hateful rhetoric Mr. Good is employing in his effort to rally support for his candidacy not only reflects poorly on him and his campaign, but also on our Christian faith."
Photos: Indivisible Charlottesville protests against congressional candidate Bob Good
20200818_cdp_news_ Bob Good protest 044.JPG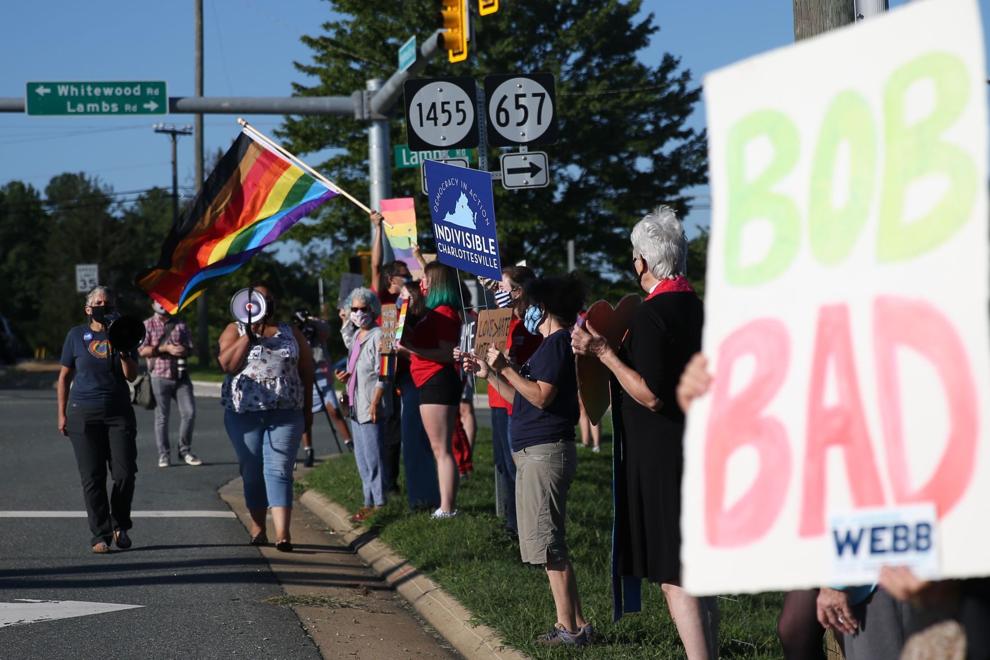 20200818_cdp_news_ Anit Bob Good protest 045.JPG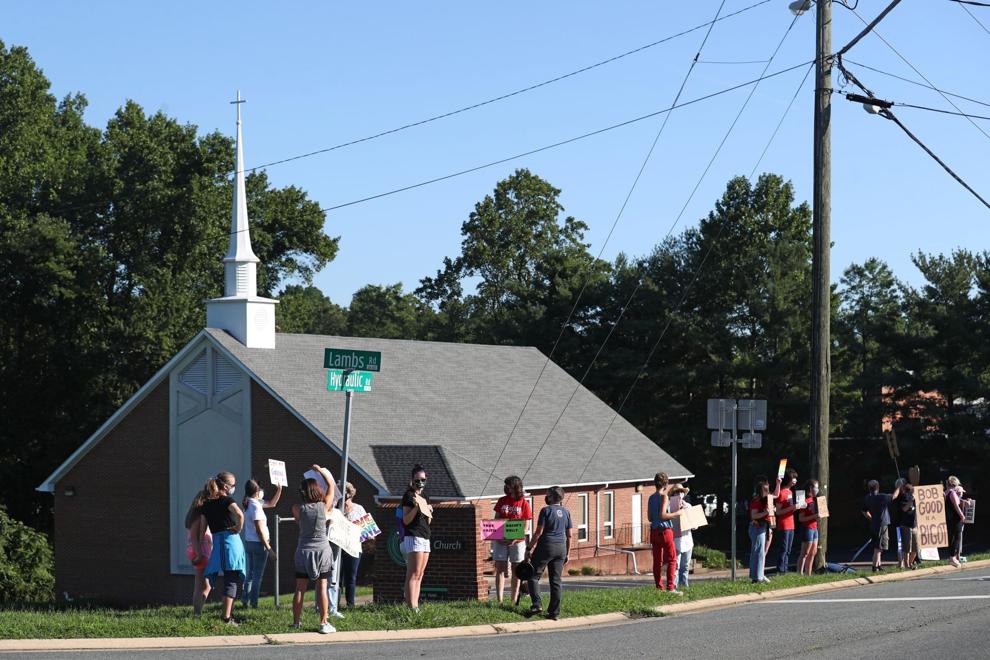 20200818_cdp_news_ Anit Bob Good protest 046.JPG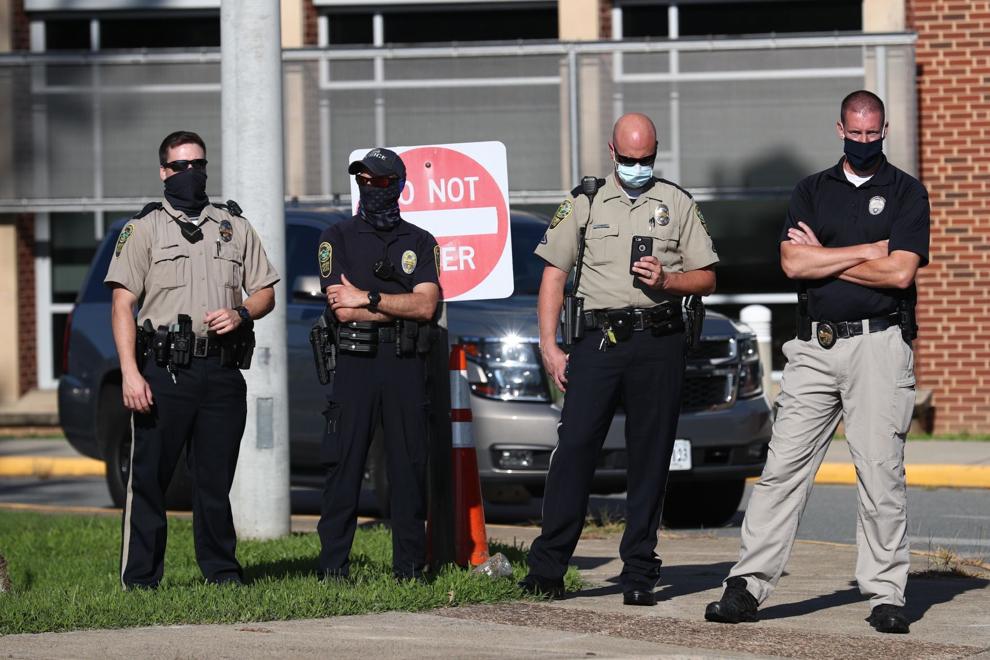 20200818_cdp_news_ Anit Bob Good protest 047.JPG
20200818_cdp_news_ Anit Bob Good protest 048.JPG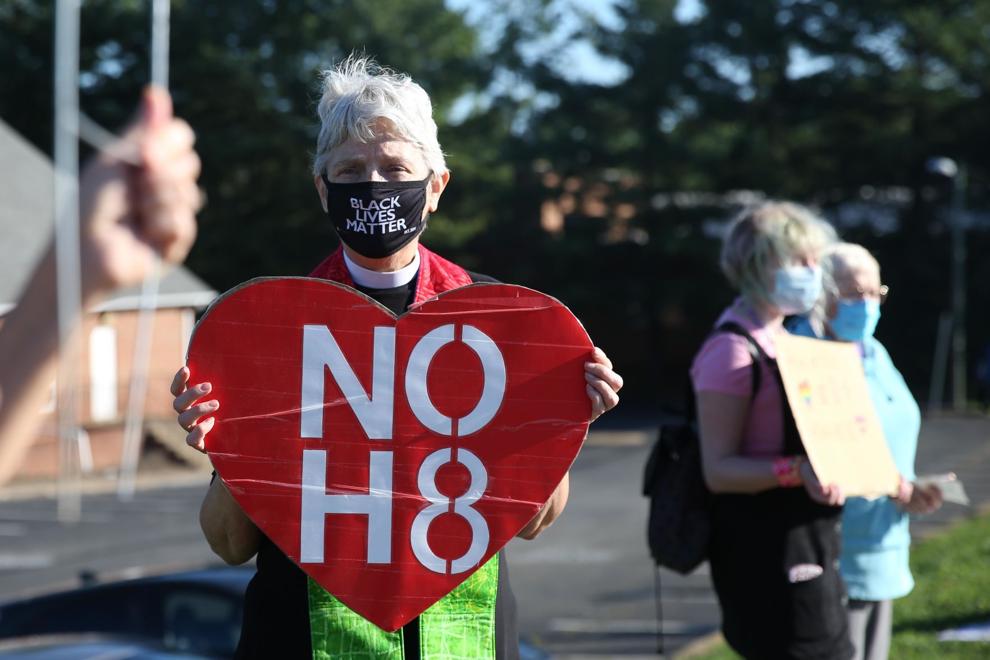 20200818_cdp_news_ Anit Bob Good protest 049.JPG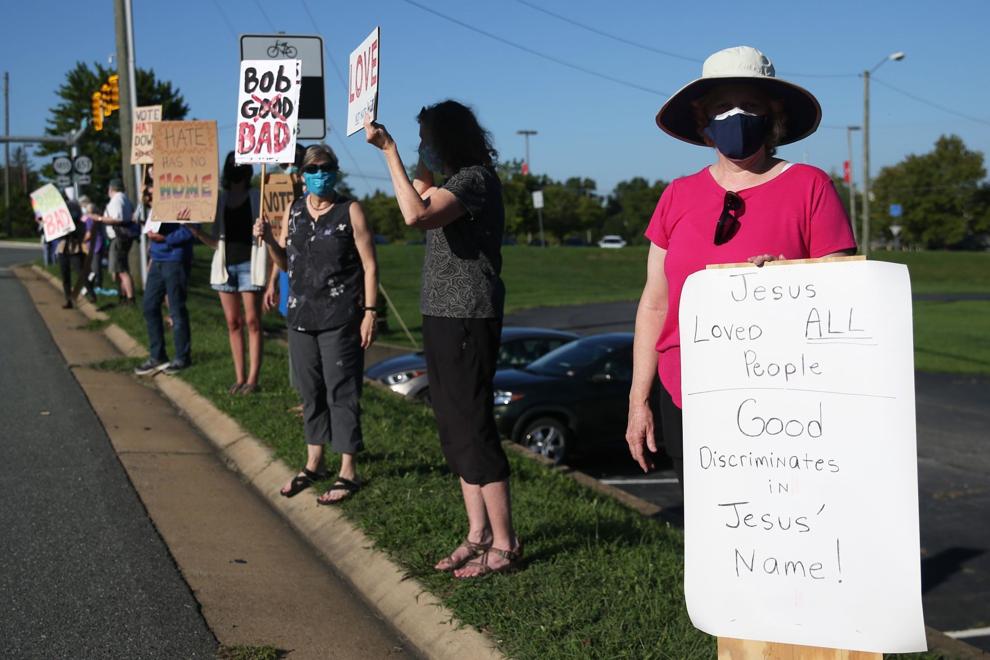 20200818_cdp_news_ Anit Bob Good protest 050.JPG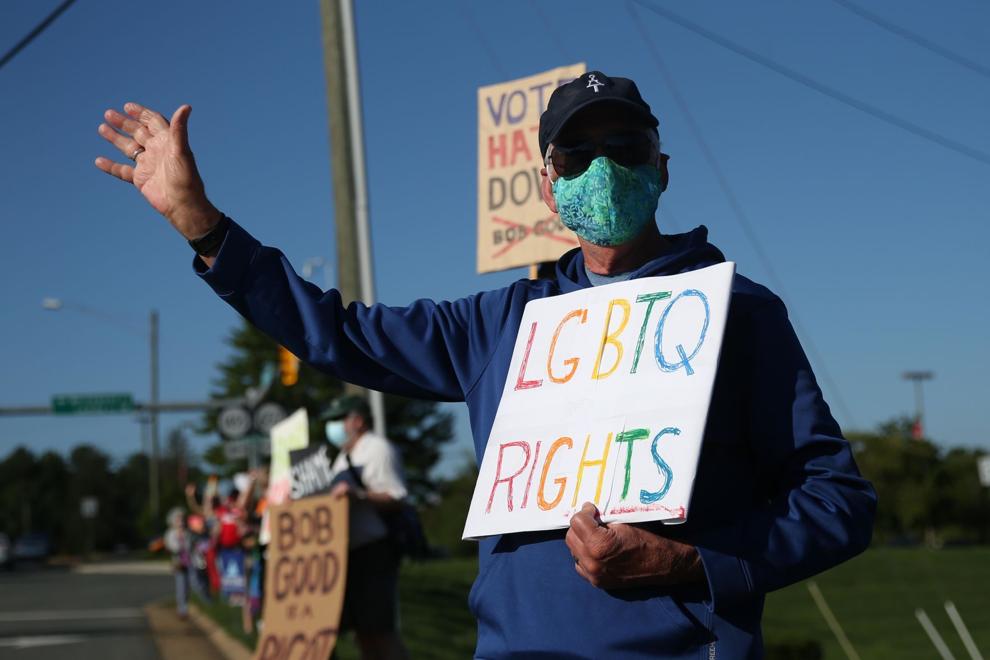 20200818_cdp_news_ Anit Bob Good protest 051.JPG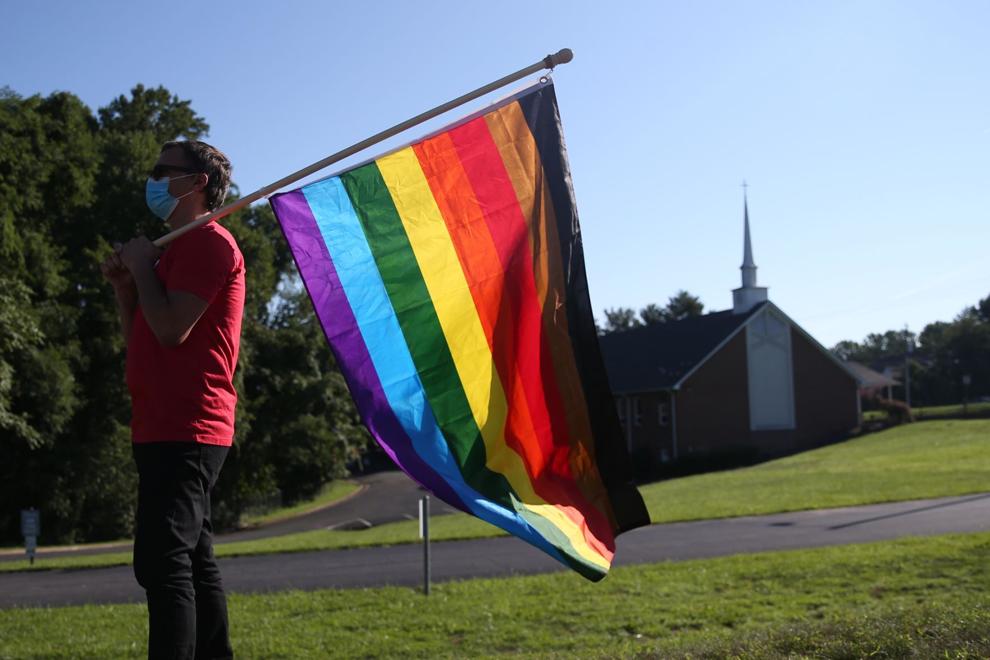 20200818_cdp_news_ Anit Bob Good protest 052.JPG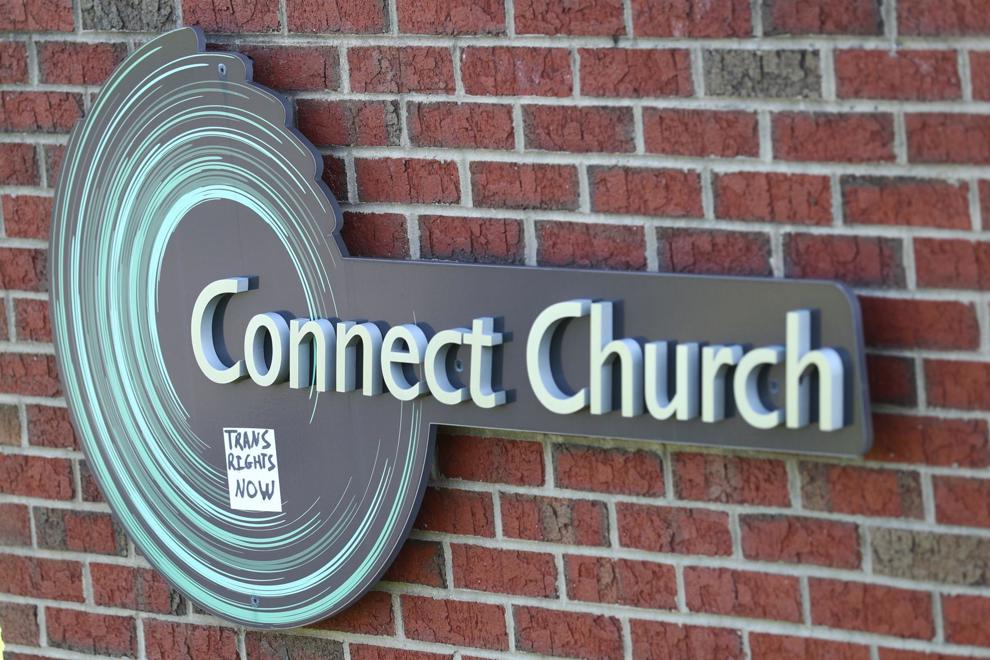 20200818_cdp_news_ Anit Bob Good protest 053.JPG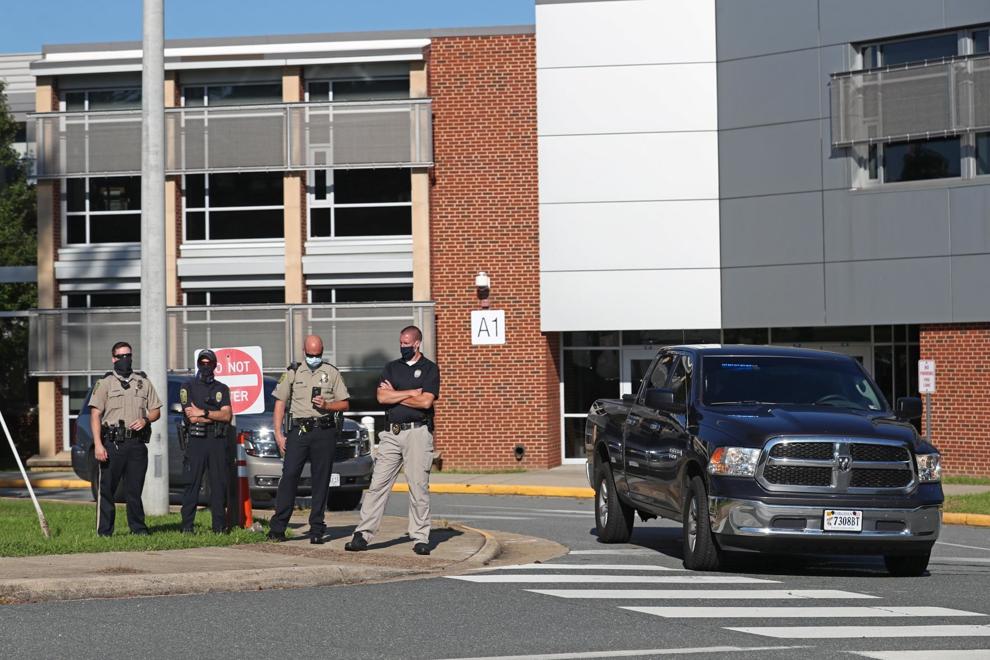 Hide vertical gallery titles