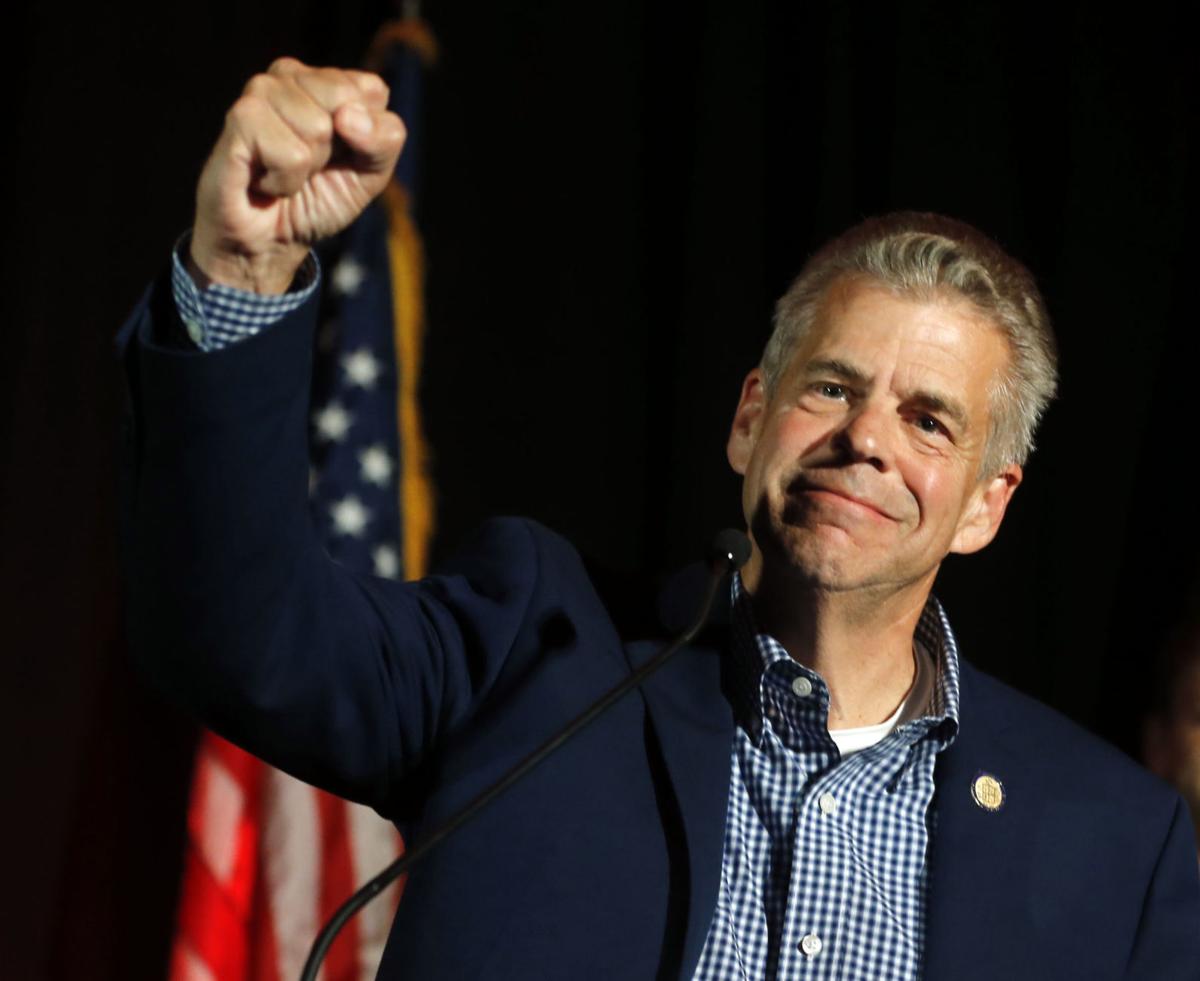 Former House Speaker Kirk Cox of Colonial Heights formally announced Tuesday that he will seek the Republican nomination for governor, hoping to become the first Republican elected to the office in over a decade.
Cox, a retired government teacher, has served in the House since 1990, rising to the speakership in 2017 before a wave of Democratic victories across the state last year cost his party the majority and ended his tenure.
Cox said his decision to run for governor was prompted by the work of Democrats since they took control of government in Virginia, including efforts to reform policing and progressive legislation on collective bargaining and clean energy that he says will leave less money in people's pockets.
"We just have a different worldview than a lot of the Democrats — in the state of Virginia and nationally," he said in an interview. "They have a very big-government, sort of collectivist worldview. ... I want to fight against that."
Cox said he plans to lean on his long tenure in the legislature, during which he has advocated for higher spending in education and fiscal conservatism, to attract voters focused on economic recovery from the pandemic.
Posturing as the general election candidate, Cox said he hopes to attract a diverse group of voters, and tout his record on legislative compromise, including the deal that led to the expansion of Medicaid in Virginia.
(After previously opposing Medicaid expansion, Cox worked with Democrats on the deal after Democrats picked up 15 seats in the 2017 House elections.)
"People are looking for visionary ideas and someone to lead us out of this pandemic," he said. "People, to me, want a Virginia where they can do more than ... just pay their bills. There's also dignity, opportunity and work — whether it be through low taxes and less regulation."
Cox criticized Democrats' handling of the pandemic, primarily focusing on education. He says he wishes more had been done to give all families the option to allow their children to go back to in-person classes.
GOP rivals
Cox joins a short list of Republicans seeking the party's nomination next year for the highest state office. No Republican has won a statewide contest since 2009, when Bob McDonnell led a GOP sweep for governor, lieutenant governor and attorney general.
Sen. Amanda Chase of Chesterfield is the only formally declared candidate in the GOP nominating contest — a raucous political figure who has aligned herself closely with gun rights groups and President Donald Trump. Chase has defied COVID-19 restrictions in the state, and in the legislature, has attracted harsh criticism from colleagues in her own party — to the point of separating from the Senate GOP caucus.
Sen. Emmett Hanger, R-Augusta, and former state Sen. Bill Carrico, R-Grayson, have said they also are weighing runs for the GOP nomination.
Cox said a successful GOP candidate will need to attract different blocs of voters, including independents and people of color. Asked about the decision to challenge Chase, Cox said he will bring a different, more compromising style of politics to the race.
"Our party really wants to win, and the question is, what candidate can actually go forth and go into so many different communities and articulate a vision for why Republicans should win? I'm the best person to do that," Cox said.
"We equate sometimes listening and being civil with unwillingness to fight. I'm going to fight for my principles, but you're not going to convince anybody if you're shouting at them all the time. It doesn't mean you're going to agree, but you can find common ground. I've done that with Democrats."
Trump
On Trump, who's refused to concede the White House race to the presumptive winner, Democrat Joe Biden, Cox said he wants to see the president's legal challenges play out.
Cox argued that many voters who back Trump believe the allegations of fraud and irregularities coming from the right, adding that some of those convictions are based on confusion and misunderstanding.
"I think it's extremely important that we slow down a little bit and let those things play out. If they do, folks can have a lot more confidence in the outcome of the election," Cox said. "After we see that, we do need to come together, recognize the next president and usher in a peaceful transfer of power."
A changed district
Last year, Cox was at the center of a brutal election season for Republicans, who lost control of both of chambers of the legislature to Democrats. Election night saw Cox celebrating his re-election victory for his House seat while lamenting his party's loss of control in the General Assembly.
Court-mandated redistricting, meant to correct for racial gerrymandering by the GOP in 2011, made Cox's longtime GOP district swing statistically in favor of Democrats ahead of the 2019 House elections.
Cox nevertheless prevailed over Democrat Sheila Bynum-Coleman, a business owner, by 5 points. He now serves in the bluest House district held by a Republican.
That district could become even more favorable to Democrats after the state's redistricting process ahead of the 2021 elections, which will see all House seats up for grabs.
Gone from the dais, Cox was a quiet presence during the 2020 regular session of the General Assembly. By the time summer rolled around, Cox began to take on a more high-profile role for the House GOP caucus, which is expected to endorse his run for governor on Tuesday.
Cox's campaign is led by Travis Smith, a GOP consultant formerly with Axiom Strategies in Kansas City, Mo., and the 2018 campaign of U.S. Sen. Martha McSally, R-Ariz., who lost her seat this year to Democrat Mark Kelly.
Cox's campaign is being advised by Richard Cullen, the former state attorney general and U.S. attorney who is now partner at legal and lobbying powerhouse McGuireWoods, which is based in Richmond.
On the Democrats' side, the field of candidates for governor includes Del. Jennifer Carroll Foy, D-Prince William; Sen. Jennifer McClellan, D-Richmond; Lt. Gov. Justin Fairfax; and former Gov. Terry McAuliffe.
Get Government & Politics updates in your inbox!
Stay up-to-date on the latest in local and national government and political topics with our newsletter.