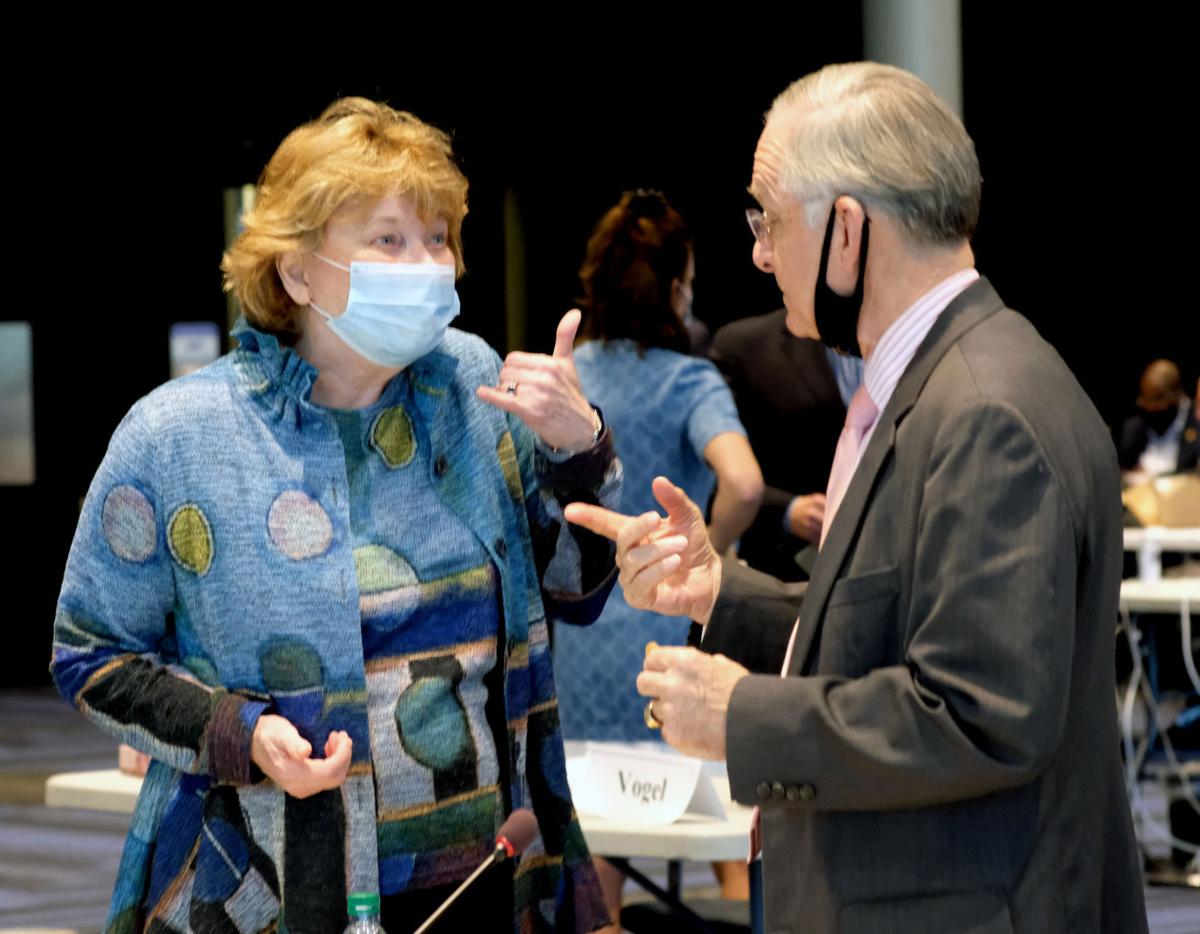 Four years after a national bond rating agency put Virginia on a "negative" credit watch, the state's combined financial reserves will swell to a record $3.3 billion in the next fiscal year.
Together, the revenue stabilization or "rainy day" fund and the cash reserve are projected to hold the equivalent to more than 15% of state income and sales tax revenues, a nearly eight-fold increase since the state's savings dipped to $235 million five years ago.
The rainy day fund, created under the Constitution of Virginia almost 30 years ago during Gov. Doug Wilder's term, will receive a $1.1 billion mandatory boost from the $2.6 billion revenue surplus in the fiscal year that ended June 30. The deposit will crown a sustained bipartisan push by the General Assembly and two governors to protect the state's coveted AAA bond rating and financial standing.
"In the midst of a pandemic, we've been able to set aside funds," Secretary of Finance Joe Flores said this week. "That's pretty amazing. It shows discipline on the part of the General Assembly as well. It was a collective effort, absolutely."
However, the constitution also may require a "super deposit" of almost $564 million to the rainy day fund that, along with other mandatory deposits and commitments, would leave little of the surplus for the next General Assembly and governor to spend in the current or next two-year budget in the legislative session that will begin on Jan. 12.
A super deposit is required if state revenues grow by more than 8% in a fiscal year and more than 1.5 times the average in the previous six years, as Virginia's revenues have, increasing 14.4% in the last fiscal year. The third trigger for a mandatory super deposit is whether revenues are forecast to grow by 5% or more in the fiscal year that began July 1.
That remains unknown, as the Northam administration prepares to update the economic and revenue outlook this fall for the two-year budget the governor will present on Dec. 16, a month before his four-year term ends.
"The super deposit is something we'll talk about," House Appropriations Chairman Luke Torian, D-Prince William, said this week.
Republican budget leaders support the emphasis on building the state's financial reserves, but with sharp jabs at Northam and the Democratic majorities that took control of the General Assembly more than a year and a half ago.
They remain opposed to giving the governor limited authority to spend more than $1 billion in federal emergency aid that the assembly left unappropriated in a special session earlier this month on how to spend $4.3 billion received under the American Rescue Plan Act.
The legislature also authorized spending an additional $354 million - primarily on improved compensation for behavioral health workers and law enforcement - in the first year of the next budget, but that is subject to future action.
"Virginia's economy has proven to be resilient as evidenced by the 'unanticipated revenues' that have come in from robust citizen spending," said Senate Minority Leader Tommy Norment, R-James City, a senior Republican on the Senate Finance & Appropriations Committee. "Certainly some of the unanticipated spending was from the federal stimulus dollars which few think about in future years as Democrats attempt to buy good political will."
"Blessedly safeguards were put in place by fiscal conservatives with the 'rainy day fund', super deposits and General Assembly oversight that resisted giving this administration unbridled discretion to spend, spend and spend," Norment said in a text message.
Del. Barry Knight, R-Virginia Beach, who would become the top ranking Republican on the House Appropriations Committee if re-elected this year, said, "Most of [the surplus] is going into reserves. I like it going into reserves."
But Knight, who could become chairman of the budget committee if Republicans regain control of the House of Delegates, said he doesn't trust Northam to potentially decide how to spend the unappropriated federal aid.
The budget requires the governor to consult with the leaders of the House and Senate budget committees, also Democrats, before making spending decisions related solely to the COVID-19 pandemic.
"The governor is taking it a little more on himself to dictate where this money goes," Knight said, noting the need for "checks and balances" on spending decisions when the legislature isn't in session.
"I do not like it when Democrats have total control of spending," he said.
Former Secretary of Finance Aubrey Layne, who stepped down on June 30 for a private sector job, said Virginia has benefited from a strong economy, despite the pandemic, and massive federal emergency, but he also thinks Northam deserves credit for steadily bolstering state reserves.
"We've had a really good four years to rebuild our balance sheet," Layne said.
Republicans held majorities in both chambers of the General Assembly when Standard & Poor's, a national credit agency, downgraded Virginia's outlook from stable to negative in April, 2017. Gov. Terry McAuliffe, a Democrat who served as governor from 2014 to 2018 and is now seeking a second term, was in the final year of his term, which had included two projected revenue shortfalls that he and the Republican-led legislature addressed partly by drawing on reserves.
"The issue really was our reserves were low and our revenues were increasing and we were still pulling money out of reserves," said Layne, a former Virginia Beach businessman who served as secretary of transportation under McAuliffe.
The assembly already had moved to shore up Virginia's finances before S&P downgraded the state's financial outlook. Led by then-Appropriations Chairman Chris Jones, R-Suffolk, the assembly created the cash reserve fund as part of the budget in 2017 to give the state a more flexible way to save money than the constitutionally governed rainy day fund.
"We knew it was coming," said Jones, who lost his re-election bid in 2019 after 21 years in the House.
Under the constitution, the state can withdraw money from the rainy day fund if it experiences a shortfall in core revenues - individual and corporate income taxes and sales and use taxes - of 2% or more. The cash reserve fund can be tapped if those revenues fall short by 1% during a fiscal year.
"I hope there is a super deposit required because that would go into the rainy day fund, and that's going to be harder to get to," Layne said.
The assembly didn't put the new reserve fund into state code or fund it in 2017, but Jones said he told the national bond rating agencies that fall that he was committed to introducing legislation and including money in the budget the next year.
"This was a conscious decision on my part, and on the part of the committee, to make sure we were disciplined in setting aside additional reserves," he said.
In 2018, the first year of Northam's term, the assembly put almost $1 billion in the two reserve funds as part of a two-year budget compromise that also expanded Virginia's Medicaid program under the Affordable Care Act. S&P reversed its credit watch, upgrading the outlook for Virginia to "stable," as did Moody's, another of the national bond rating agencies.
The assembly has continued to make major deposits in the two reserve funds - some of them constitutionally required and others by choice - under both Republican and Democratic majorities.
"It positions the commonwealth for some difficult days if they were to come our way," Torian said.