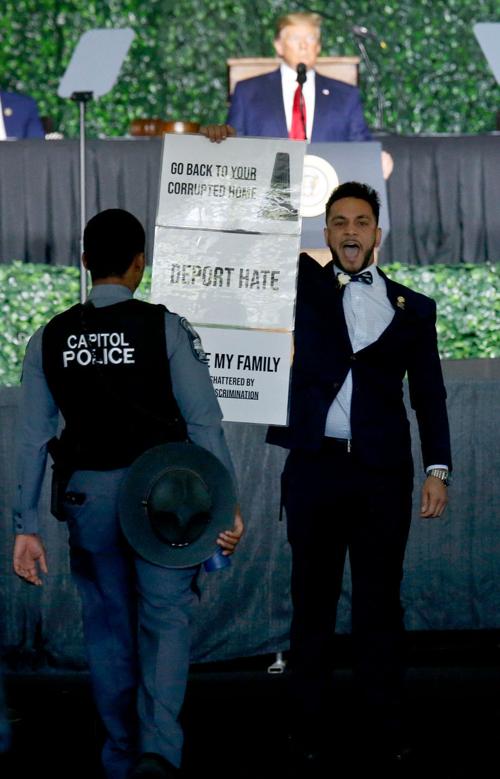 The five legislators who lost their General Assembly seats on Tuesday may have set a record for party primaries in Virginia, but their defeats aren't likely to directly affect a general election showdown in November for control of the House of Delegates.
All of the House districts in which incumbents were unseated—four Democrats and one Republican — still represent reliable strongholds for their parties.
Indirectly, however, the battleground over House control could be reshaped by the primary losses of three of the most vocal members of the Democratic left wing and victories in GOP nomination contests by two Republicans aligned with former President Donald Trump.
"The moderates went out on the Republican side and the left went out on the Democratic side," said Quentin Kidd, director of the Wason Center for Public Policy at Christopher Newport University.
But then there is Portsmouth.
Voters there — and in precincts in Norfolk and Chesapeake — unseated Del. Steve Heretick, a centrist Democrat, nominating 26-year-old Nadarius Clark, who is endorsed by Democratic Socialists of America. And this was the same night that Del. Lee Carter, D-Manassas, also a Democratic socialist, lost both his seat and a quixotic bid to become governor.
Clark won the Democratic nomination by an unofficial margin of 150 votes after receiving $530,000 in contributions from political committees associated with Albemarle County billionaire Michael Bills and his wife Sonjia Smith. Bills wants to defeat candidates, such as Heretick, who accepted money from Dominion Energy, the state's largest electric monopoly.
Clark "ran some remarkably good TV ads," Kidd said. "The only way he could be able to do that was ... the engagement of Mr. Bills in the race."
None of that washes with Sen. Louise Lucas, D-Portsmouth, last seen celebrating with former Gov. Terry McAuliffe and other Democratic leaders over his resounding victory in the primary for governor in a statewide sweep for more centrist Democrats. Del. Hala Ayala, D-Prince William won the nomination for lieutenant governor and incumbent Mark Herring for attorney general over more progressive rivals.
"Steve Heretick's loss had more to do with his politics on the ground in Portsmouth than it did with Nadarius Clark," said Lucas, a co-chair of McAuliffe's campaign who is in her 20th year in the Senate.
Those local politics included Heretick's position against allowing localities to remove monuments to the Confederacy.
"If you're voting to keep Confederate statues in a district that has a majority African American population, you're going to have a problem — and Steve had a problem," said former House Minority Leader David Toscano, D-Charlottesville, who retired in 2018, a year before Democrats took control. "I think that's more of an anomaly."
As for campaign contributions, Lucas asked acidly, "Did any other candidates who received Michael Bills' money win?"
(A number of Democratic incumbents who received contributions from funds associated with Bills won primaries Tuesday, including Dels. Elizabeth Guzman, D-Prince William; Kaye Kory, D-Fairfax; Dawn Adams, D-Richmond, Jeff Bourne, D-Richmond, and Alfonso Lopez, D-Arlington.)
House Speaker Eileen Filler-Corn, D-Fairfax, also appeared jubilant on Tuesday night, despite losses by three other incumbent House Democrats aside from Heretick — Carter; Del. Ibraheem Samirah, D-Fairfax; and Del. Mark Levine, D-Alexandria, who suffered twin defeats for his House seat and a bid for the lieutenant governor's nomination.
Heretick was the only one of six House members that Filler-Corn had supported financially who lost a primary fight. One of them, Del. Candi King, D-Prince William, won with almost 70% of the vote over challenger Pam Montgomery, who had received more than $600,000 from Sonjia Smith, the Clean Virginia Fund and Commonwealth Virginia PAC.
"We see [the primaries] as a vindication of the Speaker's influence and power in the state," said spokesman Kunal Atit, who noted her role in the victory of Del. Hala Ayala, D-Prince William, in the race for the lieutenant governor's nomination, despite opposition by Clean Virginia.
Former Republican Del. Chris Saxman, now executive director of Virginia FREE business organization, dismisses suggestions that the primaries represented a major realignment of Democratic politics, although he said the party did itself "a world of good" by losing its loudest voices on the left.
"This wasn't a big ideological shift," Saxman said. "These are more [about] personalities."
On the Republican side, he also played down the thumping that Del. Charles Poindexter, R-Franklin County, received from Wren Williams, a lawyer aligned with Trump who took part in the former president's push to overturn the presidential election result in Wisconsin last year. Poindexter, a seven-term conservative delegate, lost by 25 percentage points.
Not all nomination fights involved an incumbent. Tim Anderson, a Virginia Beach lawyer aligned with Trump, held a 28-vote lead over former Del. Chris Stolle in a three-way race for the right to challenge Del. Nancy Guy, D-Virginia Beach, who defeated Stolle narrowly two years ago.
"What they want are people who fight, not necessarily to get things done," Saxman said.
He described Anderson and Republican gubernatorial nominee Glenn Youngkin as "presentable" conservatives, "who are not offensive but aggressive." He contrasted them with Sen. Amanda Chase, R-Chesterfield, whom Anderson represented in her unsuccessful lawsuit to overturn her censure by the Senate because of her behavior, including her role in the "Stop the Steal" rallies that preceded the insurrection at the U.S. Capitol on Jan. 6.
But Virginia Tech political science professor Karen Hult said the Poindexter and Stolle losses show a growing influence of Trump and his allies.
"At least some members of the Trump Republicans are beginning to move into places within the Virginia Republican Party," Hult said.
If Anderson is declared the GOP nominee in the Virginia Beach race, "Republicans may have a much more difficult chance of taking that seat," said Bob Holsworth, a veteran political and policy analyst in Richmond.
However, he said the battle for control of the House is less likely to depend on the politically safe districts where incumbents lost than in the Richmond suburbs, where Del. Dawn Adams, D-Richmond, and Del. Rodney Willett, D-Henrico, face strong challenges, and Democrat Katie Sponsler will try to win the seat of former House Speaker Kirk Cox in a battle with Republican Mike Cherry.
Republican Roxann Robinson in Chesterfield County and Democrat Schuyler VanValkenburg in Henrico also could be vulnerable in suburban swing districts, Holsworth said. "There are four to six races in the region that could help to determine control."
What the primary results do for Democrats in the general election is make it harder for Republicans to "tar and feather" them as far-left socialists, said Toscano, who thinks they also will strengthen McAuliffe's position as party leader.
"With him at the top of the ticket, there's going to be a lot of coattails in the House of Delegates races," he said.