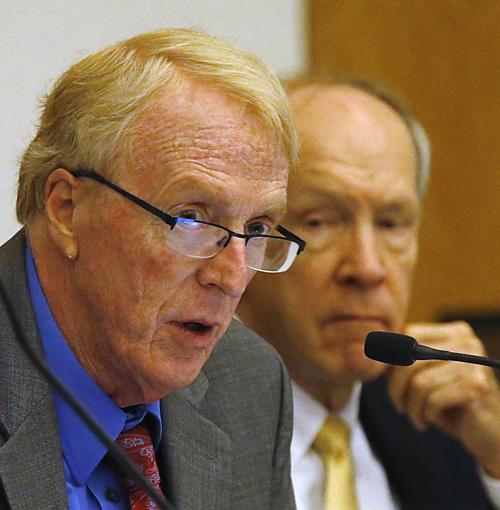 By shifting a precinct here and another there, Sen. George Barker said, map drawers working with Virginia's redistricting commission could avoid upending his political career and leaving his Fairfax County constituents without their 14-year incumbent.
Barker — whose residence had been incidentally drawn out of his district in a proposed map and instead included in the district of a fellow Democrat — proposed his own version of the Senate map Thursday during a meeting of the commission. This one, he said, would still comply with the commission's guidelines and avoid his departure from the Senate.
The display of self-interest by one of the redistricting commission's elected officials quickly drew criticism from some Democrats and Republicans in and out of the commission, who challenged the lawmaker's effort to adjust the map to his benefit as the newly formed commission tries to cement itself as the cure to gerrymandering.
But other observers say the spectacle of Barker's proposal to protect his seat is a sign that the commission is working as intended: He made his pitch in full view of the public — in person and on a livestream — and it would not pass unless commission members hailing from both parties voted to allow it.
Thursday's meeting spotlighted a key question for the commission: how much weight to place on where incumbents live, given that its proposed maps will go to the legislature for up or down votes, and maps that disrupt more incumbents of one party than another could be considered partisan.
The commission, made up of eight citizen members and eight legislators, has until Oct. 10 to draft and agree on proposed legislative maps and until Oct. 25 to do so with proposed U.S. House districts.
In his pitch to the commission, Barker said adjusting six precincts in the proposed Northern Virginia Senate map would mean he was no longer grouped into a district with Sen. Chap Petersen, D-Fairfax City.
Barker said the shifts he's proposing within Fairfax would not affect the quality of the maps and would not separate communities. Barker said that if he faced Petersen in a primary, he'd be likely to lose since Petersen already represents most of the precincts.
"This is not an insignificant issue," Barker said of addressing the political ramifications of lumping incumbents together.
Immediately, one member shot back.
"I'm not sure why we're hearing this. This seems to me like a statement of self-interest, not about good government or good districts," said Sean Kumar of Alexandria, a citizen member of the commission aligned with Democrats. "If somebody or somebody's colleague in the legislature doesn't like their district, we're going to spend time catering to their specific needs instead of 8.5 million Virginians."
In a statement on Friday, the Republican State Leadership Committee, which supports Republicans in statewide races, seized on Barker's presentation, arguing that Democrats are "doing everything they can to gerrymander maps to benefit themselves, even exploiting the very independent redistricting commissions."
It's too early to rule out the possibility that GOP lawmakers or citizen members would advocate on behalf of Republican incumbents who might be drawn into the same district. The commission, which just started its map-drawing work, began with Northern Virginia, a Democratic stronghold.
Right now, the proposed maps largely affect Democrat incumbents, a reality that will change as the panel tackles other parts of the state.
Brian Cannon, the former executive director of the group One Virginia 2021, who lobbied for the creation of the commission, said Thursday's meeting likely won't be the last time a lawmaker advocates for their district or the district of a colleague.
He said he's not opposed to protecting incumbents where possible, but that the commission should first guarantee districts that are compact, and protect communities of common interest and localities.
In years past, an occurrence like Barker's pitch might have transpired behind closed doors, and produced maps that sacrificed keeping communities whole in order to protect incumbents from one party. Now, the public can watch and weigh in. Other commissioners can weigh Barker's wishes against the need to avoid splitting localities and producing fair maps — publicly.
"If the commission produces maps that protect incumbents and sacrifice communities, citizens and the commission aren't going to go for it," Cannon said. "So they have to find a balance.
I feel pretty good about that," Cannon said. "Redistricting is always a messy process. Now we get to see it."
Still, Cannon warned against the peril of going to lengths to protect incumbents.
He pointed to the 28th and 88th House districts, where a past effort by Republicans to protect then-Speaker Bill Howell, R-Stafford, severed Fredericksburg.
In recent years, the split led to errors and confusion during House elections. Voters in each of the districts were assigned to wrong House districts by local registrars, and handed the wrong ballots. That led to two very close elections that were shrouded by uncertainty in the competitive 28th House District.
The district is held by Del. Josh Cole, D-Fredericksburg, who is facing Republican Tara Durant, a teacher, this November. House candidates are running in the current districts due to delays in the federal release of census data.
While the commission's meetings are public and streamed online, not all of the work happens in full view. In the last week, the map-drawer hired by the Democrats on the commission adjusted some districts in a proposed map to avoid incumbents overlapping. That wasn't done at the direction of the commission.
One of the House members who benefited was Del. Marcus Simon, D-Fairfax, a member of the redistricting commission who had found himself grouped in a district with another House incumbent.
Simon said in an interview that he did not instruct the map-drawers to correct that, but made clear that he supports protecting incumbents if it's possible without damaging the maps.
"I don't think anybody thinks we should engineer our districts to protect incumbents, but, after a district is drawn, if we see that by moving a precinct here and a precinct there, we could avoid incumbent pairing, then we could resolve that," Simon said.
"I think there's value in preserving experience and institutional knowledge."
Simon added that when those adjustments happen is key. He said Barker's approach "rubbed people the wrong way," because the senator was advocating for his own district pretty early in the process.
"It certainly did appear that he was describing them as though the districts belong to the legislators — Barker precincts, Chap [Petersen] precincts. They don't belong to us, they belong to the people," Simon said. "That's what I think rubbed people the wrong way."
Still, he praised Barker's transparency.
Simon and other members on the commission, including Democrats and Republicans, signaled Thursday that issues related to incumbents should be resolved down the line — toward the end of the process.
Sen. Bill Stanley, R-Franklin County, who joined the commission Thursday, replacing Sen. Steve Newman, R-Lynchburg, who had resigned from the panel, said adjustments can be made later as needed, but said he could "guarantee" that not all House and Senate incumbents would be protected.
"If we're here to protect our own jobs or our own seats, we're not doing our job," he said.
Kumar said losing "a couple of incumbents here and there" wouldn't be a problem if it meant fair maps.
Co-chair Mackenzie Babichenko, a Republican citizen member, said the public feedback suggests that where incumbents reside shouldn't drive the initial maps. "I think people want to see what these maps look like if we say, 'Who cares where the incumbents live?' "
In an interview, Simon agreed.
"If you put incumbent addresses in too early, it becomes the driver," he said. It becomes: "We drew these maps because of where incumbents live, as opposed to we drew these maps based on the criteria we believe in," he said.