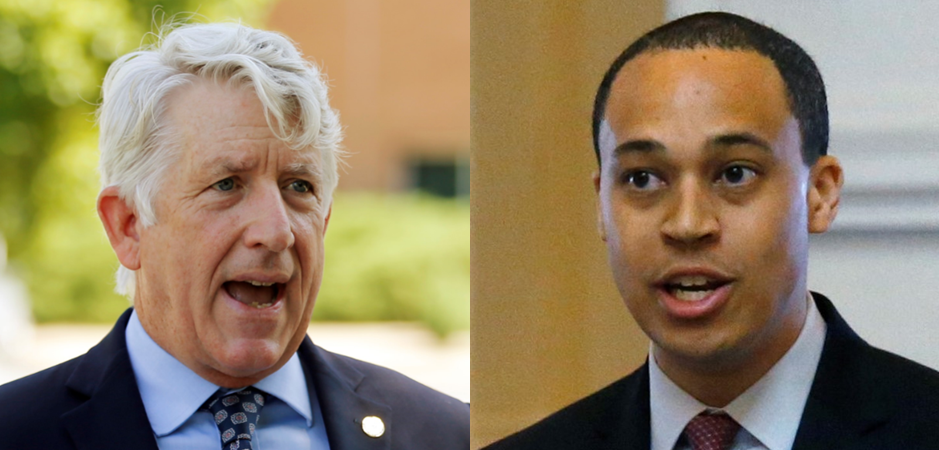 The Democratic lawmaker challenging Attorney General Mark Herring in the June 8 primary aggressively critiqued him in their first debate Wednesday evening, calling out the incumbent's reluctance to use his office to investigate police shootings and saying Virginians are tired of inaction on police accountability.
Del. Jay Jones, D-Norfolk, launched his attacks in Arlington, where he and Herring debated in the studios of WJLA-TV.
Jones portrayed himself as a progressive who would move the office into a new direction by prioritizing criminal justice reform and reining in police abuses.
"All the experience in the world doesn't mean a thing if you've got to be pushed to do the right thing," Jones said. "This office can do so much, and we have to look ahead to this new Virginia decade."
Herring, with nearly eight years in the office and seeking a third term, has a long list of accomplishments he's citing in his bid, including litigating against policies of then-President Donald Trump, support for gay rights and legalizing marijuana, fighting white supremacy and testing of a backlog of rape kits.
Herring said he righted wrongs as attorney general, "transforming the job from the top cop to the people's lawyer."
"Progress requires commitment, courage, experience and an ability to put that experience to work," Herring said. "We've got a lot still ahead of us, and that's why I am asking for you to let me continue fighting for you."
There's a generational gap between the candidates. Herring is 59 and Jones 32. Herring is white and Jones is Black. Jones repeatedly asserted during the debate that his experience as a Black man made him more suited for the job of helping Virginia move forward from its racist history.
"When I saw the video of Derek Chauvin putting his knee on George Floyd's neck, I felt that, painfully," Jones said. "I felt the bullets in my back like I was Jacob Blake who was shot in Wisconsin. Virginians are demanding reforms as it relates to our justice system."
In March, Jones called on Herring to investigate a Virginia Beach police officer's fatal shooting of Donovon W. Lynch. Herring responded that an investigation by Virginia State Police would suffice and his spokeswoman said state law didn't allow the attorney general to conduct such an investigation. Several Democratic lawmakers disagreed.
Then in April, Jones called on Herring to investigate the controversial traffic stop of Army Lt. Caron Nazario in Isle of Wight County, publicity of which led to a police officer being fired from the town of Windsor police. Herring did open an investigation into that department.
Jones also called that month for Herring to investigate the fatal shooting by a Spotsylvania deputy of Isiah Brown, and has continued slamming Herring for not doing so.
Herring defended his record Wednesday on policing reform and other issues, saying he had met with the father of Lynch and community members in Virginia Beach, and said Jones was AWOL in the legislature when lawmakers were trying to craft critical legislation aimed at police reform. Herring cited his efforts to train police in de-escalation.
"I can continue to lead as I have in an aggressive and progressive way," Herring said, later adding, "The violence that we have been seeing at the hands of police across the country and in our commonwealth is sickening. And it's unacceptable and it has to stop."
The candidates also discussed qualified immunity, the legal doctrine that can shield police from civil accountability in lawsuits. Herring said he opposes qualified immunity and has called on Congress to end it. Jones said he commended Herring for that position, but said Herring was "quiet as a church mouse" when the issue was debated in the legislature.
Although Democrats who control the General Assembly have passed a variety of criminal justice reforms, they have not been able to agree on legislation related to qualified immunity.