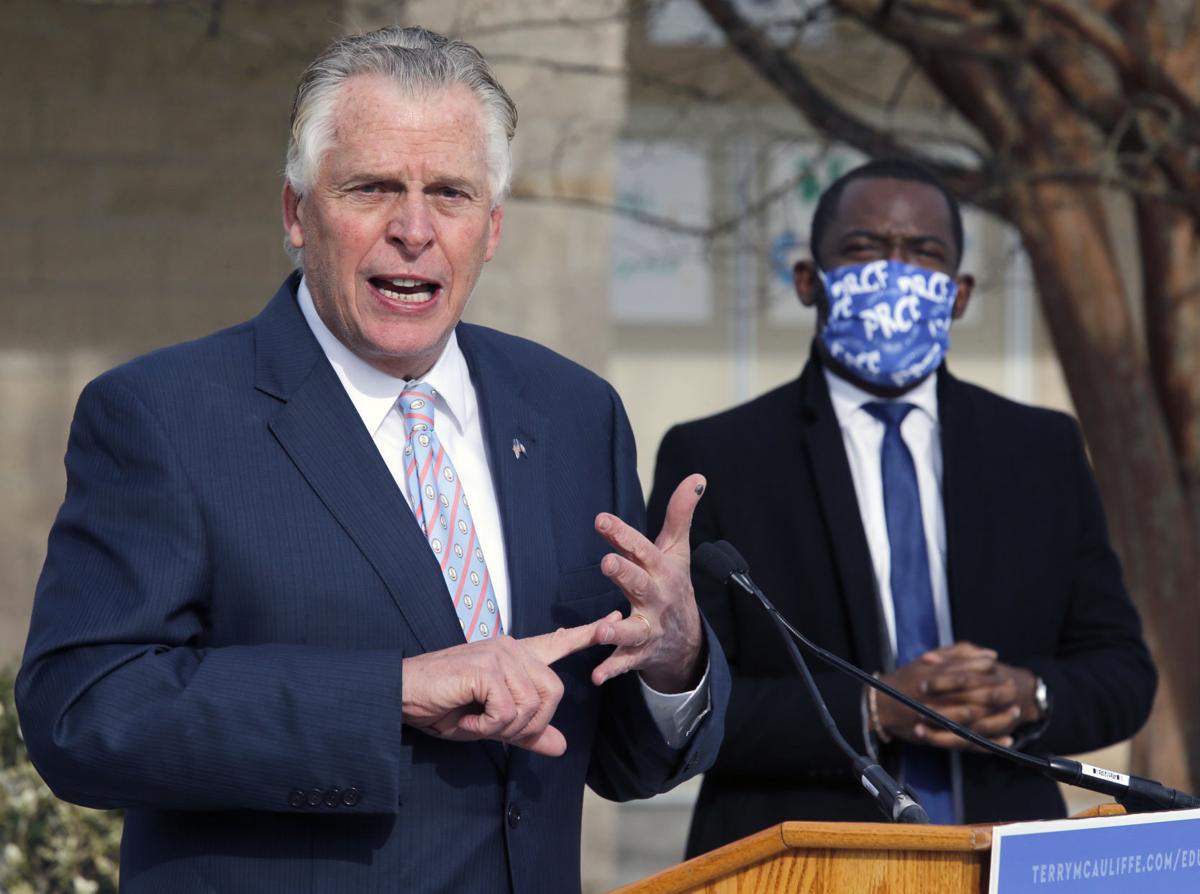 Former Gov. Terry McAuliffe is in a dominant financial position in his bid to return to the Executive Mansion, according to reports compiled by the Virginia Public Access Project.
McAuliffe, governor from 2014 to 2018, raised nearly $6.2 million last year and had $5.5 million in cash as of the year-end financial report, far outpacing his Democratic and Republican rivals.
McAuliffe, one of five Democrats seeking the party's nomination in a June primary, first made his name in the national party as a prolific fundraiser.
His top individual contribution in his new bid for governor was $250,000 from Sanjay Govil, chairman of the board at Infinite Computer Solutions and CEO of Zyter Inc.
The former governor, who last week announced an endorsement from U.S. Speaker of the House Nancy Pelosi, received a $100,000 contribution from the Californian's congressional campaign last month.
"My campaign is building a strong coalition with a shared vision to move Virginia forward, and I am proud to have the support of so many Virginians from across the Commonwealth," McAuliffe said in a statement.
Former Del. Jennifer Carroll Foy of Prince William County, who resigned from her House seat last month to campaign for governor full time, reported $1.26 million in cash on hand in her Carroll Foy for Governor account as well as $27,396 in her Virginia for Everyone account. Carroll Foy said she raised $1.9 million last year.
Her top donations since July 1 include $150,000 from Greater PA Carpenters PEC and $110,000 from Greater VA Carpenters.
State Sen. Jennifer McClellan, D-Richmond, reported $616,112 in cash on hand in her McClellan for Governor account as well as $9,829 in her Virginia United account and $7,343 in her McClellan for Senate account. She said she raised $1.17 million last year across various accounts.
Her largest single donation since July 1 is $55,000 from Julie Barron Morrill, a consultant in emergency preparedness and personal safety.
Lt. Gov. Justin Fairfax reported $70,450 in his We Rise Together account, $8,163 in his Fairfax for Lieutenant Governor account and $225 in his Fairfax for Governor account.
Del. Lee Carter, D-Manassas, who announced his bid on Jan. 1, reported $7,088 in his Carter for Delegate account, according to VPAP.
If Republicans maintain their plan to nominate statewide candidates in a convention, fundraising will not take on the same urgency as in the Democrats' primary, which will prompt TV ads in multiple markets.
Former House Speaker Kirk Cox, R-Colonial Heights, reported $341,896 in his Cox for Governor account and $349,569 in his Cox for Delegate account.
His Cox for Delegate account received $50,000 since September from Haulover Creek Development Co. LLC. Cox reported three $25,000 contributions to his campaign for governor, including one from banker J. Peter Clements and one from auto dealer David Perno.
Sen. Amanda Chase, R-Chesterfield, reported a year-end balance of $229,745 in her Chase for Governor account and $5,299 in her Friends of Amanda Chase account. Chase's largest donations since July 1 are four contributions of $5,000 each.
VPAP notes that candidates who announced their bids this year will file their first campaign finance reports by April 15.
Sergio de la Pena, a retired Army colonel and Trump administration Pentagon appointee, recently announced he is seeking the GOP nomination. Republican Glenn Youngkin, former co-CEO of the Carlyle Group, has filed paperwork to run for governor but has not officially announced his campaign.
Other potential GOP candidates who have not yet announced include entrepreneur Pete Snyder, who sought the party's 2013 nomination for lieutenant governor; and state Sen. Emmett Hanger, R-Staunton.
Virginia governors cannot serve consecutive terms. McAuliffe is trying to become the state's second governor in modern times to serve a second term. Mills Godwin served as a Democrat from 1966 to 1970 and as a Republican from 1974 to 1978.
(804) 649-6645
Twitter: @AndrewCainRTD