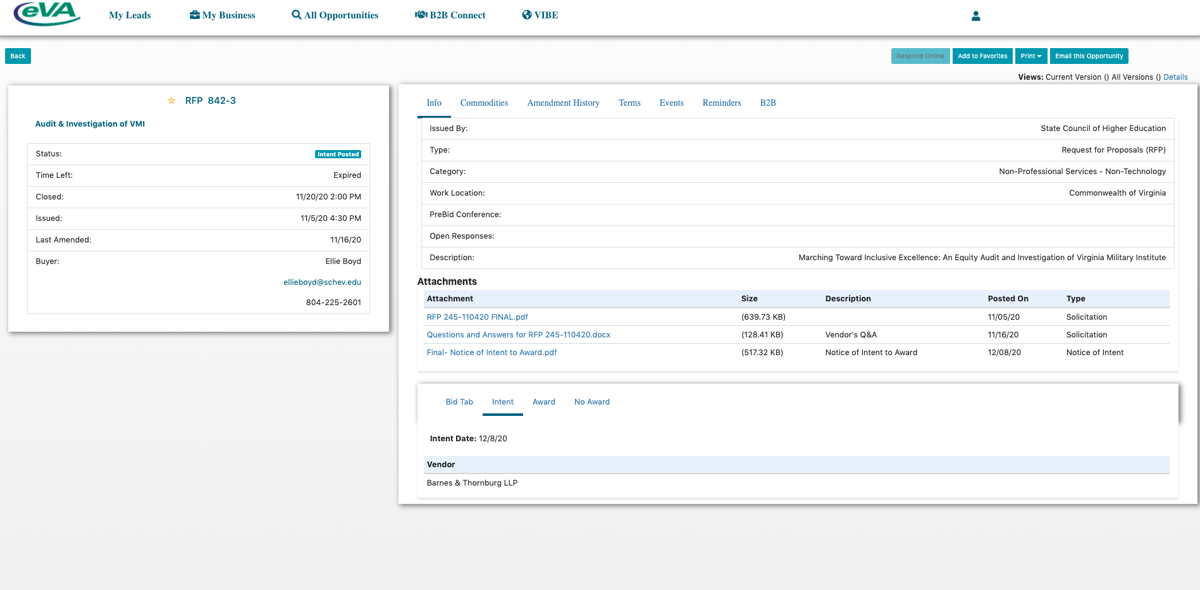 The State Council of Higher Education for Virginia intends to award a contract to investigate the Virginia Military Institute to national law firm Barnes & Thornburg, according to the state's online procurement system.
The council on Monday issued a notice of intent to award the contract and posted it Tuesday to the state's online procurement website, eVA.
A notice of intent informs the public that a contractor has been selected, although it is not a binding contact between the state and the vendor. The contract will be awarded at the end of the 10-day notice period, according to SCHEV Procurement and Fiscal Specialist Jennifer Brooks.
Barnes & Thornburg, whose clients include colleges and universities, is headquartered in Indiana and has offices around the nation, including in Washington, D.C., and Raleigh, according to its website. The law firm's proposal will be made public at the end of the 10-day period, Brooks said.
In response to a request for comment, the law firm directed inquiries to Brooks.
SCHEV sought proposals for a third-party, independent contractor to investigate VMI's "complex culture, policies, practices, and traditions," one of several actions directed in October by Gov. Ralph Northam following media reports of systemic racism at the state-supported military college.
SCHEV's request for proposals outlined expectations and detailed four objectives. The proposal asked the selected "special investigation team" to identify civil rights violations, conduct an equity audit, compare VMI to other higher education institutes in Virginia and other military colleges, and provide comprehensive recommendations for any necessary reforms.
The request asks the selected firm to solicit input from the VMI community in a variety of ways, including focus groups and anonymous surveys, "paying particular attention to those vulnerable members who may be reluctant to participate for fear of retaliation."
The selected investigator is "strongly encouraged" to document preliminary findings by Dec. 31 — less than three weeks away — and submit a final report no later than June 1, 2021, according to the request. An interim report will also be due by or before Feb. 10.
Final findings and recommendations borne of the investigation will be publicly available, the request states.
The General Assembly last month allocated $1 million toward the investigation, which SCHEV titled, "Marching Toward Inclusive Excellence: An Equity Audit and Investigation of Virginia Military Institute."
The request for proposals was issued Nov. 5, and the window closed Nov. 20.
VMI Board of Visitors President Bill Boland previously said the college will fully cooperate with the investigation. Interim Superintendent Maj. Gen. Cedric Wins said he plans to conduct his own assessment to discover "what our blind spots are or may be" and move forward.
During Tuesday's Board of Visitor's meeting, Wins said he wants to "set out a path ... on the direction that VMI needs to move to bring us into more of an inclusive environment, an environment that embraces diversity, an environment that is mutually supporting in the various aspects of what we do academically, militarily, physically and in all other walks of life."
"I think we need to take off any type of armor, any type of resistance that we have to having a discussion and dialogue about race, about racism, about those types of things for the betterment of the Corps of Cadets," Wins said.
The board also on Tuesday discussed the superintendent search underway to permanently fill the top leadership position following the resignation of Gen. J.H. Binford Peay III. The search committee announced last week that it contracted with search firm WittKieffer to assist with the process.
Board of Visitors member and search committee Chair Gene Scott said that the committee and WittKieffer will establish criteria by the end of the month and subsequently advertise for candidates.
Scott said the committee's goal is to be "extraordinarily fair and open" about the process. The committee has its own website, complete with status updates and a timeline.
"Everything we can publish, we will," Scott said.