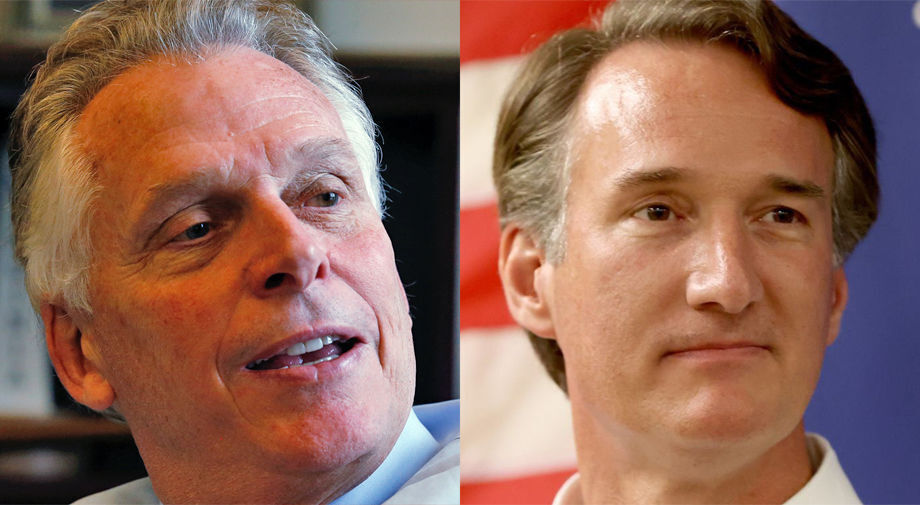 Republican Glenn Youngkin on Monday offered a glimpse into how he would wield the power of the governor's office if elected, leading with a bevy of tax cuts he says the state's government can shoulder.
The plan, which Youngkin formally unveiled during a campaign stop in Fairfax, includes doing away with the state's 2.5% sales tax on groceries and suspending the recent increase to the state's gasoline tax. Youngkin is also proposing to double the standard deduction in the state's income tax, staying mum on an earlier proposal to do away with it altogether.
Youngkin's campaign pitched the plan as the Republican's "Day One Gameplan," though many of Youngkin's goals would require the backing of the legislature, now controlled by Democrats. All 100 House seats are up for election this November.
Along with tax cuts, Youngkin is also calling for heavy investments in the state's mental health system, the department of motor vehicles and the agency that handles unemployment benefits. Youngkin's plan would also offer raises for state law enforcement officials and expand the number of public charter schools.
"I'll waste no time getting started, not one second. This starts with our day one agenda," Youngkin said before a crowd gathered at a construction contracting business in Fairfax.
Youngkin, a former private equity executive, has leaned on his business acumen in his pitch for governor. He has faced criticism for not publicizing clear governing plans or policy stances, calling into question whether he's equipped to govern.
Youngkin is facing off against Democrat Terry McAuliffe, the popular former governor, in a state that has increasingly tended to favor Democrats over the last decade. McAuliffe, who is steeped in the inner workings of the state, has released a number of policy plans going back to his party's primary.
McAuliffe's campaign on Monday derided Youngkin's governing plans: "All of Glenn Youngkin's Trumpian tax plans have one thing in common: they would lead to drastic cuts to public education and drive Virginia's economy into a ditch."
All in all, Youngkin's plan calls for about $1.5 billion in recurring tax cuts, and close to $2 billion in one-time tax cuts, which campaign aides said the state can shoulder thanks to its high revenue surplus, which they expect to continue.
In Fairfax, Youngkin criticized the state's so-called grocery tax, which applies to food and personal hygiene products. He also railed against the Northam administration's gas tax hike, which state officials said would help shore up the funds that pay for roads, transit and rail protects after years of low gas prices and the proliferation of electric vehicles.
"It is absolutely too darn expensive to live in Virginia. The liberal left keeps piling on costs," Youngkin said Monday.
If elected governor, Youngkin's tax agenda also includes requiring local governments to issue referendums to collect more in property taxes. An aide to the campaign said the candidate wants to end "runaway property tax increases," homeowners face when their home's value is assessed to be higher and the local municipality simply moves to keep their tax rate the same, effectively raising the amount the homeowner pays.
While Youngkin's tax agenda doesn't do away with the state's income tax as he had previously proposed—following facing criticism over the hit it would cause the state's budget—he is also proposing to offer Virginians a one-time tax rebate of $600 per household or $300 per individual.
As he's proposing large tax cuts, Youngkin is also vowing to improve the way state agencies and services function, namely, the Department of Motor Vehicles, the Virginia Employment Commission and the state's behavioral health system. Youngkin said he wants to make them more "customer-service oriented."
Youngkin has leaned on conservative fury over the teaching of "critical race theory"—the notion that the harms of racism are widespread and systemic—throughout his campaign. On Monday, aides to Youngkin said he fully planned to use the power of the governorship to influence school curriculum as part of his "Day One Gameplan."
Youngkin plans to name a full cadre of education officials—from the secretary of education to board of education members—who will prioritize addressing Youngkin's criticisms that many schools teach history with a political agenda.
As it related to education, Youngkin reiterated a plan unveiled earlier this summer to launch 20 new schools that would be funded by the state government but operated through partnerships with private entities. These types of schools, known as charter schools, have a small footprint in Virginia compared to states like Florida and California.
Virginians will elect a new governor in November. Also on the ballot are the jobs of lieutenant governor and attorney general, as well as all 100 seats in the House of Delegates.
The House is currently controlled by Democrats, who have a 55-45 seat majority. Democrats' majority in the Senate is a slim 21-19.
Many of Youngkin's plans will necessitate the support of both chambers. Asked about the fate of Youngkin's plans in the face of Democratic control of both or one of the chambers, campaign aides said Youngkin was planning proactive outreach to members across the aisle.