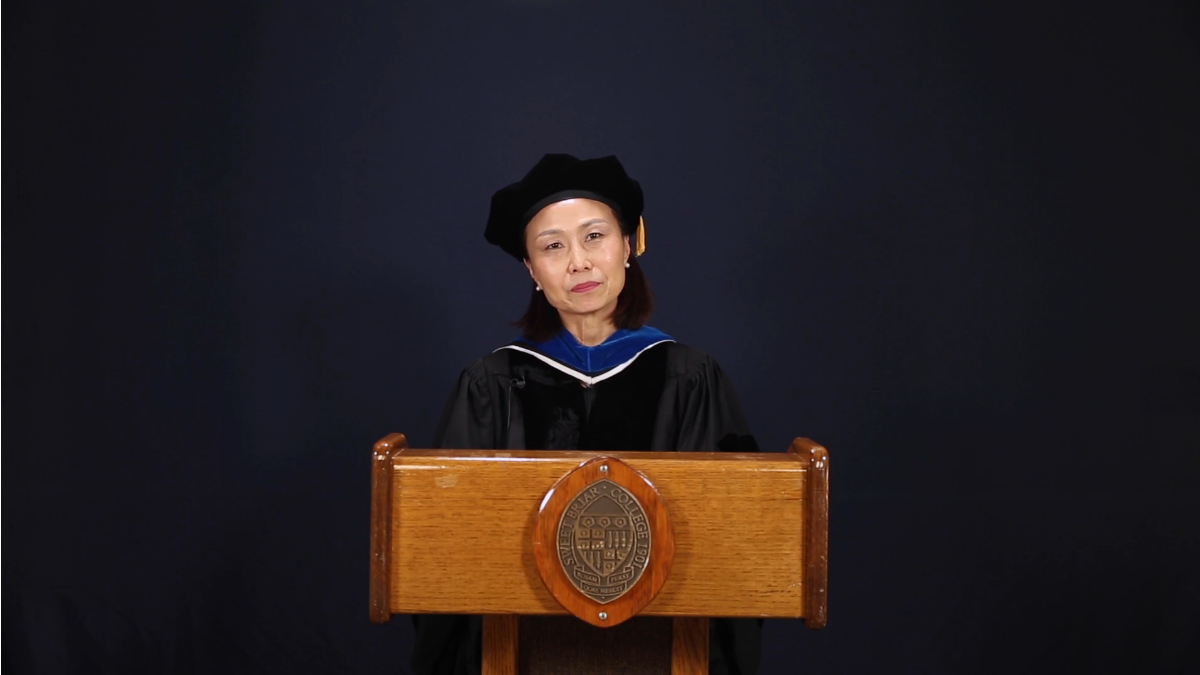 Seven months after the coronavirus pandemic abruptly halted classes at Sweet Briar College, the Class of 2020 finally celebrated its accomplishments Saturday in an entirely virtual commencement ceremony.
The long-awaited event marked the first time a Lynchburg-area college or university has held a graduation ceremony since the virus forced local schools to postpone or cancel their annual spring commencement exercises.
In a pre-recorded message streamed online, President Meredith Woo urged the college's about 150 graduates to be practical and realistic in their careers and to make decisions based on evidence. But she also charged the now-former students to be fearless and empathetic as they navigate the challenges posed by COVID-19.
"Class of 2020, you have reached womanhood amid the pandemic whose causes, progressions and consequences are still unknown. My charge to you is to be clear-eyed and hard-headed. Look at this pandemic in the face, as you would life," Woo said during the hourlong event. "Your first fealty as a thinking person is to facts and evidence, not to metaphors, not to innuendos and most certainly not to alternate facts."
Brooke Burnett, senior class president and one of four graduates to appear in the pre-recorded video, spoke of the power of kindness in a world rocked by an economic and public health crisis. In a speech she recorded for the school's 111th commencement, Burnett asked her classmates to "do good recklessly."
"It may not seem like it, but today's challenges are only temporary in our lives," she said. "We have the power to change the world, to change our society and to make more of ourselves. We must not succumb to the unfavorable circumstances around us. We are in control of the words we say and our actions. And it's these little things, multiplied by people who care, that change the world."
Gillian Munson, a Sweet Briar board member and a partner at the venture capital firm Union Square Ventures, delivered the commencement address from a home in Vermont. She called on the graduates to explore the opportunities now available to them and resist the urge to distrust their own ability.
"The problem is this: self-doubt is going to come," Munson said. "You should be prepared for it. I still have it all the time, including about this speech, and I'm pretty far down my career road. So what do you do when self-doubt hits? When you don't think you're getting your fair share? Fight for yourselves; get brave. Life is more interesting when you do. And fight for other women too."
Woo and Dean Teresa Garrett, who both appeared in traditional academic regalia before a black background during the virtual ceremony, recognized each of the graduates in a virtual degree conferral. Photos of the graduates were displayed as Garrett read out their names.
Sweet Briar's Class of 2020 was just the second class to enroll at the small, private, women-only liberal arts school after it nearly closed its doors in 2015 due to financial challenges, a fact noted by Board Chair Georgene Vairo.
"You, the Class of 2020, are the embodiment of Vixen fierce," Vairo, a 1972 graduate, said, referring to the school's mascot. "You made the bold choice to attend Sweet Briar the year after hundreds of our alumnae mobilized to save the college. As our alumnae connected, we saw how our experiences at Sweet Briar made us all the women we are today. And that inspired us to ensure that a Sweet Briar education would be there for generations of women to come, including you, the Class of 2020. And you, in turn, have shown your courage."
Concerned about COVID-19?
Sign up now to get the most recent coronavirus headlines and other important local and national news sent to your email inbox daily.