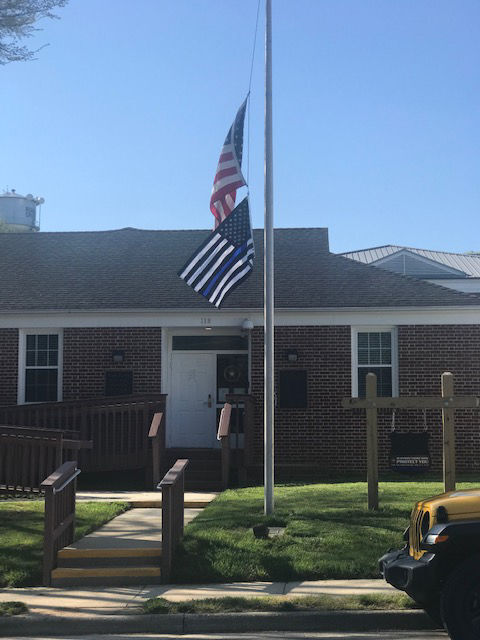 A flag that some believe is a symbol of support for police officers and others criticize as being adopted by white supremacists has flown over the Caroline County Sheriff's Office for the past several months.
The Caroline County Branch NAACP has requested Sheriff Tony Lippa denounce the co-option of the flag by extremists. Lippa did agree to remove a "Blue Lives Matter" sign that was on the office's grounds before it was replaced with a sign reminding citizens to "Support Those Who Protect You."
Lippa's decision to remove the "Blue Lives Matter" sign came after hearing from Black community members and meeting with the NAACP in January.
But he has since declined a second meeting, and refused to work with the organization on crafting a commitment to diversity statement and forming a Citizens Advisory Board.
Lippa declined to comment for his story, but addressed the NAACP's concerns in a letter to President Lydell Fortune dated March 29.
Lippa defended the use of the "thin blue line" flag—a black and white U.S. flag with a blue line across the middle—by saying its origins date back to the 1950s and it was a "symbol depicting the barrier between good and evil."
Multiple online sources credit Detroit native Andrew Jacob with creating the flag in 2014 based on images he'd previously seen on patches and stickers.
"The thin blue line flag represents support for the men and women in law enforcement who put their lives on the line every day to protect and serve all members of society, regardless of race, creed, religion, culture, national origin, politics, gender or any other category," Lippa wrote.
However, Fortune said the flag is divisive and intentionally antagonizes many residents in a county that is 28 percent Black. Fortune believes any flag that's flown on taxpayer-funded property should be inclusive.
The NAACP called on Lippa to make a public statement denouncing the "co-option of the thin blue line flag by hate groups."
Fortune noted the flag appeared at the 2017 "Unite the Right" rally in Charlottesville that left one woman dead and at the storming of the U.S. Capitol by supporters of former President Donald Trump on Jan. 6 that resulted in the deaths of five people.
According to a report on Politico.com, county officials in Oregon paid a Black employee of a law enforcement agency $100,000 after she said she was harassed by co-workers for complaining about colleagues displaying the flag at work. San Francisco Chief of Police Bill Scott banned his officers from wearing masks with the flag on it last year.
The flag went up at the Sheriff's Office after the Caroline Board of Supervisors voted unanimously to remove another symbol many believed was divisive—a statue of a Confederate soldier that stood on the courthouse lawn for 114 years. Lippa volunteered in October to help relocate the monument to Greenlawn Cemetery in Bowling Green.
Caroline Board of Supervisors Chairman Reggie Underwood and County Administrator Charles Culley said they're unsure if the county has the authority to remove the flag because the sheriff may or may not have power over the grounds outside his office.
But Underwood added that public officials should always be willing to communicate with residents.
"Any time we can resolve issues with communication, it's the absolute best way to do it," Underwood said. "But it takes two to tango. … If they've hit a sore spot, take a look at it and see what you can do to make it better."
Fortune said the NAACP thinks the presence of the flag will deter some minorities from applying for positions at the Sheriff's Office and is counterproductive to the diversity that Lippa has said he's seeking.
"In today's climate, that does not convey the message to applicants that the Sheriff's Office is a welcoming place for employees of color," Fortune said.
Fortune also said that at the NAACP's first meeting with Lippa it was stressed that the Sheriff's Office make a concerted effort to recruit "underrepresented populations."
"Merely sitting back and waiting for applicants to apply to job advertisements posted on Facebook is unacceptable," Fortune said.
Fortune said Lippa requested that the NAACP provide examples of diversity mission statements to include on the department's website.
He said the organization then provided a comprehensive law enforcement recruitment toolkit that was developed by the U.S. Department of Justice's Office of Community Oriented Policing Services. But the NAACP was later informed via letter that Lippa was no longer interested, saying his office will not be "beholden to any political group, ideology, party or otherwise."
Lippa wrote to the NAACP that he'd be grateful if its members referred "qualified applicants from all underrepresented communities."
Lippa noted that race isn't mentioned on the department's hiring application.
He touted that his staff is 30 percent minority, but that figure includes women, as well. Two of his four lieutenants are Black, but Lt. Keith Chatman recently announced his plans to retire after 26 years. His son, Jermell Chatman, left the department last fall and now works with the Virginia State Police.
Lippa wrote to the NAACP that low pay is the primary challenge in recruiting and retaining minorities. He requested the Board of Supervisors increase pay for starting officers by $8,000 per year.
"I hope that you will join me in that effort with a letter of support to the BOS," Lippa wrote.
Lippa addressed the NAACP's concern about a Citizens Advisory Board by stating there is no need for one "any more than there is for the other elected offices and officials to have citizen boards" because he has an open-door policy.
In the aftermath of the murder of George Floyd by Minneapolis police officer Derek Chauvin last May and subsequent protests, Lippa met with a youth basketball team in the county to discuss relations between the Sheriff's Office and young Black men.
"This office will remain committed to the protection of every person," Lippa said. "All of us are made in the image of God."
Taft Coghill Jr: 540/374-5526