9:45 a.m. update
Soaking rain from Tropical Storm Isaias has cleared out of metro Richmond, and soon the breezes will die down as the storm continues to race up the Eastern Seaboard.
Rain is ending from southwest to northeast across the state. Southside Virginia, Richmond, Charlottesville and Hampton Roads are all in the clear. The Northern Neck and Northern Virginia could have some rain until just before noon.
The Mid-Atlantic states are now taking the brunt of the flash flooding and tornado threat.
For the rest of the day, expect temperatures to warm into the mid-to-upper 80s under mostly sunny skies. More showers and storms could pop up with the heat of the day, but they will not be as widespread and heavy as the rain we saw this morning.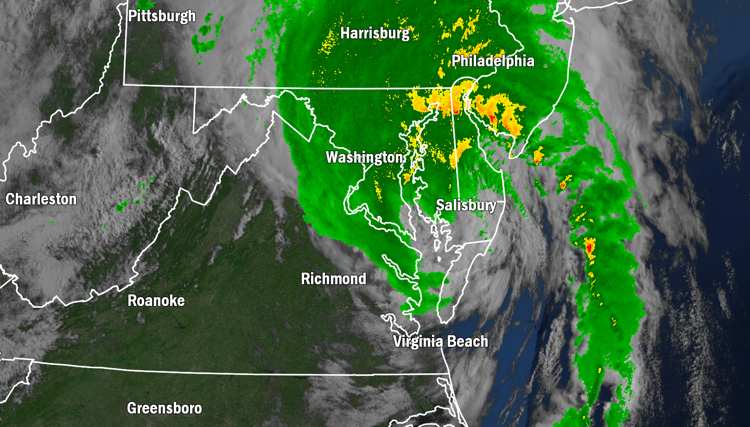 A flash flood warning for metro Richmond expired at 9:30 a.m. Since Monday afternoon, 3 to nearly 6 inches of rain fell across the area.
VDOT reported several issues with high water and fallen trees on roads throughout our area this morning, check the interactive 511 map for the latest.
Wind gusts around metro Richmond have ranged from 30 to 50 mph, but things will turn calmer over the next few hours.
So far, the peak gust at Richmond International Airport was 51 mph.
At 8 a.m., the center of Isaias was located 15 miles south-southeast of Tappahannock, moving north-northeast at 33 mph according to the National Hurricane Center. The maximum winds are on the eastern side of the storm. A gust to 77 mph was reported at Third Island at the mouth of the Chesapeake Bay.
Hurricane Isaias made landfall near Ocean Isle Beach, N.C. at 11:10 p.m. Monday with 85 mph sustained winds, then weakened to a tropical storm after coming ashore.
Power outages are now declining as the storm passes. Dominion Energy reports approximately 362,000 customers without power in its service area as of 9:30 a.m., down from 372,000 at 8:45 a.m. The bulk of the outages are across southeastern Virginia where winds have been strongest this morning. In the Richmond metro and Tri-Cities area, the latest outage number is at 22,508. That's down from 28,127 customers out at 9 a.m.
Isaias spawned numerous tornado warnings and reports throughout the Tidewater region earlier this morning.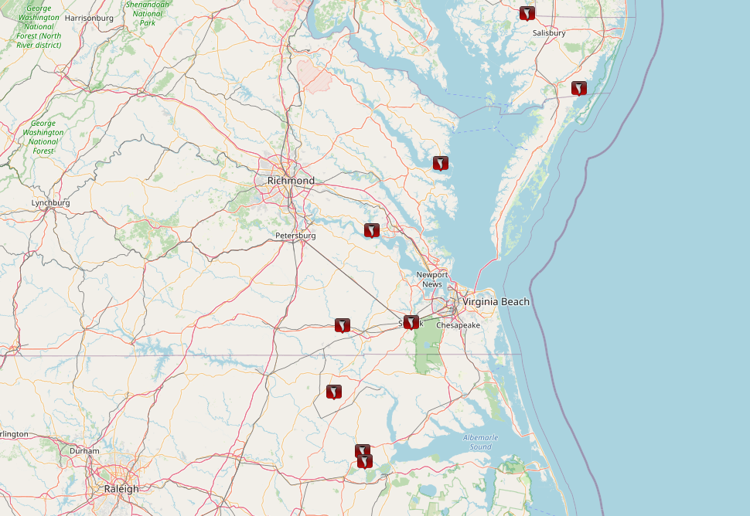 At 5:45 a.m., a debris signature on radar confirmed a tornado near Kilmarnock. The emergency manager reported significant structural damage across eastern Lancaster County along with two injuries.
Law enforcement reported major damage to structures and trees along U.S. Highway 58 in Southampton County at 2:56 a.m.
A tornado damaged roofs and brought down trees and power lines in downtown Suffolk at around 3:15 a.m. according to a report relayed by the National Weather Service in Wakefield.
Another tornado was reported to the NWS by law enforcement west of Williamsburg in James City County at 4:14 a.m., causing damage to trees.
The tornado-producing part of the storm has now shifted into Maryland and will continue moving into the Mid-Atlantic later this morning.
Look for more updates this morning.
Be the first to know
Get local news delivered to your inbox!