The return of cooler weather, pumpkins on every porch and apple butter churning means just one thing: colorful autumn leaves are on the horizon.
The fall foliage colors in Northeast Tennessee and Southwest Virginia may peak by the third week of October this year — about a week ahead of normal, according to Virginia Tech tree physiology expert John Seiler.
"I'm seeing some signs of things being a little early this year," Seiler said in a written statement.
This past week, Seiler said he visited the mountains of western Virginia to take a peek at the leaves.
"I just came back from the national forest and oaks are not turning yet, maples are showing a bit and hickories just a bit as well," Seiler said.
The professor, an expert on fall foliage in the Appalachian Mountains, said the region will peak earlier this year, in part because of the lack of long term rain this year. Before recent rain, the region was drying out a bit, he explained.
"Decent amounts of precipitation keep the leaves from dropping too soon," he said. "And because those vivid reds form in the fall, rain improves the outlook they'll be bright and colorful."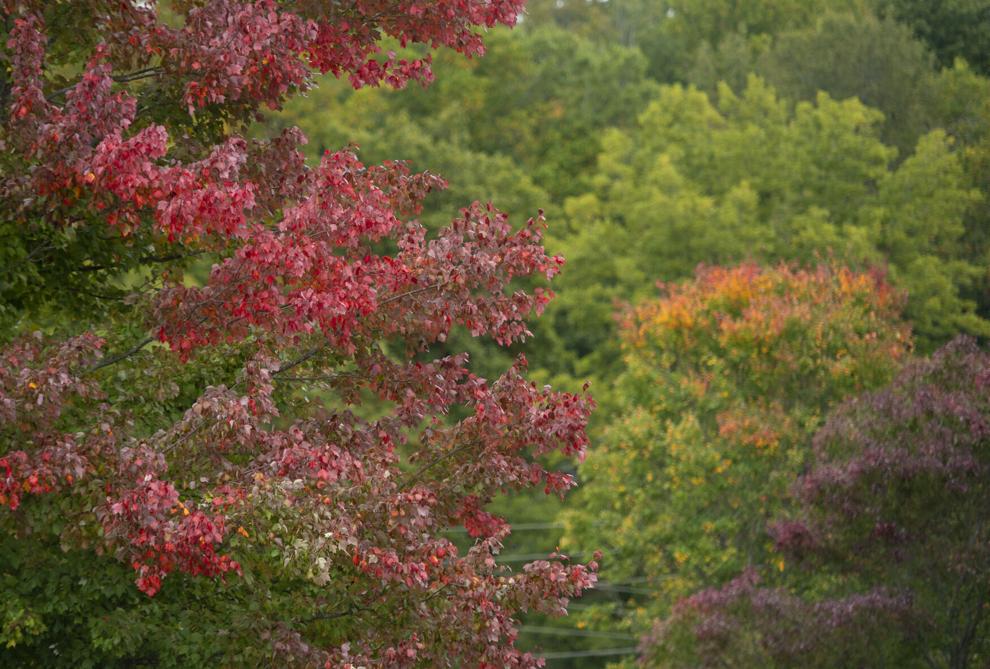 Leaves are typically bright green in the summer months due to the production of chlorophyll. As the days get shorter in the fall, Seiler explains, the leaves begin to change hue to their natural reds, yellows and oranges.
The Appalachian region typically never has a poor or average year of fall colors.
"It's either good, better or best," Seiler said.
The diverse range of trees in the region keeps the colors bold and vivid, such as the oaks, maples and hickories that Seiler looks for. If one tree is hurt by hot weather in the summer, he said other trees will likely not suffer.
"Our mountains offer constantly changing elevations and aspects, which lead to a higher biodiversity, which leads to a greater mixture of fall color," he said.
Leaves are expected to be at their peak between Oct. 11 and Oct. 28, according to Seiler, as well as the Farmers Almanac. So plan trips accordingly, especially when the sun is out because the colors look a lot better when there's sunshine, he said.
The Virginia Department of Forestry reported this week that the highest elevations of Southwest Virginia have already seen about half of the trees begin to change color.
"All in all, it's a great weekend to check out the mountains," the department said.
Achieving peak colors is a delicate balance, and can be jeopardized by a changing climate, according to Paul Schaberg, a research plant physiologist with the U.S. Forest Service based in Burlington, Vermont. Warm fall temperatures can cause leaves to remain green longer and delay the onset of what leaf peepers look for in terms of fall color, he told the Associated Press.
Dry summers can stress trees and cause their leaves to miss the fall color turn altogether, Schaberg said. A 2003 study in the journal Tree Physiology that Schaberg co-wrote stated that "environmental stress can accelerate" leaf deterioration.
"If climate change is going to mean significant drought, that means trees are going to shut down, and many trees are just going to drop their leaves," he said. "Severe droughts that really mean that the tree just can't function — that doesn't improve color."
Andy Finton, landscape conservation director with the Nature Conservancy, said good colors in the fall will become less consistent because of the various impacts of climate.
"We'll see more yellows and browns, which can still be attractive, but fewer of those bright reds and oranges," Finton told Outside Magazine. "Droughts provide less opportunities for the leaves to build up sugar, which is what gets turned into those brilliant fall colors."
Seiler, however, said he has not seen any impact from climate change. Day length is the primary environmental signal for leaves to change, and this occurrence is unaffected by climate change, he said.
Second, the increased carbon dioxide in the atmosphere is increasing photosynthesis in trees and making them grow faster.
"This will tend to improve fall color," Seiler said. "Increased carbon dioxide also increases water use efficiency in trees also making them more healthy. If we eventually warm a degree or 2 degrees Celsius, it might move the peak color a bit later in the year."
Perhaps by a week, he said.
Stephanie Spera, a professor at the University of Richmond in Virginia, says data shows peak fall foliage is getting a day later each decade.
"In the '50s, peak foliage was the first weekend of October, and now it is a week later, around the 12th or 13th of October, depending on where you are," she said.
Colorful leaves can be seen anywhere in the forests or mountains, Seiler said. The Farmers Almanac suggests travelers visit the Great Smoky Mountains National Park or the Shenandoah National Park for the best leaf peeping.