LYNCHBURG — It's widely acknowledged that Jane Austen's "Pride and Prejudice" is among the most iconic stories ever created. In July, City on a Hill Youth Theatre, a theater group for homeschooled high school students in the region, produced its first outdoor play on the lawn of historic Point of Honor in Lynchburg: Helen Jerome's adaptation of the early 19th century romantic novel of upper-class British manners.
Since the coronavirus pandemic, restrictions have been imposed on operations of theater and live entertainment with guidelines for social distancing, slashed audience capacity and sanitation. An outdoor venue was procured by the theater group to accommodate those stipulations instead of its usual indoor performance space at Hyland Heights Baptist Church on Wards Road. The mansion's expansive lawn offered plenty of fresh air and open area for audiences to remain socially distant while enjoying a classic performance.
John Knaus, co-director and co-founder of the theater group, said Point of Honor, built in 1814, was a perfect setting for "Pride and Prejudice," which was published in 1813.
Knaus and Alyson Wagner co-founded City on a Hill Youth Theatre group nine years ago when they saw a need for theater opportunities in the homeschool community. Both had children who were homeschooled at the time and wanted to get into theater. While many public or private schools in the area offer theater programs for students, homeschoolers do not have such convenient opportunities, Knaus said.
"The main reason we want to do it is so that these kids have an opportunity to do theater," Knaus, who participated in theater himself during school years, said. "If you're a homeschool student and you want to be involved with this, you've got to go out of your way."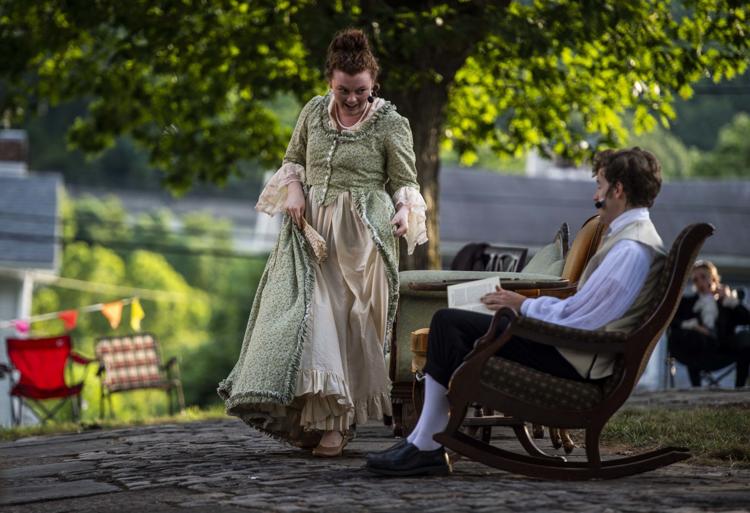 City on a Hill Youth Theatre group offers all homeschooled high school students in the area a chance to have a full theater experience.
Participants come and go throughout the years, Knaus said, but usually students from the region's three major homeschool co-ops are represented in the theater group. Other participants represent various "classical conversation," or "CC," groups in the area, independent groups comprised of home schooling parents and students.
Participation in the group is audition-based. Qualifying homeschooled students have the opportunity to audition for a part in the group's two annual productions. If selected, each participant pays a $40 joining fee and is cast in a role. Two actors are typically cast in each role. Cast members spend two months learning their lines and rehearsing.
Proceeds from ticket sales — usually $8 or $10 — and membership fees help pay for purchasing rights to a play, and producing the show.
The group focuses on classic plays for their two yearly performances in the spring and fall.
"What we want to do is nothing but classics, so if you went to college and they asked you what plays you've done in high school, you could roll out all these classics," Knaus said.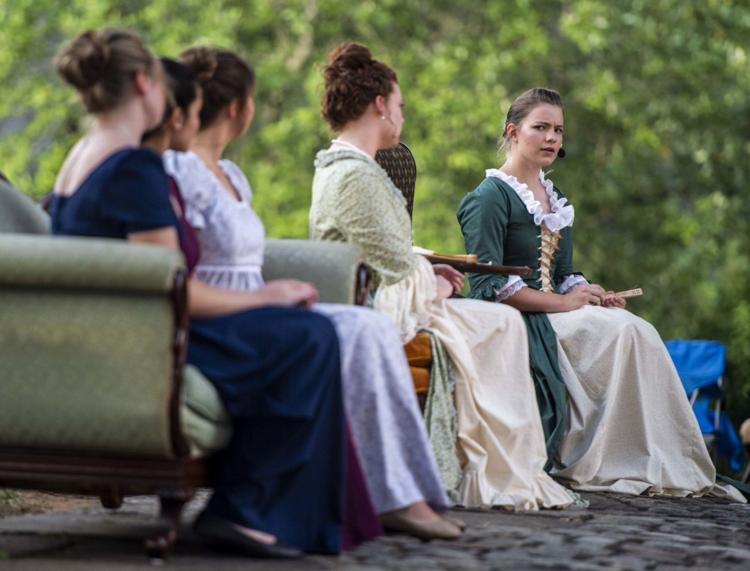 The group has produced 18 plays since its inception.
A cast of 36 teens brought Austen's iconic story of reluctant romance to life on the lawn of Point of Honor, in conjunction with the Lynchburg Museum System.
"Pride and Prejudice" was scheduled to be performed in the spring, but no sooner had the cast and crew been practicing and preparing through March than the coronavirus pandemic struck and brought plans to a temporary halt.
After a couple months of waiting, the theater group decided the show could proceed — but they had to work within parameters of public health guidelines.
"Originally when we planned this, we had dancing and all this other stuff, but we had to take out a bunch of stuff from the play that wouldn't match social distancing guidelines," Knaus said.
Other changes for the group included the use of microphones in an outdoor setting. Each cast member had a personal headset.
"We did all our practicing outside in hot parking lots," Knaus said.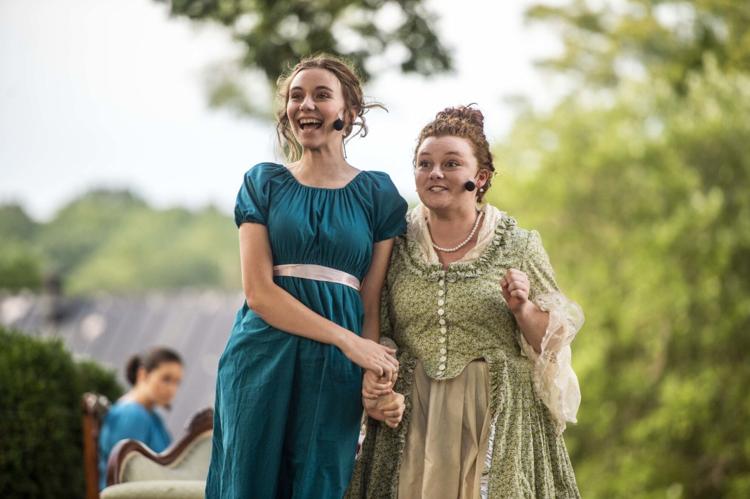 In spite of unusual circumstances, actors were eager to move forward with the show and embrace the situation.
"It's been quite the learning curve," said 16-year-old actor Eden Alley, who played Jane Bennet. "Pride and Prejudice" was Alley's fifth performance with the theater group since joining at age 14. Drawing on audience feedback during performances was different in an outdoor setting, she said.
"A lot of times at Hyland Heights, there's a lot of laughter, and you have to stop and take breaks between your lines so you can let the audience laugh and they can hear you after you say your line," Alley said. "In this scenario, the audience does love the play; they do laugh. But because we're so spread out, the energy that you get from the play kind of dissipates, and you don't, as an actor, feel the audience's excitement."
Being offstage outside was also different, Alley said, waiting behind trees and able to see the audience as opposed to waiting behind a curtain, hidden from view.
"It was definitely different in many instances," said 18-year-old Josiah Brown, who played Mr. Bennet. "Sometimes it was raining [during rehearsals]; sometimes it was cold. But really, I tried to look at the good things, which was the ability to first of all put on this play that we've been wanting to put on for a while and really have a passion for. And then all the new things that we got to do. It was really a time where we had to be a little more disciplined. We had to really bring our game to a higher level that we hadn't necessarily expected from the beginning, but that drove us, I think, to be better in some ways. It was a challenge that I think was good for us as a group, and really helped us grow not only in our relationship with one another, but in how we put on shows, and the quality of those shows."
Seventeen-year-old Maddie Hicks, who starred opposite Brown as the high-strung Mrs. Bennet intent on marrying off her daughters, said she was glad the group could continue with the production.
"I think everyone for a little while there felt like we couldn't quite find the surface. We were all swimming around, head above water," she said. "But everyone buckled down. They worked really hard. The directors, they worked so hard to find this amazing venue for us. Everyone was really diligent even while we had to take a break from rehearsals. It's been really cool to watch all that pay off."
When the coronavirus pandemic exploded in early spring, 19-year-old Ezra Hercyk, like the rest of the group, was not sure the show would go on. He was ready to jump back on board when word came after two months of waiting that things would proceed.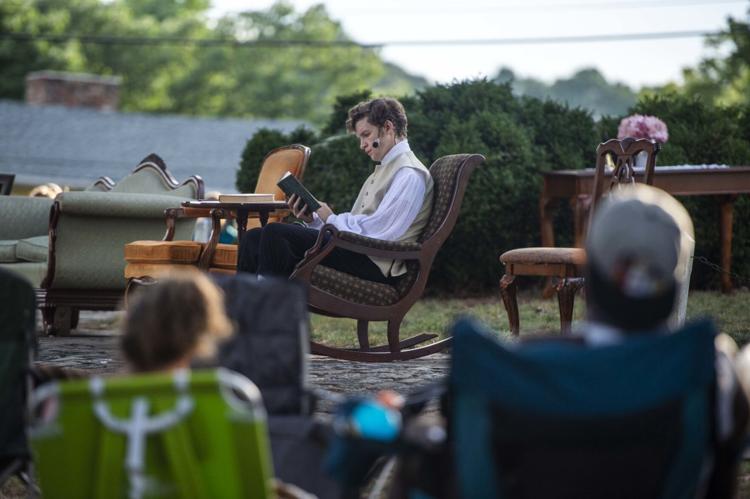 Hercyk took on the iconic role of Mr. Darcy in his seventh and final show with the group as he prepares to go to college full time.
Coming from a background in comedy, becoming Darcy was a much different experience, but just the challenge Hercyk had been looking for.
"I read through it [the script], and I was like, 'All right. This is something new. This is something I've never done before,'" he said. "I've mostly done comedies, and I love comedies, but I've done a lot of them and I was kind of looking for a new challenge. It was an opportunity I couldn't say no to."
Knowing how popular Darcy is as a character put on a little pressure, Hercyk said of the role, but the experience of making his mark as a well-known character was rewarding.
The actor took a different approach getting into his character for "Pride and Prejudice" than a character in a comedy.
"You have to get into a little bit more of the psychology of the character more so than a comedy, which is, just make the audience laugh. This is a show where you have to make the audience emotionally responsive to a specific character, which is something I've never really had to do before," Hercyk said.
Though pandemic restrictions restructured the way practice was conducted and performances were put on, the cast and crew of the theater group rose to the occasion and maintain hopes for a fall performance.
The fall production, which has yet to be selected, will also be held outdoors, Knaus said. The group will seek a venue that matches the setting of whichever play is chosen.
"I'm really proud of these kids," Knaus said.
Shannon Kelly covers Bedford County. Reach her at (434) 385-5489.