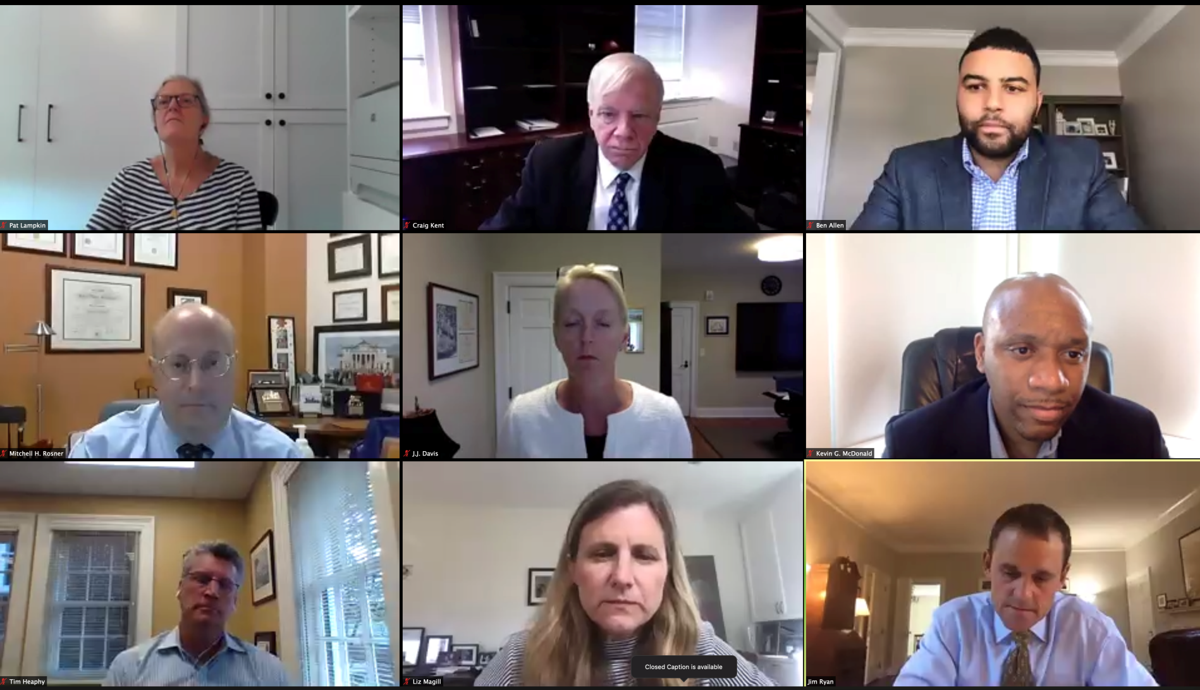 Officials at the University of Virginia held a virtual town hall on Monday about the school's reopening plans, largely reiterating messaging from previous announcements.
The town hall was meant for community members to ask questions about UVa's reopening plan as the coronavirus pandemic continues. Officials answered questions that were submitted before the meeting.
Last week, UVa announced it was pushing the start of in-person classes from Aug. 25 to Sept. 8 and delaying move-in day for undergraduates from Aug. 18 to "several days before" Sept. 8, though no exact date has been announced. Classes will begin online Aug. 25.
Charlottesville and Albemarle officials have roundly criticized the decision to have in-person classes, fearing that the return of thousands of students from across the country and world would spur more community spread of the virus.
President Jim Ryan said that officials are "trying to make the best decisions we can with the information in front of us."
The big question, as Ryan admitted, is "Why are we even trying to bring students back to Grounds at all?"
"We've believed all along that having students back and doing some instruction in person was important as long as we could do it safely," he said.
Ryan said UVa's "mission" is education, research and medical care, and all parts of that are "better done in person."
"We know bringing students back to Grounds carries some risk," he said. "But there are risks no matter what we decide."
Ryan said employees faced the risk of losing their jobs and some students may have issues with learning online.
About two-thirds of UVa students don't live on Grounds and Ryan said that, even if the university went completely online, they would still be returning to the area.
"It will be better for everyone if these students feel like they're part of the university community rather than outside of it," he said.
Dr. Mitchell Rosner, chairman of the Department of Medicine, said key benchmarks in the virus' prevalence appear to be stabilizing. Among those are new cases, percent-positivity and testing capacity.
As of Tuesday, the Thomas Jefferson Health District reported 1,977 virus cases, 145 hospitalizations and 44 deaths. The percent-positivity rate was 5.2%.
Dr. Craig Kent, executive vice president for health affairs, said the UVa Health System "absolutely" has the ability to handle a surge in virus cases when students return. Ryan said the hospital's capacity is "fine right now."
To protect students and employees, Chief Operating Officer J.J. Davis said officials have taken a variety of safety measures, including plexiglass shields in classrooms, enhanced cleaning and hand sanitizer dispensers throughout campus.
UVa also launched an app that will allow employees and students to conduct daily health screenings.
Most of the measures are focused on self-governance and, last week, officials said that students and organizations that repeatedly don't comply with the school's rules for masking and social distancing could face suspension and other penalties.
University Counsel Tim Heaphy said the school's requirements that students wear masks is enforceable on and off Grounds and repeated offenses could result in suspensions and other sanctions through the university. Heaphy said that nonstudents can report violations of the rules through a form that will be posted on the school's website.
"We understand that what we do on Grounds matters beyond Grounds," Ryan said.
Chief Student Affairs Officer Pat Lampkin said students' actions will vastly impact the community and, "I truly believe the majority of our students know this and want to do the right thing." However, she also said that when students gather with "drinks and food in good supply," good judgment can go out the window.
One question posed was who would be able to watch football games in the fall. Ryan said the university is still working with the Atlantic Coast Conference to determine if fans will be allowed, although in recent days, schools across the country have been announcing that fall sports have been canceled.
Ryan said that if the pandemic worsens and "we need to change course, we will."
Be the first to know
Get local news delivered to your inbox!