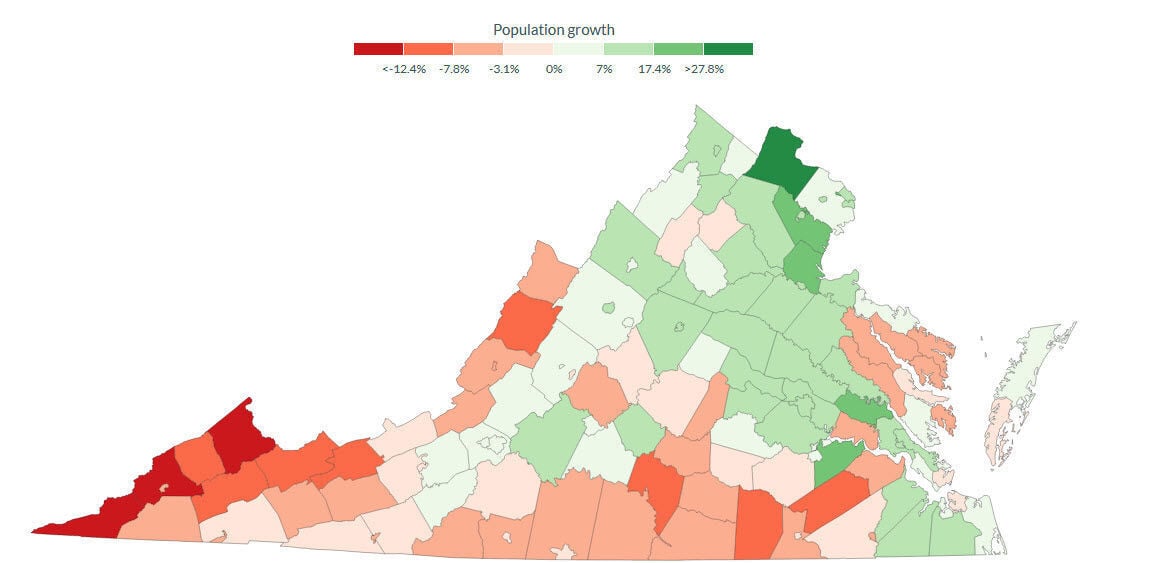 At the start of a new decade, Virginia is a more racially and ethnically diverse state, albeit one that is growing very slowly, new data from the census shows.
Southwest Virginia's population continues to shrink west of Montgomery County, while Northern Virginia's grows.
One in 10 Virginians is now Hispanic as the ethnic group expanded its footprint significantly in the state over the last decade. People of color in the state, fueled in large part by that growth, now make up 41% of the state's population, compared with 35% a decade prior.
For the first time, a majority of people under 18 in Virginia are people of color.
Virginia's population grew at a slightly faster pace than the rest of the nation in the last 10 years, but nevertheless faces a historically slow growth rate — one not seen since the Great Depression. Virginia is now 8.6 million people strong, up from 8 million in 2010.
The release of the new population data from the U.S. Census Bureau marks the beginning of the state's redistricting process, which will yield new political boundaries for the General Assembly and Virginia's congressional districts.
Rapid population growth in key urban and suburban areas could continue to fuel political success for Democrats in the state, paired with population declines in key GOP strongholds in Southwest Virginia. As map-makers crack open the census, faster-growing areas will be rewarded with heightened political power.
Southwest Virginia continues population declineA scan of the state's Southwest and Southside regions shows pervasive population declines over the last decade. Every locality west of Montgomery saw its population drop since 2010, with the heaviest losses by percentage in Buchanan, Lee and Wise at the county's southwest tip.
Continuing along the state's southern boundary, 14 of 18 localities that border North Carolina saw their populations decline.
When the state's new redistricting commission draws its political lines, it will aim to carve out districts that have similarly sized populations. The new census data suggests any districts could appear near Democrat-leaning areas, while voters that may lean Democrat could spill into GOP-held seats.
"In a state like Virginia, the places that are growing are generally more Democratic or toss-ups, and those shrinking lean toward the GOP. That explains what has happened politically in Virginia over the last several decades," said Kyle Kondik, a political analyst at the University of Virginia Center for Politics.
"To the extent that there could be more House of Delegates districts that touch Loudoun and Fairfax, and fewer that touch the western part of the state, that's a win for Democrats."
Hispanic and Asian American populations see big gains
People of color fueled the nation's population growth over the last decade, and Virginia was no different.
Virginia's Hispanic population broke the 900,000 people mark in 2020, growing by more than 275,000 or 44%. Nearly 11% of the state's population is now Hispanic, compared to 8% a decade ago.
Alex Guzman, 33, immigrated to Virginia from Puerto Rico with his parents and grandparents when he was 7 years old. His family first settled in Prince George County, which now has 43,000 residents, 10.1% of them Hispanic, according to the new census data.
It was a different scene when Guzman was a child in that locality. His parents helped start a Hispanic Catholic Mass at the local Sacred Heart Church that began as just a few families.
"It started as three or four families," said Guzman, who now lives in Richmond. "I went to Mass there three weeks ago, and the church was full with people from all over."
Guzman, who previously worked at FAIR Housing, a local nonprofit focused on housing stability, said he hopes that the growth in the Hispanic population confirmed by the census leads to a more welcoming environment and necessary community services for that community.
"Language is part of what makes Latinos Latinos. And we don't always do a good job meeting that need, providing essential services in Spanish," Guzman said.
"My grandmother still doesn't speak English, as much as she has tried," he added.
The state's Asian American population also grew significantly in Virginia over the last decade. In 2010, the census reported that 522,000 people in Virginia — 6.5% of the state's population — identified as Asian American. A decade later, people of Asian descent make up nearly 9% of the state's population with 757,000 residents.
That's a growth of 45% over the last 10 years spread out among nearly every locality in Virginia.
Terry Minnis, the senior director of the census and voting programs for Asian Americans Advancing Justice, said the Asian American population saw fast growth across the nation, adding that Virginia is an example of how that growth includes more than the traditional immigration gateways like California and New York.
"The [Census] data reinforces what we're seeing on the ground and in estimates, and highlights the importance that those communities are engaged with politically," Minnis said.
Among the 10 localities with the largest gains in Asian American residents, the top seven were all in Northern Virginia. Charlottesville, Henrico and Virginia Beach rounded out the top 10 list.
Virginia's Black population remains steady
The share of Virginians who identify as Black or white, alone or in combination with other races, remained largely unchanged over the last decade. Black Virginians continue to make up about 20% of the state's population, though that population grew only 9% over the last 10 years.
Virginians who identify as white, alone or in combination with other races, saw particularly small population growth at just under 3%. This group continues to make up a majority of the state's population at 68%, down from 71% a decade prior.
The number of Virginians who identify as only white and non-Hispanic actually declined over the last decade by 128,000 people, a decline of 2%.
Nationwide, the share of people identifying as white only and non-Hispanic is now 58%. In Virginia, that number is 59%.
Virginia's numbers follow nationwide trends, where the number of people who identify as white has decreased for the first time since the country's first census in 1790.
That trend is likely to continue. For the first time ever, the population of people under 18 in Virginia is now made up mostly of people of color at 51%. Nationwide, the under-18 population is 53% people of color.
The city of Richmond is a key exemption to this trend. The city, which grew in population over the last decade, now has a white population that is larger than its other racial and ethnic groups.
The new census figures offer encouraging news for Virginia Democrats, who have captured every statewide contest since 2009 by dominating the state's increasingly diverse population centers.
The growth and increasing diversity in the state's population centers underscore Republican Glenn Youngkin's challenge as he seeks to compete in the suburbs while rolling up victories in smaller red rural counties, many of which lost population between 2010 and 2020.
Northern Virginia saw the largest population gains, driven in large part by people of color. Loudoun County saw by far the most explosive growth in the state, adding 100,000 people over the last decade, rising to nearly 421,000 residents with a growth rate of 35%.
Ten of the 15 localities that saw the greatest population gains in the last decade are in Northern Virginia. Others with big gains include Prince William, which gained nearly 20% to 482,000 residents, and Stafford County, which gained nearly 22% to 157,000 residents.
These localities are also becoming more racially and ethnically diverse. Fairfax County, the state's largest locality at 1.15 million people, has joined neighboring Prince William as a majority-minority county — one where people of color make up a majority of the population.
Exit polls show how the state's demographic shifts play to Virginia Democrats' strengths. In Virginia's 2020 presidential contest, according to CNN, President Donald Trump carried 53% of the vote among white voters, while Democrat Joe Biden received 89% of the tally from Black voters, 61% among Hispanic voters and 60% among Asian voters.
(804) 649-6254
Twitter: @MelLeonor_