Do not be alarmed, in the coming weeks, if you are driving through the Shenandoah Valley on Interstate 81 and you come upon a convoy of aging ambulances — close to two dozen — motoring north on the highway.
You would be right to wonder where they are going, and the unlikely answer is Ukraine — by way of Baltimore; then onto a cargo ship that will sail across the Atlantic, through the Mediterranean, into the Adriatic and to the port of Koper in Slovenia; then onto flatbed trucks bound probably through Hungary and Slovakia, where the ambulances will arrive at their new homes in Ukraine.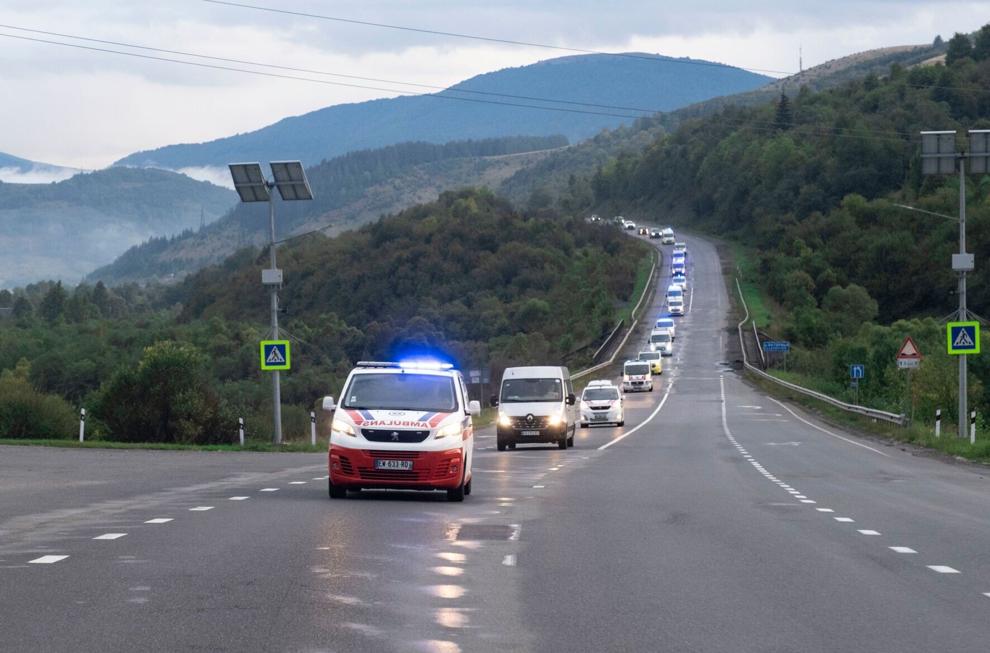 "It's going to be a sight," said Brock D. Bierman, with characteristic enthusiasm. The Augusta County resident is the president and chief executive officer of the nonprofit Worldwide Friends Foundation and the driving force behind the organization's Volunteer Ambulance Corps, which includes the acquisition, refurbishment and delivery of used ambulances to support the Ukrainian war effort.
"It just happened," he said, still marveling about the day last fall when he saw the parking lot full of ambulances for sale along US Route 11, just south of Harrisonburg. "If I hadn't been driving that day…"
In fact, there were 27 used ambulances sitting outside Route 11 Automotive that day, and when Bierman stopped in to ask whether they were for sale, the owner, Brandon Peavy, asked, "Would you like to buy one?"
Bierman's replied, "No, I'd like to buy them all."
Peavy was taken aback, but Bierman explained his mission, and the two struck a deal. Now, 22 of the ambulances — fixed up with new tires, brakes and assorted other repairs to make them serviceable — will be headed to Ukraine in the coming weeks. The other five are still undergoing repairs and might also be included in the convoy, depending on the timing.
In a phone interview, Peavy explained that, besides Route 11 Automotive, he also operates an ambulance company in Charlottesville, Harrisonburg and Staunton, and that he had acquired the used ambulances a few years ago from a Virginia Beach company that had gone out of business. In order to get the 10 he wanted for his company, Peavy had to buy the entire inventory — 54, in all — despite not knowing what he would do with all of them. Over the years, he had sold a few here and there, and it was only a few days before Bierman stopped in that he had decided he really needed to sell the last 27 because he was about to lose a chunk of his parking lot to a road-widening project.
"Those ambulances needed to go, and within a week Brock showed up," Peavy said. "This is probably the most rewarding thing we could possibly do with them."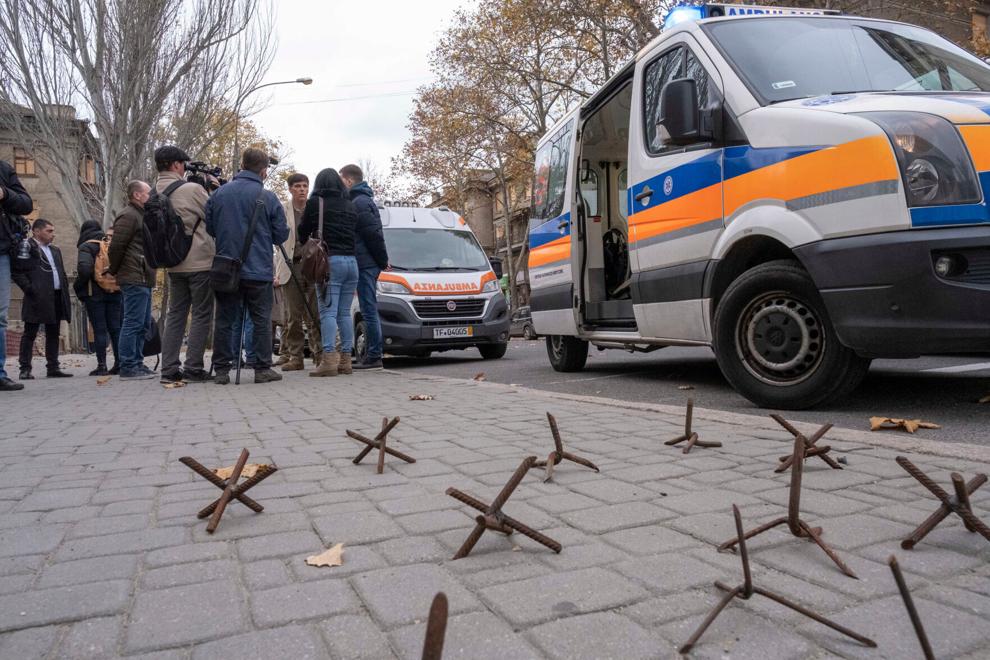 Bierman, 58, is a former three-term Republican representative in the Rhode Island General Assembly who held appointments in the U.S. Agency for International Development in its Bureau for Europe and Eurasia during two administrations (Bush and Trump). While at USAID, Bierman led an initiative that launched in 2019 to help eastern European countries, including Ukraine, withstand the influence of Vladimir Putin and the Russian government. He also founded a program called European Democracy Youth Network, an alliance of young people advancing the cause of freedom in European countries with totalitarian histories.
Bierman, lived in Northern Virginia for many years before moving southward with his wife, Lisa, in 2016 to the community of Lyndhurst, a place he calls "paradise." He has a deep familiarity with Ukraine and that part of the world. His passion for Volunteer Ambulance Corps and other projects aiding Ukraine is even more personal.
His grandfather came to the United States as a teen in 1906, having fled religious persecution in what is now Moldova — one of Ukraine's next-door neighbors — during a pogrom against Jewish citizens. Within the next decade or so, he became an American citizen, learned to read and write. He then went to college, started his own company and joined the U.S. Army to fight in France during World War I.
Bierman was an adult before he learned the full details of his grandfather's story, and it has had a profound impact on the way he views both the world and, now, his role in helping the people of Ukraine.
"Although my grandfather died when I was one-year-old, I learned a lot about being an American from my grandfather," said Bierman. "I think about how he gave my family… the gift of freedom, and I have a debt to pay. I feel like he paved the road for me, and I have to pave the road for not only my kids but other generations to come. That's why this is so important."
Within weeks of Russia's invasion of Ukraine last February, Bierman was on the ground in Ukraine to assess how he could help. He was struck, in particular, by the grassroots bravery and resolve of the Territorial Defence Forces, Ukraine's military reserve component, which Bierman described as volunteers — men and women, young and old — who might never previously have held a gun in their lives, but who were handed weapons and told, essentially, "If the Russians break through the line of the professional armed services, point the weapon and pull the trigger."
Despite being poorly trained and poorly equipped, Bierman said, "They don't care. They're going to do whatever it takes to win this war. They're not going to give up. Russia has no idea — or maybe they do now."
Among Bierman's findings on his tour of the country was a need for ambulances: communities were lacking ambulances that had been taken to the front lines, leaving physicians to drive patients to hospitals. At the same time, ambulances at the front lines were being targeted and destroyed by Russian forces.
The revelation inspired Bierman to start the Volunteer Ambulance Corps — a nod to the Americans who volunteered as ambulance drivers in France before the United States entered World War I — and he immediately began looking for used ambulances  that could be fixed and put into service, particularly those with four-wheel drive that could navigate the sometimes-less-than optimal terrain in Ukraine and other European countries.
A longtime Rotarian, he partnered with Rotary International to kick-start the ambulance program, raising more than a half-million dollars through Rotary. He also partnered with other organizations. At the moment, the program has delivered 90 ambulances to Ukraine, each of which has been packed with humanitarian supplies. He has personally driven several to the front lines.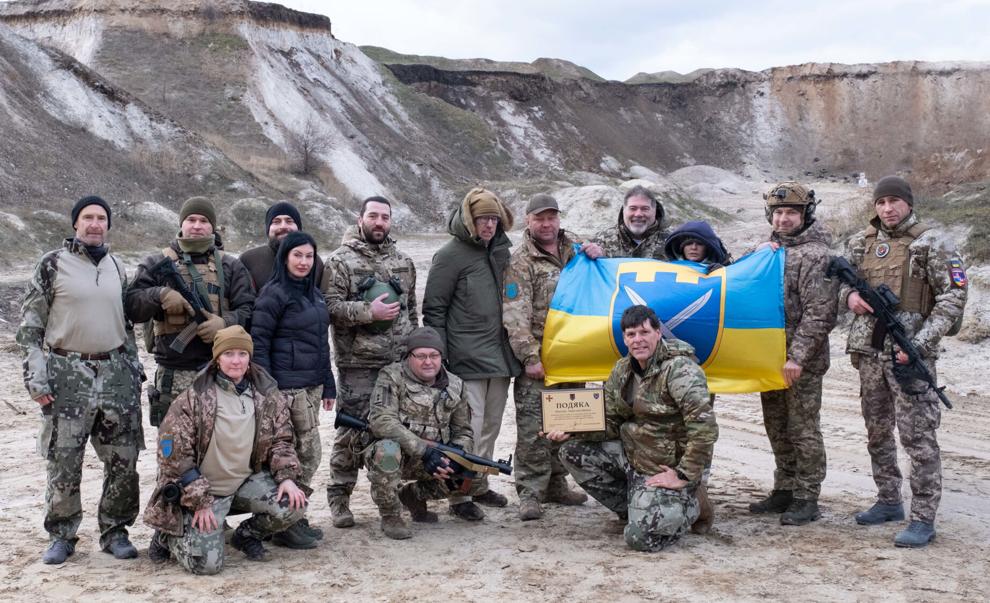 Why are the ambulances so important?
I emailed Viktor Shevchenko, CEO of Zammler Ukraine, an international transport logistics company, who at the moment is also a lieutenant in the the Territorial Defence Forces and well-acquainted with Bierman's efforts.
"The Ukrainian army is not designed to fight against such a large aggressor as Russia, therefore, under the given conditions… there is a huge shortage of medical vehicles working at the front line," Shevchenko replied. "Plus, during intense battles, there are large losses of equipment but wounded fighters must be taken out."
Bierman has made 10 trips to Ukraine since the war started and he is hosting the mayor of Bucha, a suburb of Kyiv where Russian soldiers massacred civilians last spring, during the mayor's visit to Washington and other U.S. cities this week. On one of Bierman's recent trips to Ukraine, Shevchenko presented Bierman with the honorary Territorial Defense Shield, which, as part of the ceremony, was pinned onto his chest "pins out," Bierman recalled. He didn't bleed too much, and he and Shevchenko have grown to be "like brothers."
Besides ambulances, Ukraine Friends has provided individual first-aid kits, generators, solar-powered lamps (from a Virginia-based campaign launched by Stewart Gamage of Richmond) and other supplies. The organization also is trying to provide comfort to displaced children by delivering hygiene and travel kits for children and their families, distributing toys and building playgrounds. The Playgrounds 4 Peace program has built about 15 playgrounds and hopes "to build hundreds if not thousands" more, Bierman said.
The high-energy Bierman is not simply a Type-A personality, said Mike Quillen with a laugh, but "an A-plus personality… doing three things at once a lot of the time." Quillen, a retired attorney, belongs to the Rotary Club of Staunton where he met Bierman last spring. On top of that, Bierman "has put together a team of really dynamic young people" fully committed to the Ukrainian cause.
But when people praise Bierman, he says, "I'm not a hero; I'm just someone helping heroes."
The Rotary districts that include the Staunton and Richmond clubs provided a $50,000 "disaster response" grant that allowed Ukraine Friends to purchase several ambulances as well as supplies. Quillen accompanied Bierman last November on an ambulance-delivery mission; he drove an ambulance across the Slovakian border, eventually reaching Mykolaiv in southern Ukraine.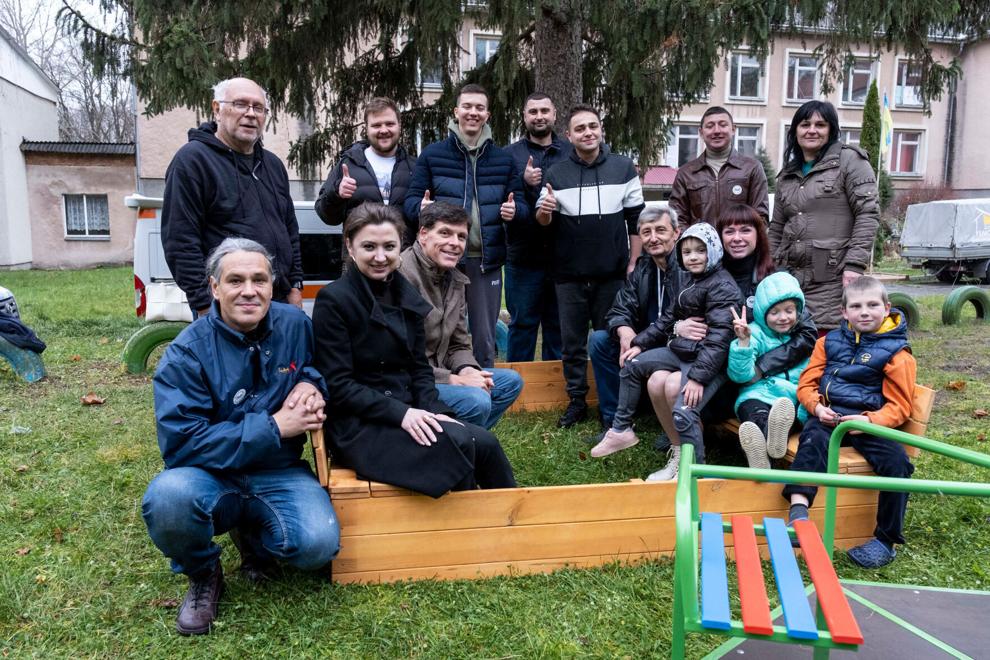 "It was an adventure," Quillen said.
Driving through the Ukrainian countryside, he said, it was easy to see why Ukraine is called by some "the bread basket of the world."
"You would drive… and it's just fields," he said. "Not a little farmhouse here and there, just miles and miles of fields, and they go miles and miles in either direction away from the road, as far as you can see."
As they drove eastward, there was increasing evidence of war: checkpoints, damage and stories of atrocities. When he was there, towns were beginning to suffer from power outages due to the shelling of infrastructure.
"The biggest takeaway of all is that the Ukrainian people are so strong, so committed," he said. "It's sort of a quiet determination. They're not shouting about the fact that they're going to persist. They just have this quiet strength.
"I don't know what victory is going to look like, but they're not going to lose this way, I don't think. They're too determined."
Quillen plans to be among the Rotary volunteers driving the next wave of ambulances that travel between Harrisonburg and Baltimore.
"Just waiting for a date," he said.
Bill Lohmann (804) 649-6639
@BillLohmann on Twitter