Stafford supervisors voted 6-0 to keep Critical Race Theory and The 1619 Project out of the county's public schools.
Supervisor Tinesha Allen was absent for the vote at Tuesday's meeting.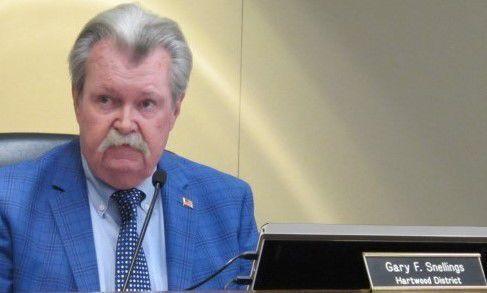 "I'm not sure how everybody got upset about this thing," Supervisor Gary Snellings said. "[Interim Stafford County Schools Superintendent Stanley] Jones said we're not doing it. Fine … what this resolution says is, we don't want you to do it in the future."
Two weeks ago, Jones told supervisors county educators are not teaching Critical Race Theory in public schools.
"The answer to the Critical Race Theory question is simple: We don't teach it," said Jones. "We never have. Every single thing we teach is publicly available and developed by the Virginia Department of Education."
Critical race theorists believe U.S. law and legal institutions create and maintain social, economic and political inequalities between whites and nonwhites, especially Black Americans. Many school districts across the country are tackling the issue as concerned parents are joining forces with others who vehemently oppose the controversial curriculum.
In Texas on Monday, a school board voted unanimously to give notice of a proposed non-renewal of the contract of a principal at the center of controversy over critical race theory. The week before in Loudon County, the Free to Learn Coalition purchased $500,000 worth of television ads criticizing that county's school board for their stance on Critical Race Theory, and in Tennessee, "Moms for Liberty" recently asked the Tennessee Department of Education to force the district to scrap that material and overhaul its curriculum.
During the county supervisors' meeting two weeks ago with Jones, Snellings said he would introduce a resolution on Sept. 21 outlining the boards' opposition to the curriculum, as well as 1619 Project curriculum that dives deep into the consequences of slavery and the contributions of Black Americans to the nation's history. The resolution also eliminates any educators' requirement to have their students identify their preferred gender pronouns on schoolwork or other documents associated with the school system.
"This is nothing more than following state law and nothing more than protecting our children," said Snellings, who does not oppose a student or their parent approaching an educator to request a specific pronoun be used.
"Fine, no problem, no problem at all," said Snellings. "What [the resolution] says, they can't be required. This does not eliminate anything. It just follows state law."
The latest resolution also contains a clause to "stringently review" School Board appropriations requests to ensure funding is not dedicated to "practices specifically denounced in this resolution."
Snellings said that clause does not defund schools, but leaves county supervisors open to decline future funding of programs related to CRT or The 1619 Project.
Over 30 speakers took the opportunity Tuesday afternoon to speak both for and against the supervisors' resolution.
Sharon Foley, of Stafford, who has children enrolled in Stafford schools, told supervisors she wants her children to learn "the good, the bad and the ugly" of America through education in county schools.
"If you pass this resolution, you will be well on your way to building a Stafford that ignores history, negates the reality of the majority of our student population and wastes taxpayer money on politics, rather than addressing the critical needs of this community," said Foley. "I had hoped we were building a Stafford where Confederate flags on 80-foot poles were no longer welcome. This resolution tells me I was wrong."
Christian Peabody, a music teacher at Falmouth Elementary who also served as president of the Stafford Education Association for four years, said the supervisors' decision Tuesday shows how micromanaging and out of touch county supervisors are with educators' workloads.
"We're not teaching CRT," said Peabody. "For them to not define exactly what they were talking about without talking to educators is completely against why we have public education in the first place. That strips the sanctity of public education."
Gary Adkins of Stafford told supervisors as more is revealed about CRT and 1619 Project across the country, parents are joining forces to help keep the curriculum out of their children's classrooms.
"Since the curtain has been drawn back, some jurisdictions of The 1619 Project and their offshoots have been recognized for what they are," said Adkins. "Its proponents are constantly dreaming up new terms and phrases to provide cover for it. After all, it is a core CRT itself; it's simply rebranded Marxist propaganda."
James Scott Baron: 540/374-5438