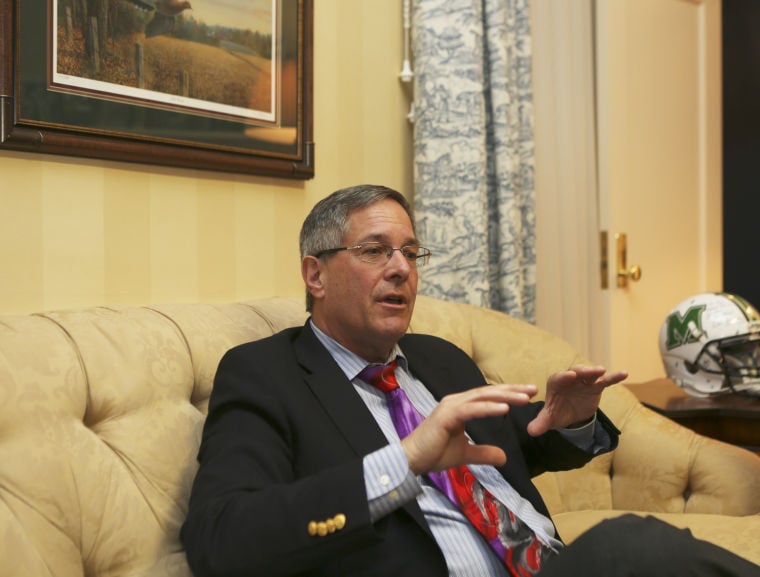 Tom Clarke, the Botetourt County environmentalist, health care executive and purchaser and operator of the troubled Natural Bridge attraction on Interstate 81, received a green light Thursday to enter the coal mining business.
The Wall Street Journal reported that a judge in Richmond verbally approved a plan to break up struggling Patriot Coal Corp. of West Virginia, with a portion of the mines and idle mine land in need of reclamation going to Clarke's Virginia Conservation Legacy Fund nonprofit organization.
"Confirmation!" Clarke said by text from the courthouse.
Judge Keith Phillips of the U.S. Bankruptcy Court said Clarke is expected to follow up his stated intention to approve Patriot's chapter 11 reorganization plan with a written order in the near future. Clarke said the transaction is scheduled to close Oct. 26.
Clarke and Patriot unveiled an agreement in August for VCLF and a new entity named ERP Compliant Fuels LLC to receive part of Patriot's assets by assuming more than $400 million of coal company liabilities. Thursday's action gives Patriot approval to go forward with that transaction and to sell other assets to Kentucky-based Blackhawk Mining.
Clarke has announced a business model designed to help the environment, in that he will deliver reforestation carbon credits to offset the carbon dioxide emissions of the electrical generating plants that buy his coal. ERP, to be based at Natural Bridge, has $35 million in financial backing and experienced coal mining executives hired to run it, he said.
At the same time he launches that venture, Clarke has pledged to catch up Natural Bridge on a raft of unpaid bills run up since VCLF bought it in 2014. Rockbridge County officials and local court documents show that the bridge enterprise, which operates a hotel, caverns, a gift shop and the bridge itself, is delinquent on local taxes, millions in loan payments and payments to contractors. Clarke acknowledged Wednesday the enterprise is in financial difficulty. He attributed the issues to a downturn in business and the organization's inability to get capital financing he was counting on.
Clarke is also president and CEO of Roanoke County-based nonprofit Kissito Healthcare, a provider of services to the elderly and disabled including long-term care, day care and housing.