BEAUREGARD, Ala. — The trail of disaster extends far and wide.
Farther and wider than even what post-storm evaluation expert Chris Darden imagined he would find.
"I walked it on Highway 11, and it was misleading. I kept thinking I had gotten to the end of the path and kept walking and there was more damage. So in spots, it could have been more than a mile. It's hard to say," he commented Tuesday.
Darden is the National Weather Service's meteorologist in charge of inspecting the nearly one-mile wide, 70-mile-long spotted path of destruction, which spans from Macon County east all the way into Georgia.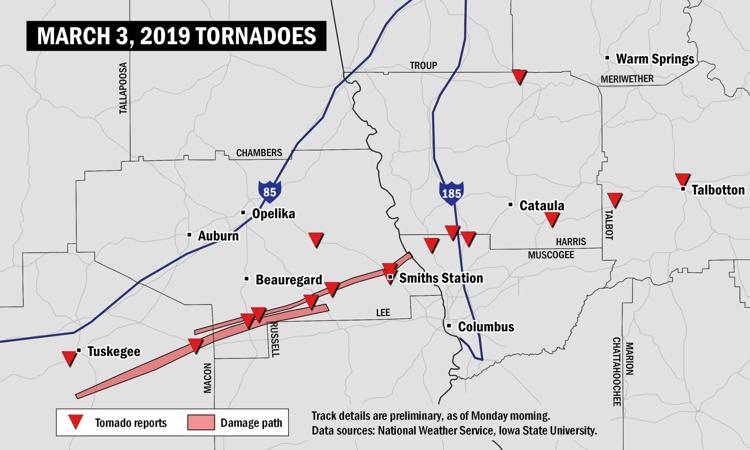 But there is nothing at all spotted about its trek through Lee County, Alabama.
Large swaths of pine forests are leveled, showing the devastating impact and power of an avalanche-like wind storm that raced through with 170 mph winds.
Many of the trees simply snapped in two several feet above the ground. Others were yanked entirely out of the ground, roots and all, and thrown violently into the ground many feet away from the hole in the ground left behind.
"It's like a centrifuge. I mean a tornado's like a centrifuge — it's spinning, and the longer it's on the ground, the stronger it is," Darden said. "It's picking up two-thirds of a tree, it's picking up cars, and they're just giant missiles."
The death toll in Lee County remained at 23 on Tuesday, but officials were quick to point out that there remained pockets within the disaster zone still to be searched, with at least 7 or 8 people still listed as missing.
Lee County Coroner Bill Harris said most of the dead were found in close proximity of their home.
"We believe that every victim was in their residence when it hit," Harris said.
Several of them were in mobile homes, which offered no protection to the type of monster that fell upon them with only a few minutes of warning.
"The actual tornado itself was on the ground 70 miles total, into Georgia," Darden said. "It was probably moving about 50-55 mph.
"So you're looking at that tornado was on the ground over an hour. You're looking at an hour and 10 minutes roughly. That's a long time it was on the ground.
"It's a long period of time to sustain that wind."
The Lee County tornado continues to be listed as an EF-4, the second-most powerful listing given to tornadoes. A tornado can become an EF-5 when winds hit 200 mph. However, it wasn't the only twister in east-central Alabama on Sunday, as three others that struck were upgraded in size by Darden and his team on Tuesday.
The Macon County tornado became listed as an EF-2, which means it could have had sustained winds at 111 to 135 mph.
The other two, which sat down in Barbour County, were both upgraded to EF-2.
But all of this could change and estimates of wind speed be increased as more damage reports are discovered.
"We're still in the damage assessment and evaluation phase," Darden pointed out Tuesday.
---
Photos: A look at the devastation caused by Alabama's tornadoes
Be the first to know
Get local news delivered to your inbox!