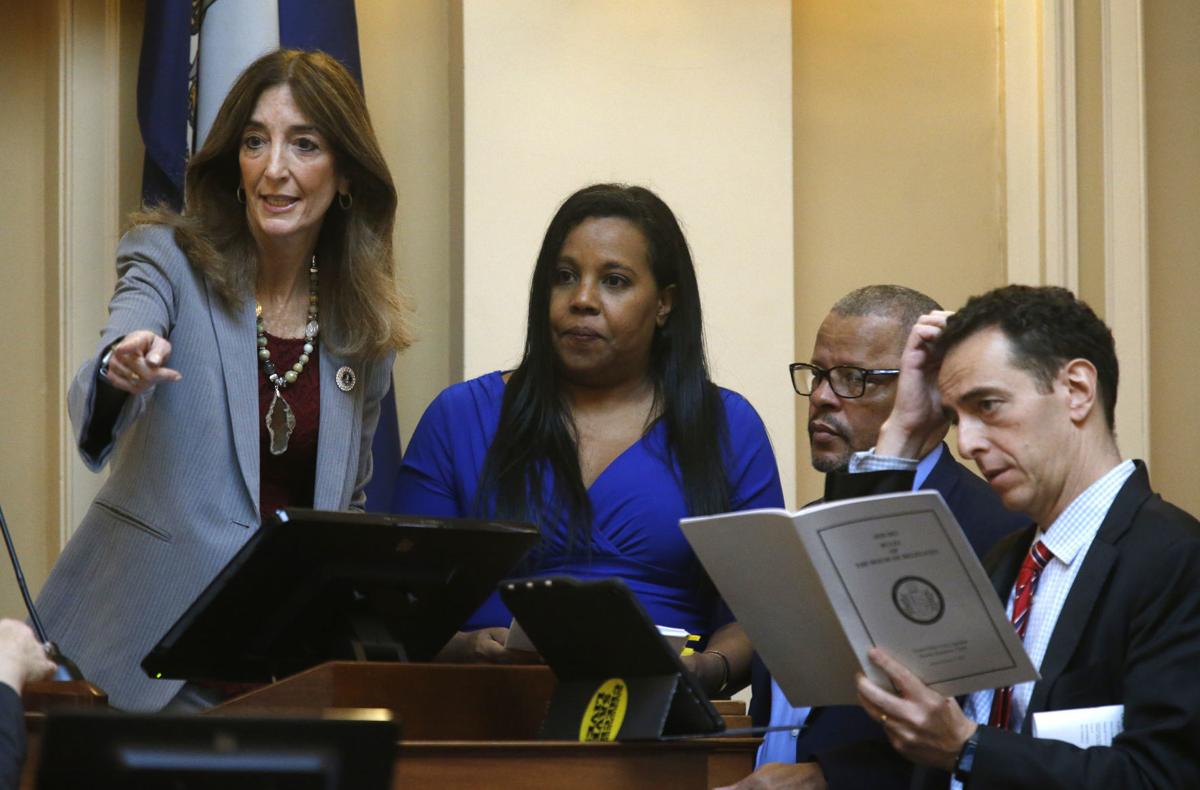 As the General Assembly neared the end of its regular session earlier this year, Sen. Scott Surovell called the effort to enact criminal justice reform a "complete and total failure."
The defense attorney and Democrat from Fairfax County said the Democratic-controlled legislature settled for "table scraps," like decriminalizing marijuana. Proposals such as expunging criminal records and abolishing jury sentencing — which have bipartisan support — didn't make it to the governor's desk.
Legislators departed Richmond. Two months later, George Floyd died at the hands of police in Minneapolis. Americans have turned out in big cities like Richmond and Norfolk and small towns like Galax, Rocky Mount and Wytheville to show their support for Black Lives Matter and call for an end to systemic racism.
Whether these demonstrations will lead to substantive policy changes to hold police accountable and improve the criminal justice system will be put to the test beginning this week when the General Assembly reconvenes for a special session to take up various other matters.
"The opportunity we're given right now because of this moment in our history, because of the protests, because of the awareness people have to some of these injustices, gives us the opportunity to advance this ambitious agenda in a short amount of time," said Sen. Creigh Deeds, D-Bath.
Democrats haven't published most of their police and criminal justice bills for public review, but measures they've discussed include a procedure to establish civilian review boards and eliminate certain reasons for police to stop people. They also want to increase the amount of credit prisoners can get for good conduct in custody and create a new system for mental health professionals to be the first responders to a mental health crisis, with police as backup.
"I'm hopeful that those who are peaceful protesters do see that we have heard them," said House Majority Leader Charniele Herring, D-Alexandria.
House and Senate Democrats aren't entirely in sync on some issues. For instance, House Democrats are interested in peeling back qualified immunity, the legal doctrine that shields police officers from lawsuits, but Senate Democrats have said the issue is too complicated to address during a short special session.
Senate Democrats unveiled a 31-page bill that calls for numerous reforms, such as banning chokeholds and shooting into moving vehicles unless the officer's life or others' lives are at risk. It also would prohibit law enforcement from receiving surplus military equipment under a federal program. It would make it illegal for police officers to have sex with a person in their custody. The legislation would require that all search warrants be executed during the daytime and police announce their presence unless a judge authorizes a warrant to be served at another time.
The legislation also requires the Department of Criminal Justice Services to develop a uniform training curriculum for law enforcement. A basic training requirement would include learning de-escalation techniques.
The bill includes proposals that law enforcement leaders have said they'd like legislators to address, such as guaranteeing certain information they can obtain about potential new hires so they are aware of any past misconduct or use of force issues. It also would call for the creation of statewide professional law enforcement standards and a process to decertify officers who seriously violate those standards. Law enforcement leaders say the threshold to meet to decertify officers to prevent them from moving to another agency is too high.
"It's going to enhance law enforcement civility to root out bad apples," Surovell said. "It's going to improve their ability to hire officers that are good people and good officers and don't have a history with disciplinary problems or other types of problems like dishonesty."
There's one proposal in the bill that could affect law enforcement funding, and that is regarding when police conduct traffic stops or stop people on foot. The intent is to identify potential bias. If police fail to report the data to state police or don't implement a plan to correct the behavior, those agencies could put certain state funding in jeopardy.
Republicans also have been warning Virginians who support the police that Democrats are on a mission to "defund the police," a refrain from protesters calling for reallocating or redirecting funding away from police departments to other agencies. Several Democrats have said they have no intentions to reduce state funding for law enforcement.
"We do not want to take away money from the police force," said Sen. Lionell Spruill, D-Chesapeake.
Del. Terry Kilgore, R-Scott, said there are some areas Republicans and Democrats have overlapping agreement on, but it will come down to the details of the legislation.
Republicans have introduced bills they've filed in the past related to expunging criminal records. The Senate has had more success over the years in passing bipartisan criminal justice legislation, only to have it defeated in the House of Delegates. Last session, the Senate passed expungement proposals, but they didn't make it out of the Democrat-controlled Courts of Justice Committee.
Herring, who chairs the committee, said she wanted the Virginia Crime Commission to study expunging criminal records to do comprehensive reform rather than a piecemeal approach, which she said would build inequities into the criminal code. Herring said the commission, which she chairs, has fast-tracked that research and House Democrats plan to put forward an expungement bill.
"With expungement, if we can get that passed, that's going to be a huge step for Virginians, especially those who have served their time and haven't been involved in any criminal activity since," Herring said. "This is going to bring a sense of hope for people."
Republican leaders say they plan to introduce legislation to prevent police unions from intervening in disciplinary matters. Beginning next year, localities can give public sector workers, including police officers, the right to collectively bargain. Police unions are receiving scrutiny in recent months because collective bargaining agreements for officers can stand in the way of accountability when they include disciplinary, accountability and use of force protections.
Sens. Tommy Norment, R-James City, and Bryce Reeves, R-Spotsylvania, submitted legislation to increase the penalty for assaulting a law enforcement officer from a Class 6 felony to a Class 5 felony with a mandatory minimum of one year in jail, an increase from six months. If the assault happens during a state of emergency — which Virginia currently is in for the coronavirus — the person is guilty of a Class 3 felony with a mandatory minimum of two years in prison.
Their bills are in response to a proposal from Surovell, who wants to make it a misdemeanor if the officer is not seriously injured. He's pointed to examples of when the statute has been "abused," like when a person throws a piece of food at an officer or someone with a mental illness is charged with a felony. Gov. Ralph Northam has vowed not to sign any more mandatory minimum bills for the remainder of his term.
Sen. David Suetterlein, R-Roanoke County, is pitching a bill to end the vehicle inspection program as a criminal justice reform proposal. Suetterlein patroned the same legislation earlier this year, and it's something that Northam wanted to eliminate. There are no definitive studies proving that vehicle inspections improve safety, and most states do not require them.
Suetterlein is making the case for the bill again based on a police incident last year that garnered attention last month. A Virginia State trooper stopped a Black man's car in Fairfax County because it had an expired inspection decal. From there, the white trooper said he smelled marijuana and asked the man to get out of his car.
"You are going to get your a-- whooped," the trooper said on video, eventually forcefully removing the man from his car.
"The video of Derrick Thompson being violently apprehended by the police should make all Virginians ask, 'Was this necessary?' " Suetterlein said. "And what started the chain of events that led to a Virginia citizen being violently apprehended? The fact it was an expired inspection sticker that isn't applied in the vast majority of states should disturb people."
Republicans are planning to put a spotlight on the Virginia Parole Board, which is under scrutiny following a government watchdog report saying the board violated law and its own policies in releasing a man sentenced to life for killing a Richmond police officer.
Del. Jason Miyares, R-Virginia Beach, submitted a bill to require the parole board to contact the victim prior to any decision to release an inmate. Currently, the law requires the board to make an effort. There have been cases in recent months where the board didn't notify the victim.
"The parole board has immense power over critical decisions over public safety and individuals' liberties, and Virginians should know who is making those decisions and how they're making them," Suetterlein said. "I think the lack of sunshine has encouraged an even greater culture of darkness over their decisions."
Republicans have been criticizing the parole board, saying the report shows it has repeatedly ignored state law and victims' rights. Party leaders have said the board members should resign or Northam should fire them. Democrats have been avoiding the issue.
"For months, we have watched House Democrats disparage our public safety professionals, promote radical ideas such as 'defunding the police' and making it easier to assault police officers, and remain silent as Gov. Northam's parole board illegally releases convicted murderers," said House Minority Leader Todd Gilbert, R-Shenandoah.