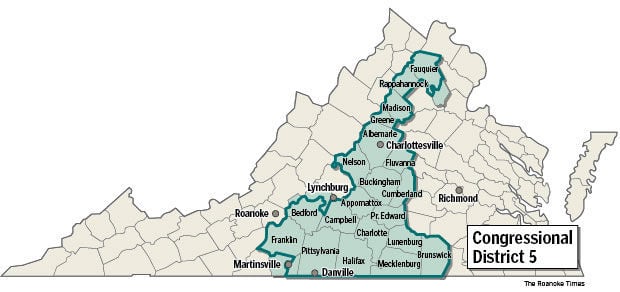 Republicans will select a nominee Saturday to run in November in place of U.S. Rep. Tom Garrett, who opted not to seek re-election after disclosing he's struggling with alcoholism.
Members of the 5th District Republican Committee held a conference call Tuesday and voted 19-14 to have a meeting Saturday to pick the new candidate, according to a news release sent Wednesday. Interested candidates have to notify the local party chair by 8 p.m. Thursday to be considered; however, failure to do so does not preclude someone from seeking the nomination.
No other details about the event, such as time, location or format, were disclosed.
Among those who have announced they are seeking the nomination: Fauquier County farmer Martha Boneta; Bedford County real estate developer Jim McKelvey; Nelson County distillery owner Denver Riggleman; and Del. Michael Webert, R-Fauquier.
Others who have expressed interest include state Sen. Bill Stanley, R-Franklin, Sen. Bryce Reeves, R-Spotsylvania and Joe Whited of Rappahannock County.
The nominee will face Democrat Leslie Cockburn. Despite the upheaval with the Republicans, it'll still be an uphill challenge for the Cockburn, a journalist and first-time candidate seeking to flip the 5th District, which stretches from Fauquier County to the North Carolina border . It includes Franklin County and part of Bedford County.
Donald Trump won the district by 11 points. In last year's governor's race Republican Ed Gillespie carried it by nine points.
Democrat Tom Perriello won the seat in 2008, defeating six-term Republican Virgil Goode. Republican Robert Hurt of Chatham defeated Perriello in 2010. Garrett succeeded Hurt, who didn't seek re-election.
Garrett left the race Monday, citing his alcoholism. He was also facing accusations in a Politico story that he and his wife frequently told congressional staffers to perform personal errands, allegations Garrett called "a series of half-truths and full lies."
Following that decision, the Center for Politics at the University of Virginia changed its rating for the seat from "likely Republican" to the less certain "leans Republican."
Candidates will compete for 37 votes on Saturday. Once they contact the chairman with their intention to seek the nomination, the chairman will provide a contact list for all members of the committee to campaign for their vote. The committee drafted rules Tuesday but still needs to adopt them Saturday. No details of the rules were disclosed.
"The Committee did not ask for this responsibility, it was thrust upon us; and in true fashion the Committee will rise to the challenge and present and equitable process and meeting," Chairman Melvin Adams said in a statement.