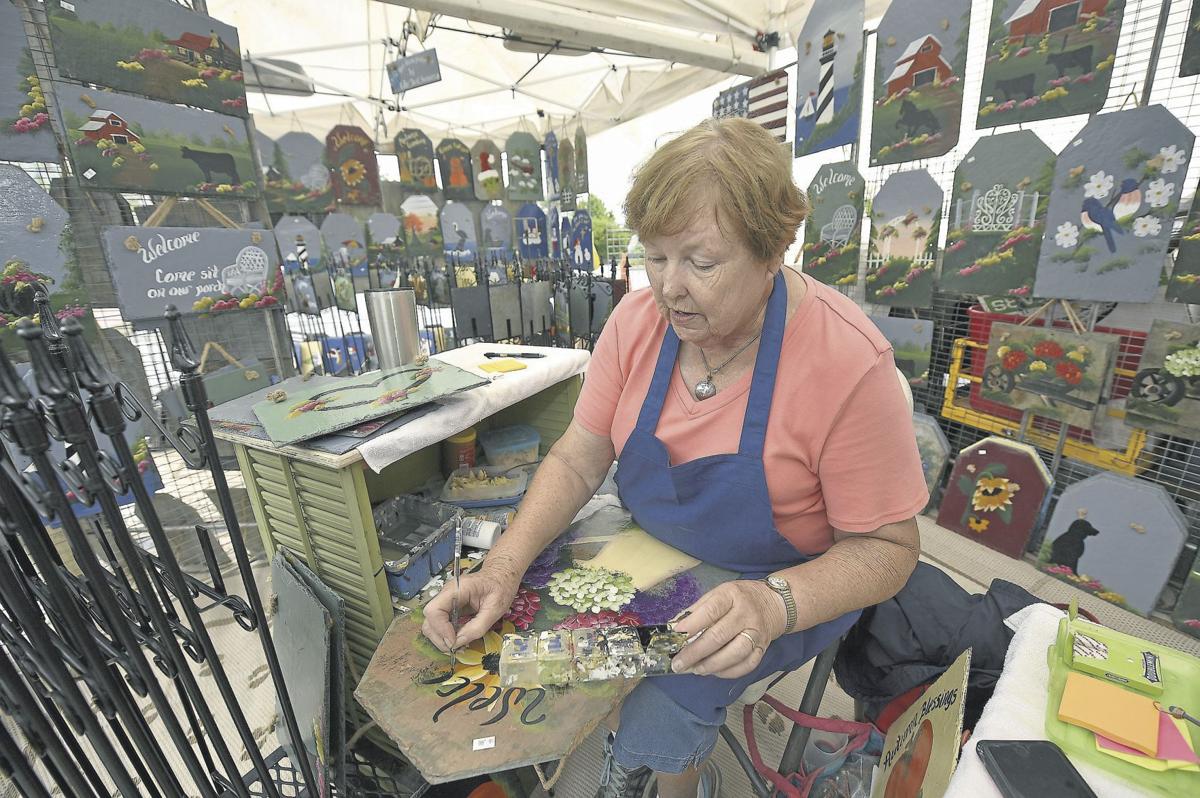 ABINGDON — Sylvia White is a longtime patron of the Virginia Highlands Festival.
The Abingdon resident has been going to the festival annually for more than 50 years.
"Well, we came for the first time in 1964, and I've probably been here every year since then," said White, who clutched her first purchase of this year's festival, some scarves.
She enjoys coming back each year to see familiar vendors and antique dealers.
"I just think it's just a great thing for the community," she said.
White was there Friday for the kickoff of the 69th annual festival. This year's theme is "Kick Up Your Heels!" Despite Friday's rain, festivalgoers were circling in and out of the various vendors' tents at the Juried Arts & Crafts show.
What can people expect from this year's show?
"Number one thing people can expect is the best of the best," Executive Director Becky Caldwell said. "And at all price points, too, all the way from a dollar to probably a comma somewhere in there."
Sock-maker Melanie Koenig of Hampton, Tennessee, is back for a second year. Last year, she won the Honorable Mention Award for the arts & crafts show. She uses a 1908 sock-knitting machine to hand-crank her creations.
"I teach hand-knitting, and I was at a hand-knitting conference and saw these machines and became obsessed," she said.
Koening searched the internet for four to five months to find her own early 1900s sock machine. She then took additional time to learn how to make the socks.
"I make socks the way they used to be made during that period," she said.
Koenig uses yarn exclusively from Germany that is 75 percent wool, 25 percent nylon and machine washable. The yarn features ink-jetted designs. She also makes scarves, bags, baby hats, footie socks all the way to thigh highs and has plans to craft small toys and shawls.
Across the square is the "Creative Arts By Cathy," tent featuring hand-painted gourds that function as birdhouses that are made by Cathy Probst-Walker of Crossville, Tennessee. The self-taught painter and former self-taught woodworker began painting gourds 10 years ago.
"A man in my neighborhood gave me a couple of gourds and said, 'Let's see what you can do with these,' and from there it just progressed," she said.
One gourd birdhouse takes about four days to make, a joint effort between Probst-Walker and her husband, Dow Walker.
Her husband first cleans out the gourds and drills the holes, then Probst-Walker spends two days painting before handing her latest creation back to her husband for varnishing.
Probst-Walker paints birds, flowers, various animals — turning some gourds into chickens — and even colleges, including Virginia Tech, on the gourds.
"The beauty of it, the diversity of the product, you have so many colors and subjects," her husband said.
Just a few tents over is "Quillin's Quills," of Abingdon. Charlie Quillin and his wife, Heda, who was't there for the festival's first day, have been making wooden pens, pencils, wine stoppers and more for about 15 years.
"Heda, my wife, is really the heart and soul of this thing," Quillin said.
The Quillins craft their wood creations from domestic and exotic woods, Corian or custom.
"We don't cut down live trees," he said.
A lot of wood comes from colleges in the area, including Emory & Henry (Quillin's alma mater), Virginia Tech, the University of Virginia, the University of Virginia's College at Wise and the old Virginia Intermont College.
'There was a guy, Bill Anders, that did this at the festival years ago, and he was kind enough to say 'I'm going to show you how to do this,'" Quillin said.
Quillin's most frequent and hardest question to answer is: How long does it take to create a pen? His answer: "Frankly, God is the one who determines it. Sometimes the wood turns out very quickly, and sometimes it blows out on you."
Regardless of how long it takes, Quillin always ends up with "something quite remarkable."
"It's amazing what you can find in a piece of wood," he said.
Festivalgoer Linda Snodgrass of Abingdon has been attending the festival since 1975.
Snodgrass stopped by the vendors' tents after finishing a three-hour shift as a volunteer at the Washington County Public Library book sale, which is happening at the festival.
"I'm always interested in seeing if there are new crafts, new types of jewelry," she said. "This is a good place to get ideas if you're a do-it-yourselfer."