In the mountains where an entire economy depends on coal, public schools have reached a tipping point.
One after another, districts have consolidated schools, sending students home on hour-long bus rides.
They've delayed bus replacements and building repairs, like the elementary school roof that buzzards started tearing apart and repurposing for nests.
Schools have cut electives.
Retiring teachers, counselors, librarians and aides haven't been replaced, and neither have decade-old textbooks.
Every cut far Southwest Virginia school districts make picks the budget closer to the bone. Everything is on the table – in Dickenson County, the school board heard a proposal last year that would have saved about $40.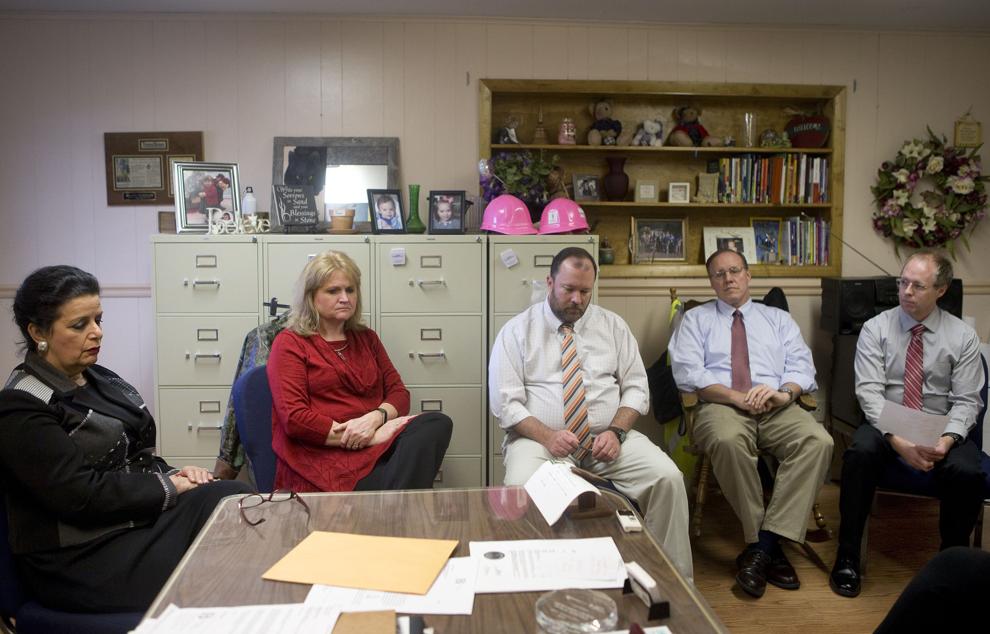 "We're keeping our school division together with a prayer and duct tape," Dickenson Superintendent Haydee Robinson said.
Families have been leaving Dickenson and Virginia's seven other coal-producing localities for years, decades even, as coal has fallen out of favor and mines have shut down. But last year the coalfield school districts collectively lost about 3 percent of their students in about six months.
Fewer students mean less money from the state but rarely translate to significant savings elsewhere. It costs the same to send a bus up a mountain to fetch 20 students as it does 25, or to heat a classroom.
The enrollment losses have coalfield school districts in a panic.
Even before the drops, and the potential $4.5 million state cut accompanying them, the eight districts were squeezed beyond a measure seen in most districts across Virginia.
"We're all operating on a shoestring," said Melanie Hibbitts, Buchanan County's superintendent.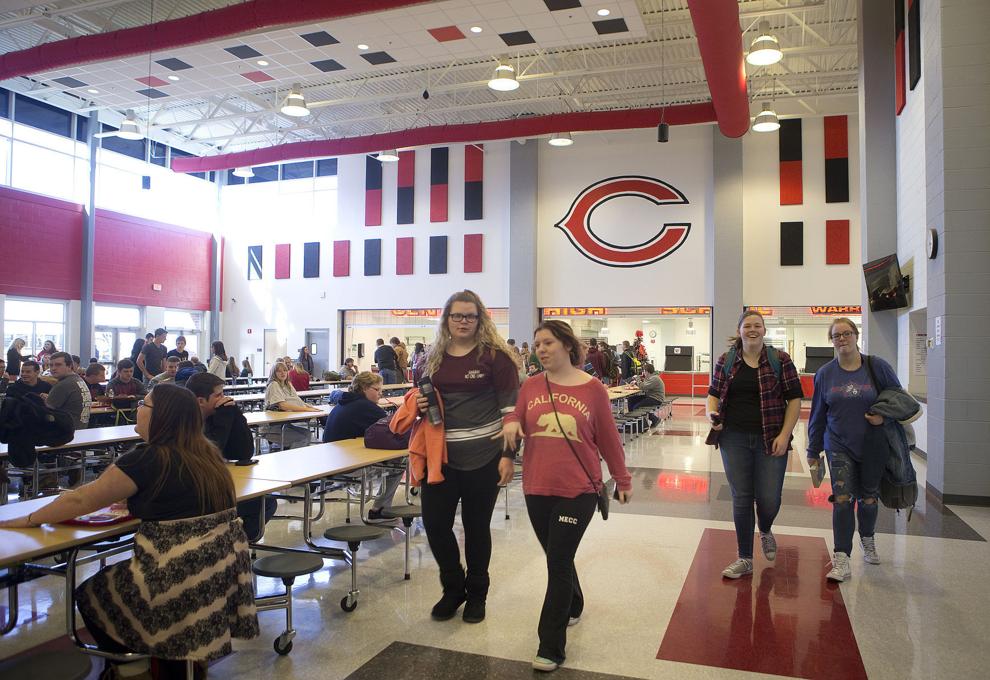 Teachers and schools make it work – across the region, all but two schools are fully accredited – but there's a limit to what they can do, especially with declining resources, said Gina Wohlford, Norton's interim superintendent.
"Teachers work hard to pick up that extra slack but it just comes to a point where, how much more can you pick up? How much more can you do with what you've got?" Wohlford said.
Across the region, people describe the situation as unprecedented. Alarming. Disastrous. There is also frustration, and envy, when locals look elsewhere and see what opportunities other schools provide.
The outrage over statewide inequities long has simmered in the coalfields and other poor, rural areas like Southside. A lawsuit tried, and failed, in the early 1990s to change how the state funds schools.
Almost any educator will say this: Virginia doesn't provide enough money for schools.
It falls to localities to fill the gap between the state's money and what districts say they need, and that is where the inequity arises, critics of the state's funding system argue.
There's new momentum challenging the status quo. In the fall, the eight superintendents in the coalfields formed a coalition and hosted a summit to make the case for addressing inequities.
More than 35 school boards, local governments and chambers of commerce support the coalition's proposal, a mix of short- and long-term suggestions that are also backed by the state's largest education advocacy group.
The coalition's hope is that when the General Assembly gavels into session Wednesday, legislators will take seriously the group's collective pleas and find a way, amid the state's own budget shortfall, to offer help.
"We're not doing this to whine," Robinson said. "An area code, a ZIP code, should not determine a child's education."
Closing schools
In Dickenson County, declining enrollments have triggered the close of three high schools since 2012.
From 2009 to 2016, the county lost about 400 students, or about 15 percent of enrollment. That's on par with losses in other districts, several of which also closed and consolidated schools.
Ervinton was the first to close, followed a year later by Clintwood and Haysi. Two years ago, students from those schools all moved into a new building that also houses the county's middle school.
Army Corps of Engineers money paid for Ridgeview, the new school. Its facilities represented a huge upgrade for students and teachers who'd spent years in buildings that were in poor shape.
Many in the county embrace Ridgeview, which started over with new colors and a new mascot to help bring the three neighborhood school communities closer. But getting to acceptance took time.
People whose families had attended the high schools for years thought they were losing their identity when the schools closed. Before demolition started at Ervinton just before Thanksgiving, hundreds gathered on the football field for a farewell.
Tony Robinson, Dickenson County's director of instruction, understands the heartache people feel for the old schools. He and most of his family graduated from Ervinton, and his mother once taught there.
When crews started demolition, Robinson went over in his truck to save some of the bricks. After he shared on Facebook, former classmates messaged to ask if he could mail them one, too.
"To see the building being torn down, that was hard for me," Robinson said. "It still is."
With the consolidations, administrators were trying to be forward-thinking and realistic about their financial situations, Haydee Robinson said. Now, they're finding it's still not enough.
Enrollment declines
From the first day of school in August it was clear the trouble had worsened, said Keith Perrigan, who was Norton's superintendent until he took the top job in Bristol this month.
Norton's two schools started the year down 41 students. Since then, they've lost 19 more students — a loss of about 7 percent since last spring. Each student would have meant about $6,800 in state money.
Perrigan thought the district estimated its enrollment conservatively and was surprised to see many more losses than predicted. His calls to neighboring superintendents confirmed they were seeing the same thing.
"We had no forewarning," Perrigan said.
There's a simple explanation to some, but not all, of the enrollment losses in the coalfields, said Hamilton Lombard, a demographer with the Weldon Cooper Center at the University of Virginia.
The best way to estimate enrollment is to track students by grade level because, generally, students move forward together and grade levels stay roughly the same size. The only new variable is the size of an incoming kindergarten class and how it compares to the graduating senior class.
From 2010 to 2011, this year's kindergarten class, there were 150 fewer births in the coal-producing localities. At the same time, last year's graduating class was slightly larger than usual.
Births and graduations alone don't explain all of the enrollment declines in the coalfields, Lombard said.
The coalfields and other rural areas like Southside, the Alleghany Highlands and the Eastern Shore have seen some of the biggest enrollment losses. In those places, more people are leaving than moving in, largely for economic reasons. People move where they can find work.
Even accounting for economics, Lombard said, he was surprised by the losses in Norton this year.
"It's a hard trend that's going on in the coalfields," he said.
Most districts in Virginia are dealing with some version of this problem. Since 2009, more than two-thirds of school districts have lost students.
The challenge for districts is correctly estimating their enrollments to match their budget. Unexpected swings, like in Norton, cause the type of crunch coalfield districts are in now.
Until recently, a provision in the state budget gave districts some relief from losses such as those. Districts that lost students received a percentage of what the state would have paid based on enrollment predictions before the declines.
During the recession, that hold-harmless provision was removed.
Over the summer, Norton got halfway through replacing the high school's tennis court. Built in the early 1980s, the court was in rough shape beyond the point of repair, J.I. Burton Principal Aaron Williams said.
After the enrollment news, work on the project stopped. Contractors left behind a leveled lot of gravel, and the $123,000 set aside for the court went to help balance the budget.
Taking poverty into account
Across Virginia, cities and counties pay most of what it costs to run the schools.
In places like the coalfields, where localities are said to have less ability to pay, the state's share makes up the bulk of the budget. Because those districts also tend to be smaller, the loss of any one student has an outsized impact on the budget.
The formula was designed so that the state's share is larger in poorer areas — as much as 80 percent. In wealthier areas, the percentage is reversed and local governments foot the lion's share of the bill.

A small part of the problem with the formula, coalfield district leaders said, is its use of old data.
The latest calculations use data from 2013 and 2014. Since then, all four measures have declined. The dated property values, gross income and retail sales work against the coalfield districts, making them seem wealthier and able to pay a larger share. The dated enrollment figures work in the district's favor, though.
Coalfield district leaders and advocates like the Virginia Education Association say the larger issue is that the state's standards don't reflect what it actually takes to educate students, particularly after recession-era cuts like one that capped support positions.
Adjusted for inflation, Virginia's per student spending dropped 11.2 percent from 2008 to 2014, according to an analysis by the Center on Budget and Policy Priorities, a progressive-leaning research group with a focus on programs that serve low- to moderate-income people.
"You feel it every day," education association President Jim Livingston told teachers last month at Hollins University.
Last fall, the Board of Education revised the standards to require more staff in some areas. It's up to legislators to set aside money to pay for the state's share of the additions but the revisions themselves were a step in the direction of restoring the state's pre-recession level support, said Chris Duncombe, a researcher for the Richmond-based Commonwealth Institute, which like the Center on Budget and Policy Priorities, analyzes of issues impacting lower-income people.
Coalition district leaders have rallied around Duncombe's research, in particular a report last year that showed how the state's funding cuts disproportionately hurt the state's poorest students – those in rural areas like the coalfields but also in urban areas like Richmond, Norfolk, Petersburg and Roanoke.
Students in poverty often require additional support, and that costs more, Duncombe said. Virginia's main funding formula doesn't take student poverty into account, unlike some states. Instead, Virginia gives districts an "add-on" from 1 percent to 13 percent depending on the number of low-income students.
Not all states take poverty into account, but those that do tend to provide more support than Virginia, he said. Maryland, for instance, gives districts 97 percent more money for students living in poverty.
"We need to fix how our funding formula supports students with higher needs," Duncombe said.
Jim Regimbal, a financial analyst who advises the Virginia Association of Counties and the Virginia Municipal League, suggested another approach, tying additional support for schools to job losses in the area.
"The longer-term solution [to economic problems] is better-prepared students," Regimbal said.
Back to the '90s
Veteran teachers in the coalfields say they've known about inequity across the state for a long time.
"That's not new," said Robert Fultz, a Norton City Council member and math teacher at J.I. Burton High School.
Indeed, the Coalfields Coalition that formed in the fall looks nearly identical to one in the early 1990s, the Coalition for Equity in Educational Funding.
All of the coalfield districts were part of the '90s-era coalition, which drew support from more than 50 school districts, including some in the Roanoke and New River valleys.
"Where you're born in the state of Virginia … really determines the quality of education you're going to receive," Madeline Wade, then president of the Virginia Education Association, told The Roanoke Times in 1991. "And that's the discouraging thing."
The Coalition for Equity sued the state later that year but wound up on the losing side in 1994 when the state Supreme Court ruled that the state's funding formula was constitutional.
While eliminating inequity "may be a worthy goal, it is simply not required to the Constitution," the court ruled. "Any relief to which the students may be entitled must come from the General Assembly."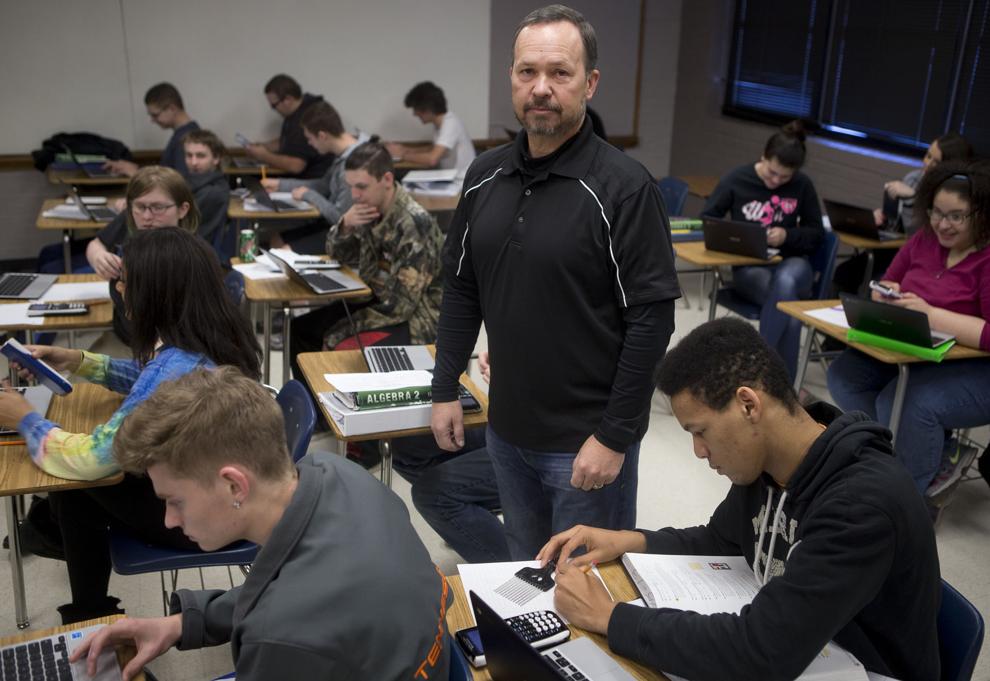 'Just how it is'
Some of Brenda Baker's junior and senior students live in cars, or doubled-up with friends and extended family.
Shannandoah Davis teaches sophomores who are raising younger siblings and others who rely on Ridgeview High School's food pantry for meals at home.
For students with lives like these at home, school is an oasis.
"We're the safety net," said Baker, who teaches English at Wise County's Central High School.
Across the coalfield districts, almost 60 percent of students qualify for free or reduced lunch — well above the statewide average of 40 percent.
A fourth of families live below the federal poverty line, set at $24,300 for a family of four. In November, unemployment in the area was estimated at 7.2 percent, versus a statewide rate of 4 percent.
Students could benefit from more counselors, whose ranks declined as budgets grew tighter, said James Blackburn, a veteran middle school teacher in Wise County.
Besides having to deal with declining enrollment and declining state funding, school officials in Wise County last year found themselves confr…
His seventh-graders don't have a lot of confidence or hope, Blackburn said.
"You need to convince the kids that they can do things," he said.
Teachers try to play to students' strengths and interests. At J.I. Burton, history teacher Eddie Sharpe has revived an Appalachian Studies class to teach students about their own heritage. Baker builds on the area's strong oral storytelling culture to convince students they have a story to tell.
Students are aware to varying degrees how their education differs from other students elsewhere in Virginia, teachers said. They're aware of differences close by but beyond what's local, most don't have a frame of reference, Fultz said.
"This is the world they know," he said. "They don't know that we used to do this or used to have this. They don't know any of those things. For them, it's just how it is."
Teachers, many of whom grew up in the communities they now serve, have felt the cuts. They said it's hard to watch programs that benefit students go away.
"If they don't get it here, they don't get it at all," said Rod Boyd, an English teacher at Ridgeview in Dickenson County.
Losing good teachers
Worrying about their students and years of being asked to do more have been draining on teachers, Fultz said.
"There's two pieces: Time and energy," he said. "That energy's physical but it's also emotional. And I find myself sometimes at the end of the day, it wasn't just that I had to use a lot of my time, I used all of my energy. And you start making mistakes at the end of the day."
It was a little thing, Fultz said, but at a basketball game he announced last month, he forgot to play the national anthem. Only when someone pointed it out did he realize.
The budgetary "gloom and doom" weighs on teachers, said Baker, the high school English teacher in Wise County. The layoffs in Dickenson last year and the threat of more there and elsewhere because of the current shortfall are stressful.
Davis, the Ridgeview biology teacher, started teaching in Dickenson County in 2005. Between the years without raises, increases in health care costs and retirement contributions, Davis said her take-home pay is less now than when she started.
Most teachers in the coalfield districts are in a similar situation. In response, some have left for teaching jobs out-of-state. Others are leaving the teaching profession altogether.
A veteran teacher who's taught in Wise County for 39 years, Blackburn said he gets a lot of questions from younger teachers seeking advice about what to do. It's hard to advise them to stay knowing the effect every year of frozen salaries on teachers' retirement pensions.
"We're losing a lot of good people," Blackburn said.
There are bad parts to any job, and most teachers never expected their careers to be lucrative, Fultz said. For him, it's still fun to come to work every day.
"It's like with anything that you do, you have to take the good with the bad, and you try to draw strength off the good and keep on going," he said. "There's a kid out there in the world that you hope you can inspire and see along their way of doing things they didn't know they could do."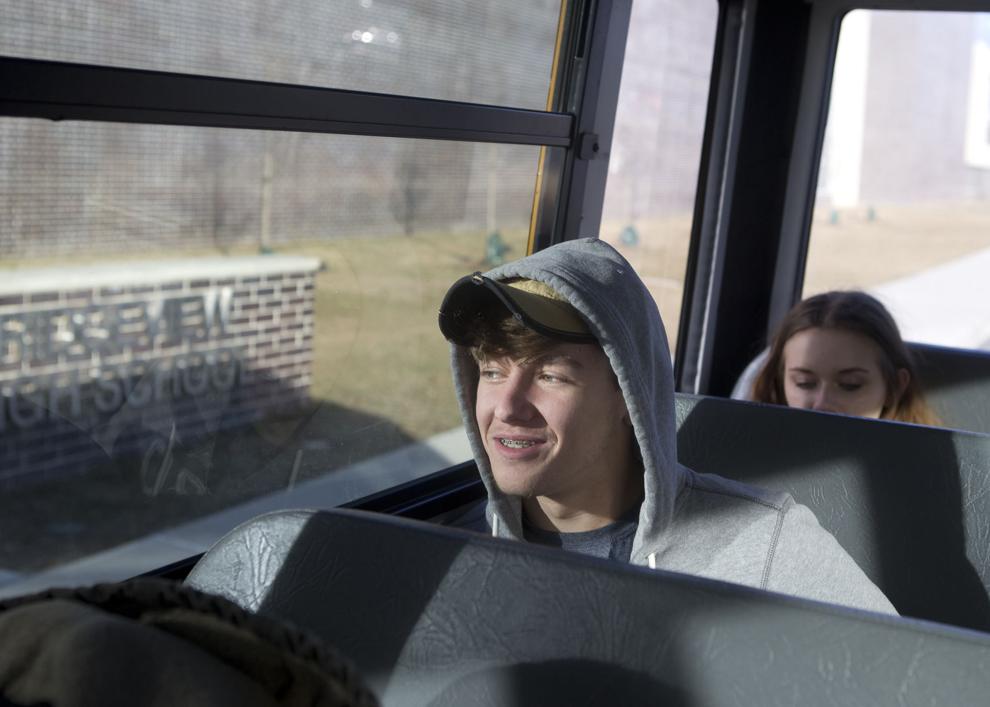 Legislative reaction
At the end of the last semester, Sharpe asked his Appalachian Studies students to write their legislators.
The prompt: What is the government going to do to improve the area so we can stay here?
"I strongly believe," one student wrote, "that if something is not done about the coal industry that most people around here will not be able to stay because coal not only keeps the lights on but it also keeps the people from Southwest Virginia alive."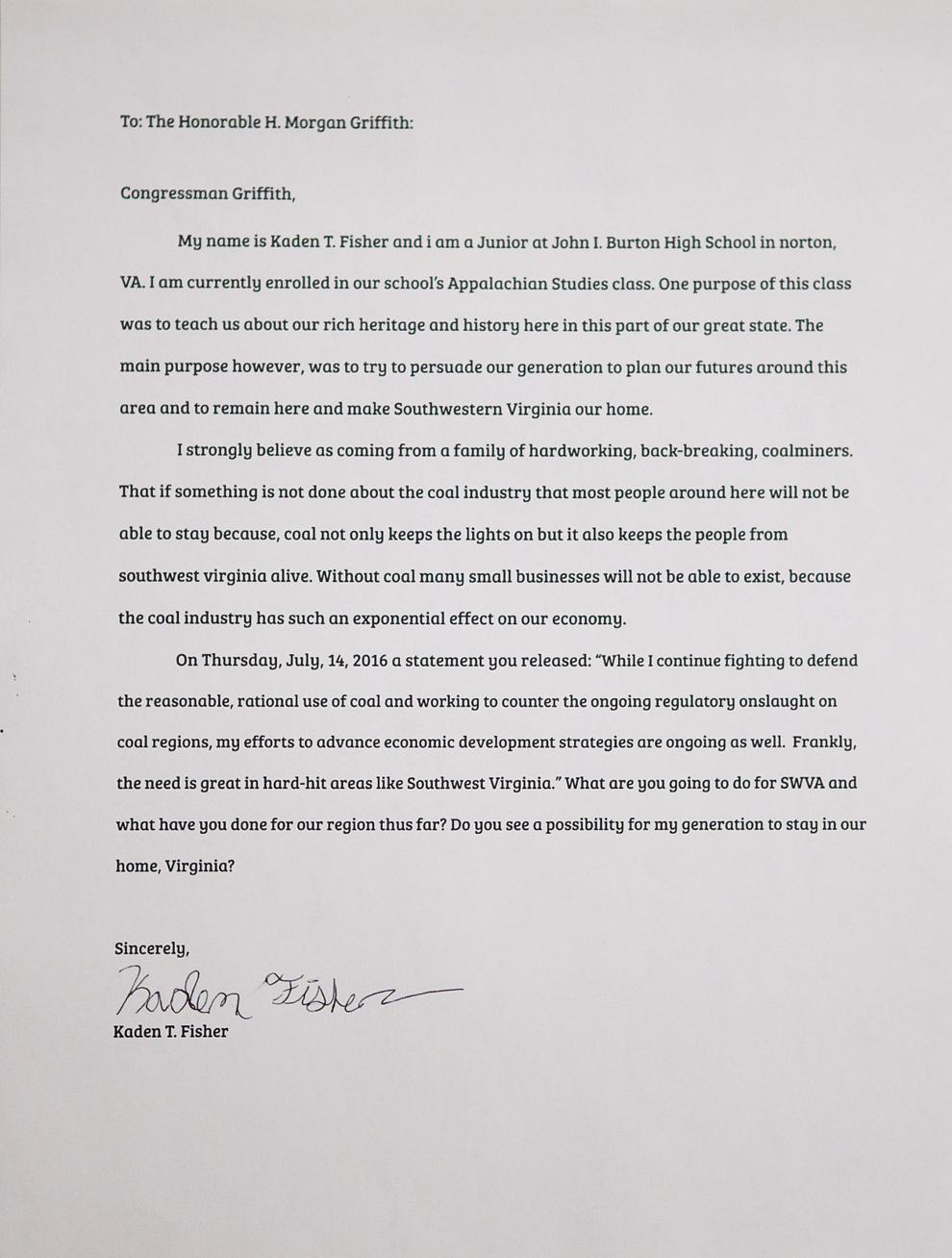 Sharpe's students aren't the only ones asking elected officials what they'll do to help.
Perrigan has lobbied heavily, speaking last week at a budget hearing in Abingdon. For too long, the coalfields didn't speak up about their needs, he said.
"We want to advocate for our kids," Perrigan said.
Their timing is challenging. This isn't a budget-setting year and the state is faced with a $1.26 billion shortfall of its own.
State legislators from Southwest Virginia said they're sympathetic to the schools' concerns but not sure how much relief the General Assembly can provide this year. After the session opens, members of the delegation plan to meet with the House Appropriations chairman, Del. Chris Jones, R-Suffolk.
"I'm going to be realistic and say everything they're asking for is laudable," said Sen. Bill Carrico, R-Grayson. "I mean, I'm trying to be as optimistic as possible, I just don't think it can all happen."
Carrico said he plans to introduce legislation to reinstate the hold-harmless enrollment provisions removed during the recession.
"It may not look exactly like pre-2009, but hopefully it will be something to try and ease the pain," he said.
Staff writer Carmen Forman and news researcher Belinda Harris contributed to this report.