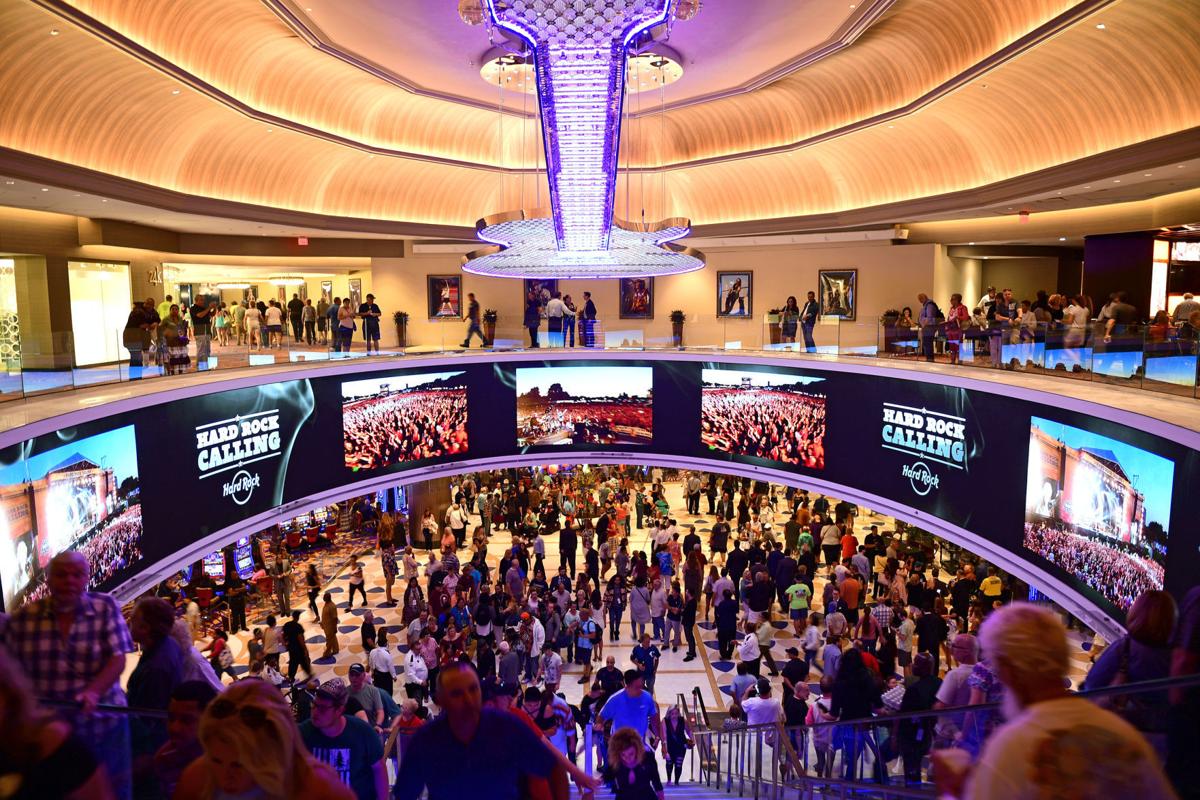 BRISTOL — An iconic, neon-infused rock and roll guitar could soon illuminate the skyline of the birthplace of country music.
Hard Rock International, known worldwide for its hotels, restaurants and casinos, has agreed following lengthy discussions to operate the proposed Bristol Resort and Casino planned for the Bristol Mall . Project development partner Jim McGlothlin announced the arrangement Friday afternoon.
"We are excited to collaborate with Hard Rock, a well-respected and legendary entertainment brand with legions of devoted customers across the country and around the world," McGlothlin, CEO of The United Co. and partner on the project, said in a written statement. "Hard Rock is known for its 31 award-winning hotels and 12 casinos, in addition to 218 cafes and Rock Shops, which offer a wide range of amenities that appeal to many different audiences.
"Hard Rock's iconic brand reflects speaks to its deep roots in live music entertainment and world-class memorabilia collection, which will play a prominent role at Hard Rock Casino Bristol. This focus on music will complement our region's country music heritage and dynamic music scene in the Twin City," he added.
Hard Rock International, in Davie, Florida, is expected to make its announcement Monday. The brand is owned by HRI parent entity The Seminole Tribe of Florida.
McGlothlin and partner Clyde Stacy announced plans for the proposed casino in August 2018 and legislation to pave the way for its operation was approved in March by the Virginia General Assembly.
That legislation, which would allow casinos to operate in specific Virginia cities, awaits Monday's release of a report on gaming by the Virginia Joint Legislative Audit and Review Commission, re-approval of the enabling legislation when lawmakers return to Richmond in January, and ultimately a public referendum for Bristol voters.
Bristol could become Hard Rock's first Virginia location. The company currently operates cafes in Pigeon Forge, Nashville and Memphis, Tennessee. Hard Rock has some 260 facilities in 75 countries, including 12 casinos.
"I cannot think of a better place for Hard Rock Casino to be than here in Bristol, Virginia," City Manager Randy Eads said Friday. "Hard Rock is synonymous with music. With our storied history of music here in Bristol, to have a new partner aligned with the music industry like Hard Rock is, I cannot think of a more exciting time to be in the city of Bristol."
Hard Rock operates casinos in Hollywood and Tampa, Florida; Biloxi, Mississippi; Atlantic City, New Jersey; Las Vegas and Lake Tahoe, Nevada; Tulsa, Oklahoma; Sioux City, Iowa; Wheatland, California; two in Canada; and another in the Dominican Republic, according to its website.
Hard Rock has also announced plans to open 11 more casinos, including nine overseas. The planned casino locations include Berlin, Germany; Fortaleza, Brazil; Caldas Novas, Brazil; Dalian, China; Haikou, China; Hartford, Connecticut; Los Cabos, Mexico; Malta, Europe; New York City, New York; Riviera Cancun, Mexico; and Santo Domingo, Dominican Republic, according to the Hard Rock website.
In 2018, Hard Rock International was recognized as Land Operator of the Year at the Global Gaming Awards.
A 2018 Chmura economic impact study predicts the Bristol Resort and Casino project would generate an immediate 2,000 jobs during the first year of operations and 5,200 jobs in seven years. The study predicts more than 4 million annual visitors, creating a $1 billion annual economic impact.
Besides a gaming area, the original plans included a major hotel, music venue, convention and meeting space, family recreation facilities, restaurants and retail shops.
"After vetting multiple leaders in the industry, we are convinced that Hard Rock is the best fit for our project and our community," McGlothlin said. "The Hard Rock team understands the significant economic development impact the Hard Rock Casino Bristol will have on the city and the entire surrounding region, in terms of new jobs and additional tax revenue. As seasoned casino resort operators, they are committed to working closely with us to maximize the benefits of this project for local residents while highlighting the many opportunities this region has to offer to all."
Eads predicts the Hard Rock announcement will spark more support for the project.
"I think it's a positive impact," Eads said. "Hard Rock is a world-known brand that is synonymous with music, food, hotels and gaming. Having such a well-known operator willing to come into our city and operate this casino and resort, it's a once-in-a-lifetime opportunity for Bristol and Southwest Virginia."
Be the first to know
Get local news delivered to your inbox!