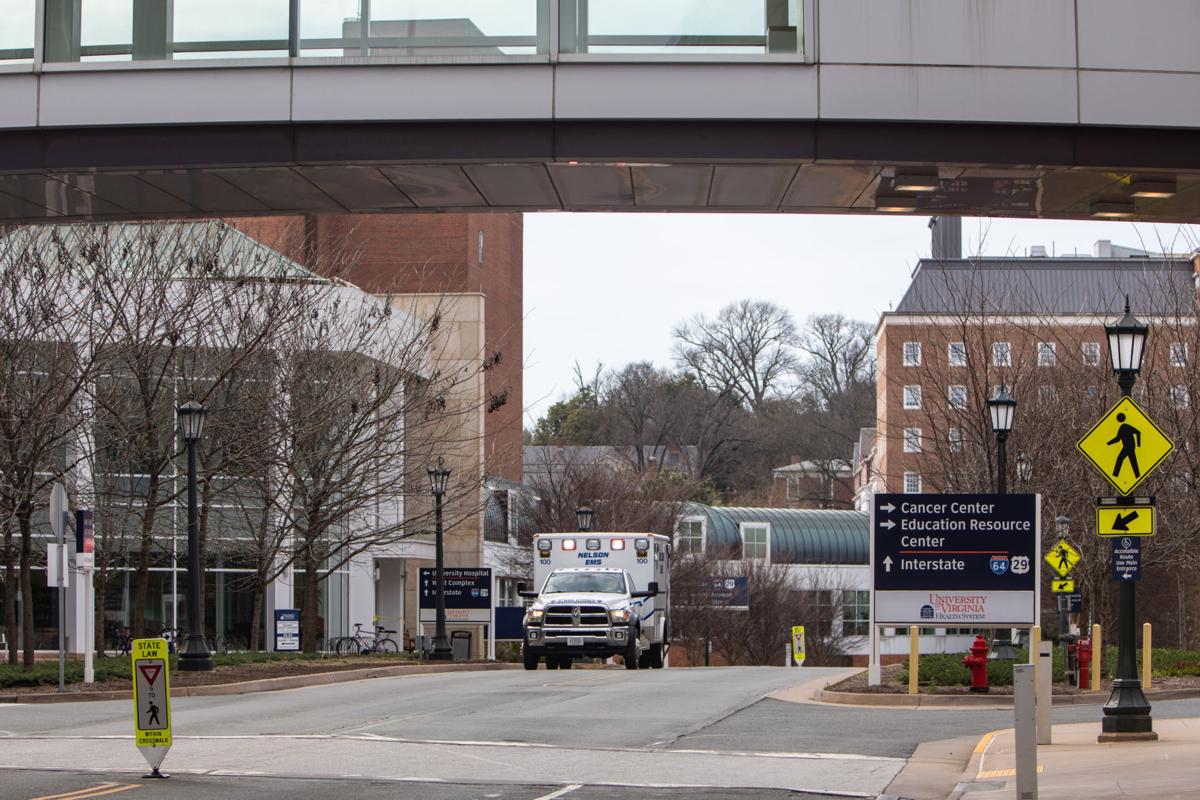 Despite continuing supply shortages, the University of Virginia is testing between 25 and 50 patients a day using its own COVID-19 test.
Dr. Amy Mathers, an infectious disease physician and associate director of clinical microbiology, and Mendy Poulter, director of clinical microbiology, led the effort to create the tests at the university that were announced last week.
Mathers said that, for now, the focus is on making sure that patients already at the hospital can get tested.
"I know it's creating a lot of anxiety in our community … but we really, really need to conserve because of all the supply chain issues," she said. "We really need to focus on making sure that we've got coverage for our most vulnerable populations, the elderly, the sick, people that have symptoms and people that are in the hospital using up that protective gear waiting for testing results to come back."
"So as soon as that happened, we now have two methods for testing COVID virus at UVa, and so we've been able to ramp up our capacity quite quickly," she said. "We're offering it, potentially, to other hospitals that are in desperate need of rapid turnaround time for their inpatients around the state because it's such a desperate need. We do have enough capacity to take care of our own community plus inpatients around the state.
Mathers said the turnaround time for the UVa test is one to two days, while results from the Centers Disease Control and Prevention test are taking about five to seven business days.
Instead of waiting until industry had a testing platform available that could be used in university labs, when Mathers' team heard about a novel coronavirus circulating in Wuhan, China, she said they started pushing to develop their own test at UVa.
"The materials that you need to establish that test were said to be available — they were not available," she said. "We had to go to everybody we knew just knocking on door after door to try to resource the materials we needed to set up the test."
The team raced to set up a testing platform: The machine that does the PCR, which makes millions of copies of a particular chain of DNA, and the software that runs and helps interpret the test.
UVa researchers Melissa Kendall and James Casanova lent machines to the effort.
"The [Food and Drug Administration] relaxed their guidance saying we had to have this one specific software and let us use a different version of software that was available in the research lab," Mathers said. "Just coordinating with the FDA to get that allowance was a big deal."
Another item needed — RNA extraction kits — also are in short supply. Karen Frank, a researcher at the National Institutes of Health, was able to send some kits over from her lab, Mathers said.
"Then we could never get the positive RNA viral control that you have to have to run any tests in your lab from the federal government, they just wouldn't ever acknowledge us trying to receive it," Mathers said. "Despite us being told that they would send it within 48 hours of registering, we're still waiting on some of those materials, and that was March 5 that we started."
Researchers at the University of Washington — who were combating their own outbreak around Seattle — sent UVa the positive control, which is needed to make sure the test is getting correct results, in two separate shipments.
Researchers say that, in addition to the research options presented by a viable test, university labs increasing the state's testing capacity plays a vital public health role in handling the pandemic.
Dr. Bill Petri, an infectious disease expert at UVa who did not work on the test but is working on a potential vaccine for the virus, said that it's hard to overestimate what a huge problem it is to not have the rapid ability to test people for COVID-19. State health officials said recently that they could test only 1,000 people total; nationally, despite rosy projections, officials have called limited and inaccurate tests "a failing."
"What that we're beginning to understand is that as many as 86% of people with this infection have no symptoms whatsoever … so the ability to identify someone who is infected is very, very difficult right now without the ability to have better testing," Petri said.
"The mathematical modelers of infectious diseases have estimated that it's really the people who have no symptoms are one of the major ways that this is getting spread … so that's the reason for all of us to distance ourselves from other people, until we're through the brunt of this epidemic," Petri said.
"Like the shelves of Walmart where the toilet paper is, that's what the shelves of materials for doing this testing look like right now," Mathers said.
Mathers said that the team currently is low on nasopharyngeal swabs, and she's contacted more than 11 companies to try to get more.
"They're the ideal swabs to collect COVID virus from a patient who's potentially infected," she said. "You have to have special swabs that don't interfere with the ability to detect that virus."
They're also short on viral transport media, which is a fluid that helps keep the virus alive so it can be tested.
"So a researcher at UVa has now turned his lab into a manufacturing center for that viral transport media to potentially be distributed to the state," Mathers said.
Another major hurdle, Mathers said, was that the federal government put additional regulations in place to establish testing in the lab.
She said that the FDA required that they had to submit additional testing and studies to show the exact performance of the test to the standard of the FDA so that that test could be distributed.
"Normally, when you do a test locally, you're not planning on distributing it, you're planning on doing it for your patients, and you follow the guidance of the College of American Pathologists and all of the regulations that oversee clinical laboratory testing," she said. "For some reason, the Food and Drug Administration got involved to make this much harder."
During a public health emergency, labs and drug manufacturers must seek an Emergency Use Authorization from the FDA to use diagnostic tests and medical treatments that have not gone through the typical clearance process, a process that has been in place since 2004.
Normally, laboratory-developed tests, like the ones researchers across the country have been racing to get online, cannot be used for clinical diagnoses without the FDA's approval, in an effort to ensure only accurate tests are conducted.
Health officials in other parts of the country have said these regulations, and slow emergency authorizations, hampered their ability to respond; the FDA has since loosened some rules and increased state officials' ability to oversee laboratory efforts.
"The whole story of the COVID virus from the diagnostic standpoint is a shortage, just managing shortages continuously, with additional regulation put in place for some unknown reason," Mathers said.
Concerned about COVID-19?
Sign up now to get the most recent coronavirus headlines and other important local and national news sent to your email inbox daily.