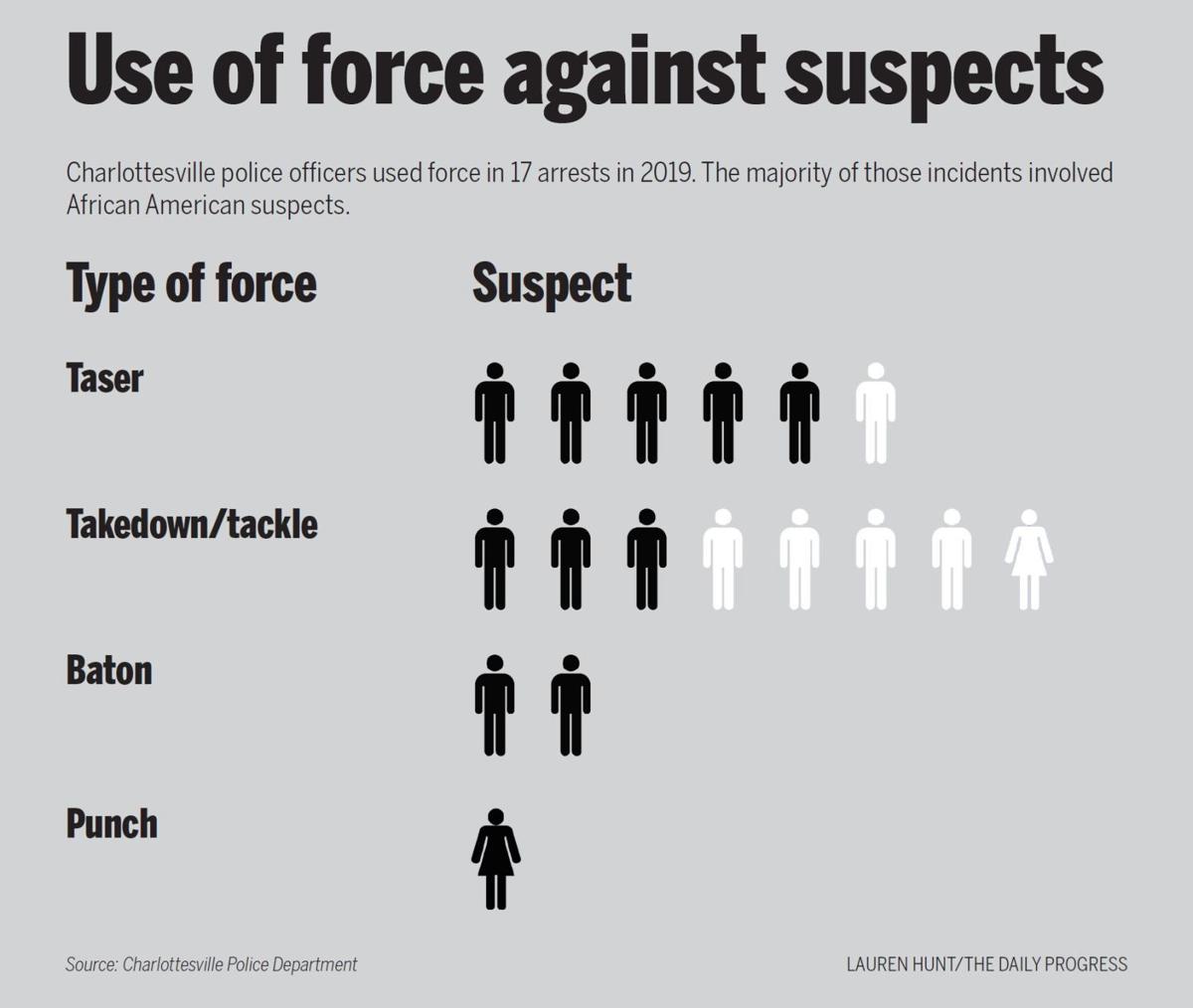 Charlottesville police officers used force to arrest suspects 17 times in 2019; more than half of those instances were against African Americans.
The Charlottesville Police Department published its use-of-force report for 2019 in May. The issue has come to a head in recent weeks after the killing of George Floyd by Minneapolis police officers led to ongoing protests across the country.
Reports for the past two years are posted on the city's website, but only the 2019 report lists demographic information about both the officers and suspects.
Department spokesman Tyler Hawn said the additional information was championed by Police Chief RaShall Brackney, who came into office in the summer of 2018.
The Daily Progress sent a list of questions to Hawn regarding use of force on June 18, including if and how the department focuses on de-escalation, if chokeholds are allowed and if CPD had any plans to revise its use of force policies in the wake of protests locally and nationally.
Hawn responded that CPD would be "more than happy" to answer the questions the following week. However, when contacted again, on June 29 Hawn said that CPD was "not accommodating interviews right now" and the department was "respectfully declining" to comment for this story.
Force was used 17 times in 2019 and 11 of those incidents involved a white officer and a Black suspect.
Of the six times that officers used a Taser, five were against Black suspects. Both times an officer used a baton were against a Black suspect.
Officers used tackles or takedowns eight times and only three of those instances involved a Black suspect.
The 2018 report contains only cursory information about each of the 20 incidents of force. For example, a July 2018 incident says "During the arrest of a suspect wanted for vandalism, the officer took the suspect to the ground."
The 2019 report contains more detailed information. For example, a January 2019 incident says that officers attempted to take a "wanted person," who was a Black man armed with a set of pliers, into custody. The report says that the suspect shouted at the officers to shoot him and ignored their commands. When the suspect advanced toward the officers, a female officer used her Taser and the man was taken into custody.
In declining to comment, Hawn referred to CPD's "response to resistance" general order.
The order focuses on a "resistance wheel" with the officer at the center and a circular set of options available to respond to a situation.
Officers are told to only "use that force which is reasonable to protect life and affect lawful objectives."
The wheel has a set of options in order of recommended use. They are the mere presence of an officer; verbal commands; defensive tactics; conducted energy weapons, such as a Taser; pepper spray; pepperball gun; baton; nonlethal weapons; police canine; flash bangs; and firearms.
No deadly force — meaning an action that is likely to cause serious injury or death — was used in 2019, but one instance is reported in 2018. The report says that an officer returned shots when a suspect shot at them, but does not say if the suspect was injured.