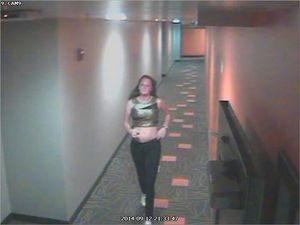 CHARLOTTESVILLE — A University of Virginia student for whom authorities spent much of Monday searching might have gotten lost on her way home from a party early Saturday, authorities said.
Search-and-rescue teams from the Albemarle County Sheriff's Office and state and Charlottesville police scoured an area extending from 14th Street Northwest to Wertland Street, including the railroad tracks, looking for Hannah Elizabeth Graham, 18, a first-year UVa student from Fairfax County.
Police said friends and family contacted them Sunday afternoon after last hearing from Graham about 1:30 a.m. Saturday.
That's when she sent a text message to a friend saying she was lost walking home from a party near 14th and Wertland.
"We are focusing on that area and conducting a search," said Charlottesville police Lt. Ronnie Roberts. "That's the last area that we have knowledge of her having been."
Roberts said police began searching Sunday when they first heard Graham was missing.
"Police detectives responded immediately and have been working to find Hannah since learning of her disappearance. A search using a bloodhound was conducted Sunday evening, but that search did not turn up anything useful," Roberts said.
Police released photos taken from a surveillance camera three hours before Graham went missing. The images show her dressed in black slacks and a gold and black, bare-midriff top with mesh cutouts, the same outfit she is believed to have worn at the time she went missing.
Spokeswoman Corinne Geller said state police have been in close contact with city investigators but are not currently involved in the investigation.
"We are in communication and we're assisting where we can," Geller said.
The search for Graham is hitting social media as well as the streets.
Pleas from Graham's friends are being shared on hundreds of Facebook pages and friends on Twitter have reported that she told friends she was headed to a party before she disappeared.
She last was seen by friends at Camden Plaza about 11:50 p.m. Friday, according to Facebook posts. Camden Plaza is an off-campus apartment complex.
UVa President Teresa Sullivan released a statement Monday afternoon saying the university is both concerned and cooperating fully.
"The members of the University of Virginia community are united in our deep concern for a UVa student who is missing and has not been in touch with her family or friends since early Saturday morning," Sullivan said.
Sullivan said UVa police were notified Sunday evening and contacted students, faculty and staff Monday "to make them aware of the situation."
"Our Office of Student Affairs has provided this information to parents as well," Sullivan said.
Police and UVa officials describe Graham as white and 5 feet, 11 inches tall with a slender build. She has blue eyes, light brown hair and freckles.
Graham's disappearance comes four years after Samantha Ann Clarke, 19, disappeared after leaving her Orange County townhouse during the night of Sept. 13, 2010, or the morning of Sept. 14, 2010. Search efforts have been focused on Greene County and Orange County.
Morgan Harrington, a 20-year-old Virginia Tech student, disappeared from the John Paul Jones Arena on Oct. 17, 2009, while attending a Metallica concert. Her remains were discovered three months later in rural farmland.
No arrests have been made and police have named no suspects.
In November 2012, DaShad Laquinn "Sage" Smith, 19, left to meet a friend on West Main Street but never came home. Searches in the area and outside of the area turned up nothing and Smith remains missing.
Anyone with information about Graham is asked to call Charlottesville police at 970-3280 or Crimestoppers at 977-4000.