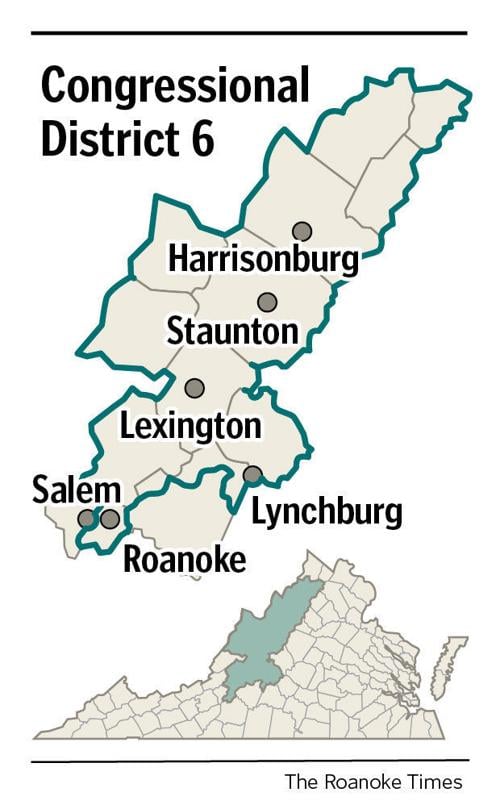 Rockingham County Clerk of Circuit Court Chaz Haywood joined a trio of people vying for the Republican nomination for the 6th Congressional District seat that U.S. Rep. Bob Goodlatte will vacate next year.
Haywood, who has worked for Goodlatte and former Sen. George Allen, R-Va., will compete with Del. Ben Cline, R-Rockbridge, and Republican National Committee member Cynthia Dunbar, of Bedford County.
Haywood, 48, announced his congressional campaign in a news release in which he promised to support local law enforcement and national defense and to stand with President Donald Trump to improve economic growth.
The Montana native started as clerk of court in 2008. He grew up in Idaho, but left the Northwest in his younger days and headed to Washington, D.C., where he got a job as a doorkeeper in the U.S. Senate gallery. In 1992, he made his way to Harrisonburg to attend James Madison University.
A veteran, Haywood served nine years in the Virginia Army National Guard, and put himself through school on the G.I. Bill and by working as a cobbler.
Disappointed by what he sees as the lack of veterans in Congress — they make up about 20 percent of the legislative body — Haywood wants to provide better health and mental health care for veterans.
"It's a government of the people, by the people, and for the people, and I don't think we're doing well for the people," he said.
Haywood said his 14 years working in constituent services for the federal government and spending the past decade running the Rockingham County Circuit Court clerk's office have trained him to listen to people and help them solve their problems.
Meanwhile, the congressmen and women in Washington, D.C., are forgetting their constituents, he said. They're not willing to compromise and, because of that, important legislation doesn't get passed, Haywood said.
"We have a Republican president who is ready to get things done, and we have a Congress that isn't putting forward bills, aren't getting their jobs done, and that's not OK," he said.
Cline, who has represented the 24th District in Virginia's House of Delegates for 15 years, served as Goodlatte's chief of staff before seeking elected office. Since launching his congressional campaign, Cline has announced endorsements from Liberty University President Jerry Falwell Jr and House Majority Leader-designee Todd Gilbert, among others from within the 6th Congressional District.
Dunbar joined the Republican National Committee in 2016. A former Texas resident, Dunbar served on the Texas State Board of Education and sought the Republican nomination for a Texas congressional seat in 2008. Dunbar has already started traveling the district to solicit support for her campaign.
The 6th District GOP Committee will decide in January how to select its nominee.