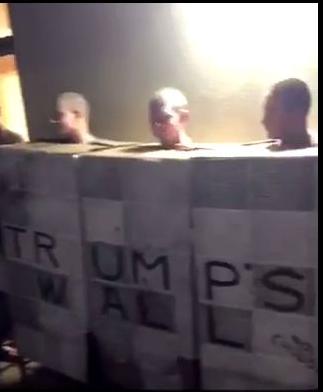 The Donald Trump mantra of "Build That Wall" backfired this week at a Halloween party at Virginia Military Institute.
A cardboard replica of the border wall, created by several cadets as part of a costume contest in the VMI barracks Tuesday night, "was in poor taste and demonstrated a lack of appreciation that it was offensive," school officials said in a Facebook post.
One online video provided to The Roanoke Times shows three cadets with their heads sticking out of holes cut from the top of a cardboard box construction that is labeled "Trump's Wall."
Also printed on the wall are the words "keep out" and "no cholos." Cholo is a derogatory term for lower-class Mexican men.
Other cadets, two dressed as what appear to be Mexicans and one who could pass for Trump, can be seen standing next to the wall.
"Obviously, some people took offense to it, but as far as we know there was no intent to offend anybody," VMI Spokesman Stewart MacInnis said Friday. "But the fact that people were offended is something we need to be aware of."
Not all of the observers seemed upset. The Trump Wall was voted the best costume during the Halloween costume party, which MacInnis said is an annual VMI-sanctioned event that takes place in different locations throughout the barracks.
Since the party, disagreements among cadets have surfaced on social media and in other forums.
Although MacInnis said he was not aware of any altercations or threats, the school's Facebook post said the incident raises the issue of civility in both the way it was presented and how cadets have reacted to it since then.
"This lack of civility is inappropriate and does not represent the values of the institute," the statement read. "The VMI leadership does not tolerate this type of behavior and is addressing the matter with the Corps of Cadets."
No disciplinary action has been taken to date, MacInnis said.
Halloween high jinks at VMI have been happening long before Trump proposed building a wall along the U.S.-Mexican border during last year's presidential campaign.
In 2005, a group of cadets wound up in hot water after they were photographed dressed as Nazi soldiers, drag queens and a starving African during a Halloween event at the barracks.
One picture showed three men in their VMI-issued uniforms giving the Nazi salute to the camera. Two were wearing homemade swastika armbands and one sported a small Hitler-style moustache.
Another photograph showed a cadet smeared head-to-toe in dark makeup and wearing a loin cloth.
Calling the images "insensitive and inappropriate," VMI officials imposed disciplinary measures that required the cadets to write essays, remain confined to barracks and march hours of penalty tours.
At the time, VMI officials said they had made no decision on whether to impose restrictions on future Halloween events.