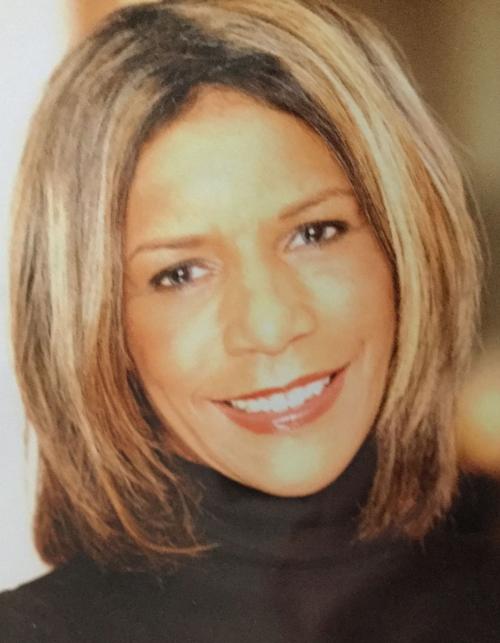 Jackie Carter, a children's book editor and published author who epitomized wit, creativity, glamor and elegance, died Wednesday, April 13, in New York City. She was surrounded by family and loved ones, following a graceful and valiant battle against lymphoma.Jackie was born in Portchester, N.Y., June 28, 1953, to her trailblazing and high-achieving parents, both major influencers throughout her life. William A. Carter was the first African American principal in the Middletown School District as well as a professional golfer who caddied and played at the famed Winged Foot Golf Club. Jackie's mother, Earnestine Carter, was one of only two African American teachers in the Middletown School District, where she was known throughout the district as a teacher who believed that learning was the civil right of every child. Five years later, in 1958, Jackie was joined by her beloved little sister, Sharon, and they alternatively teased, tortured, copied, loved and protected one another from there on.The seeds of Jackie's journey into publishing were planted in first grade, when the books she read in school featured white characters whose family lives resembled hers, but did not look like her. Jackie was quoted later in life as saying, "I was confused. I couldn't figure out why there weren't any children in the books that looked like me." This was within the backdrop of the overt racism that Jackie and her family experienced in their all-white neighborhood in Middletown. In 1960, among other overt racist events, they received the petition to keep them out of the neighborhood. A burning cross was placed on their front lawn. But consistent with her parents' educational background, the family hosted incredible evenings of discussions at the dinner table, often entertaining diverse groups of educators and friends who hotly debated the issues of the '60s and '70s over dinner and cocktails.Jackie decided to go into education and graduated from Hampton University with a degree in early childhood education. Jackie also obtained a Master of Science in Educational Instructional Technology from NYU. Yet, when Jackie became a first-grade school teacher in Middletown in 1975, she found that things had changed very little from when she was in first grade: Jackie still couldn't find books with pictures of children who looked like her or represented the diverse children in her classrooms. Disappointed with the lack of diversity in children's textbooks and learning materials, she left her teaching position and began her long, successful and distinguished career in children's publishing.Jackie started her publishing career at Sesame Street Magazine before joining Scholastic in 1985 as Editorial Director of the Early Childhood Division where, for more than 10 years she helped direct the editorial content of Scholastic's Early Childhood Workshop/Pre-K, a highly successful curriculum program. She also played a key role in the launch of Scholastic Early Childhood Today™, a leading professional magazine for early childhood teachers, as well as several other publishing ventures, including a picture book series and a magazine for preschoolers. In 1995, Jackie was named Editorial Director of Weston Woods/Scholastic New Media, a leading producer of audiovisual adaptations of picture books, where she was responsible for supervising the acquisition of new books and the creative and editorial direction of productions.Jackie joined Marvel Comics as VP of Marvel Kids in 1997, then went on to become Editorial Director at the publisher Dorling Kindersley before joining the Disney Global Children's Book Division as Editorial Director, Global Educational Books in 1999. During her tenure there, Jackie created a new approach to reference and nonfiction, using Disney characters to help readers of all ages learn about the world around them. The series she published, including the Winnie-the-Pooh Nature Encyclopedia, reached millions of kids around the world. While still at Disney, Jackie assumed the role of Editorial Director of Jump at the Sun, an award-winning imprint celebrating African American culture. Continuing her mission to bring much-needed diversity to the world of children's books, Jackie published a wide range of titles, including Whoopi Goldberg's Sugar Plum Ballerina series, as well as the Willimena series by best-selling author Valerie Wilson Wesley.Jackie then returned to Scholastic in 2004, as Vice President & Publisher and she and her team created nonfiction books for middle school students in language they could understand, coupled with content and images that reflected the diverse world in which they lived. (On a cover shoot once, where Mexican children were to be featured, she was livid that the children brought to the set were Hispanic, but not Mexican, and she shut the production down.) It was Jackie's creative genius that brought a contemporary vision to the venerable imprints Children's Press and Franklin Watts. Jackie's publishing vision combined web and print for blended learning, a standard approach now, but Jackie was an innovator and early adopter at the time. Jackie published the popular A Wicked History, a cleverly written series about the most evil villains of history. Jackie also published the wildly acclaimed Mythlopedia series, which is a "Guide to the Gods" and includes hilarious "Facebook" pages for the mythological figures. Jackie was also especially proud of 24/7: Science Behind the Scenes, her book series that reached children worldwide. Jackie also continued her work of bringing diversity to the world of children's books. She worked in partnership with acclaimed scholar Dr. Alfred W. Tatum on the research-based reading and writing program "ID: Voice, Vision, Identity," aimed at building self-esteem and pride in disengaged African American males. Jackie's mantra was to create books that kids wanted to read, not were forced to read: she more than succeeded in her mission.It was with Scholastic that Jackie made a seminal trip to South Africa to visit school children in both the cities and the townships. This occurred shortly after Nelson Mandela became President and the trip made a profound and lasting impression on Jackie personally and professionally. Jackie's work with diversity continued when she joined the global marketing and communications firm FCB in 2011, where she worked with the Global Strategy and Global Talent teams on their Total Market and Culture & Inclusion strategy. Jackie was in high demand for her strategic vision and her beautiful and incisive presentations. In addition to a busy professional life, in her spare time, Jackie published books of her own, such as Knock, Knock, One Night, Mosquito! and others.Jackie was diagnosed with non-Hodgkin's lymphoma in 2002 and this became a 14-year reoccurring battle. To help other women, Jackie created the "It Girl's Guide to Chemo," a photo exhibit that depicted her 2002 battle with the illness of non-Hodgkin's lymphoma and the challenges of dealing with chemotherapy. Jackie bore her illness regally. She rarely spoke of her diagnosis and she never complained of pain even though over time she endured numerous rounds of chemo, radiation and even a stem cell procedure in November 2014.Throughout her illness, Jackie remained dignified, gorgeous and very fashionable. Rarely without her Audrey Hepburn-style sunglasses, effortlessly chic clothing, high-heel boots and exquisitely styled hair, she was likely to have an accessory that was Tiffany blue (perhaps her bag) along with pieces of Tiffany jewelry, particularly her bracelet. Even her car, thanks to her loving husband Barry, was Tiffany blue. Jackie, literally, traveled in style. Jackie could be mistaken for a fashion model, not only due to her style and looks, but because of her constant companion Saylor, her Westie (a descendent of her beloved Kansas). Saylor herself won a "best dressed" contest with her polka-dot dress and pink goggles (which Jackie found especially for her).Jackie was also hilarious and mischievous. There was no ordinary day when Jackie was sharing it with you. Lunch was a time to have an office picnic, especially in the winter. Christmas was a time to make special Christmas costumes. Did you mention a favorite movie? Watch out, because you might find that Jackie ordered replicated movie props for you, including some of the clothes, which you would be encouraged to wear and pose in, and which might also end up on Facebook. There was always the potential for magic when Jackie was around.There was also no other friend or colleague more generous, compassionate or forgiving than Jackie. She listened, she helped, she made you laugh. Sometimes hysterically so. She fought to pay every restaurant tab, often excusing herself to head to the restroom, but instead secretly paying the bill, which would then never arrive at the table. She was especially sensitive to the needs of women who had cancer, serving as their medical researcher and advocate, accompanying them to medical appointments, asking the questions they didn't know to ask, talking them gently through fear. No one who met Jackie was untouched by her humor, her humanity, her kindness, the depth of her generosity and her unending love. Jackie is without equal, and the depth by which she will be missed is also without equal.Jackie is survived by her husband, Barry M. Herbold, of Kinderhook and New York City; her sister, Dr. Sharon Carter of New York and Nashville; stepchildren, Laura French (Edward III) and Barry Herbold II (Tricia); the LeGrande family, Pauline, Jennifer, and Yvette; as well as other aunts and uncles, many cousins and innumerable friends.Funeral services for the family and close friends will be conducted 11 a.m. Thursday, April 21, 2016, at the Hamlar-Curtis Funeral Home, 1002 Moorman Road N.W., Roanoke, Va., with interment at Williams Memorial Park. A memorial service for Jackie's countless friends and associates will be conducted in New York City at a date to be announced. In lieu of flowers, friends may donate to The Coalition of Schools Educating Boys of Color: www.coseboc.org, an issue Jackie was passionate about.
Obituaries Newsletter
Sign up to get the most recent local obituaries delivered to your inbox.