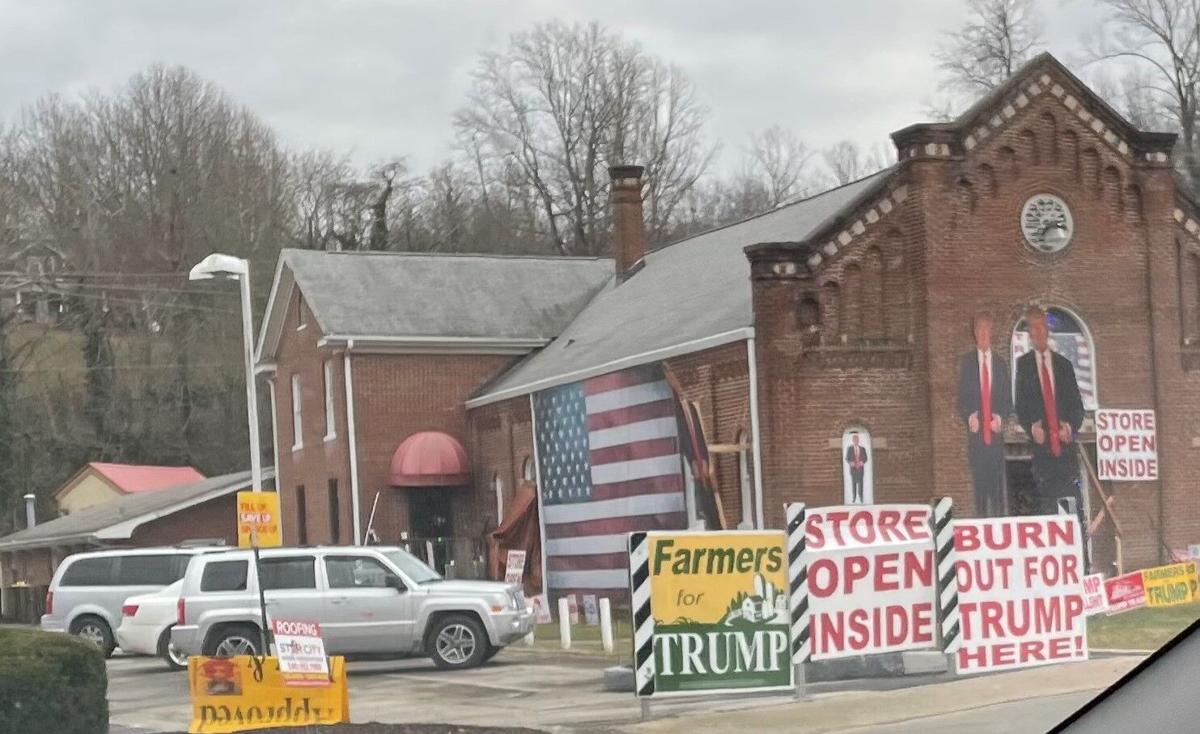 Several years ago, I read with astonishment about the cult mentality permeating Scientology in the book, "Going Clear." It chronicled a philosophy of indoctrination that rendered its followers incapable of rational thought. I never thought I'd see that kind of madness catch on in anything other than a fringe in society.
Yet here we are with a cult of millions that make Scientologists look like mainstream Methodists. Many live in the commonwealth and constitute a majority in rural Virginia. You see it the yard signs that still remain up, or the former church in Boones Mill that's been repurposed as a Trump store, "its" altar paradoxically transformed.
Joe Biden suggested he wants to reach out to these folks and unify the nation. It's a noble idea, but he has as much chance of succeeding as extending a hand to a rabid dog. Amanda Chase, seeking the GOP nomination for governor, is an example of what to expect. She just called for martial law to overturn the election. Two of her close followers were arrested in Pennsylvania for plotting to attack a ballot counting station. Why, they are just "law abiding" citizens, just like the ones you saw parading around Richmond last January, or the ones who tried to kidnap the governor of Michigan. Gun worship and its conspiracy theory paranoia is part of the cult's mantra. (By the way, after your rousing success creating these snowflake 2A sanctuary cities and counties, how many of you folks have had your weapons confiscated by Ralph Northam? Yea, that's what I thought.)
To be sure, there are former cult members that finally realized they were conned. But the hardcore 30% will always be with him, and Trumpism will be with us even after he leaves office. Because real facts aren't really their facts. They even turned their ire on their favorite Fox News mouthpieces like Tucker Carlson and Laura Ingraham because they broke the news that yes, in fact, Trump lost.
Republicans like Morgan Griffith, Ben Cline and Bob Good will keep the faith—Cline and Good because they are true believers, and Griffith, a profile in cowardice because he is afraid of being primaried from someone even more extreme than the first two. As Denver Riggleman aptly said, "They're worried about committee assignments, they're worried about the team," Riggleman said of Republicans who have stayed loyal to Trump, noting that breaking with Trump can "cost them their careers," and that "the career is more important than the facts, it's that simple."
Cline and Griffith's act of sedition in joining 124 other congressional traitors in an attempt to subvert democracy should preclude them from taking the oath of office in January. Meanwhile, there was Bob Good in DC speaking before the cult and military wannabes claiming the pandemic was a hoax. He hasn't even taken office yet, but he'll leap frog Louie Gohmert and Mo Brooks as the biggest nut job in congress.
This message won't resonate with the cult. They live in an alternative universe and they exist in every walk of life. It's almost straight out of "Invasion of the Body Snatchers" where once normal people have been replaced by alien doppelgangers.
Evangelical church officials claim masks are a political statement. There are instances of registered nurses or employees at the health department that downplay the danger and ignore precautions in stark contrast to the valiant efforts of their co-workers. It's selfish, reprehensible conduct, but consistent with the cult mindset. There are some, like those on their death beds in South Dakota who believe they are not dying of Covid, but of something else.
For all the lies Trump has told over the last four years, the one truth he uttered was that if he shot someone in the middle of 5th Avenue, his followers wouldn't care. As we've just witnessed, the cult votes in alarming numbers. If there's an election for dog catcher in the middle of February, they'll be voting. A reasonable and informed electorate saved us this time from the cult and their Republican enabler's desires to end our democracy.
Virginians have an election every year, and next year we must ensure the Amanda Chase's of the world are sent packing (no pun intended). I applaud Joe Biden for reaching out to offer healing, but sadly neither he, nor any Democratic candidate for state office is going to get any reaction from the cult and their enablers other than getting their hand bitten. I'd love to be wrong.
Parker, of Henry County, is the father of the late WDBJ-TV journalist Alison Parker.