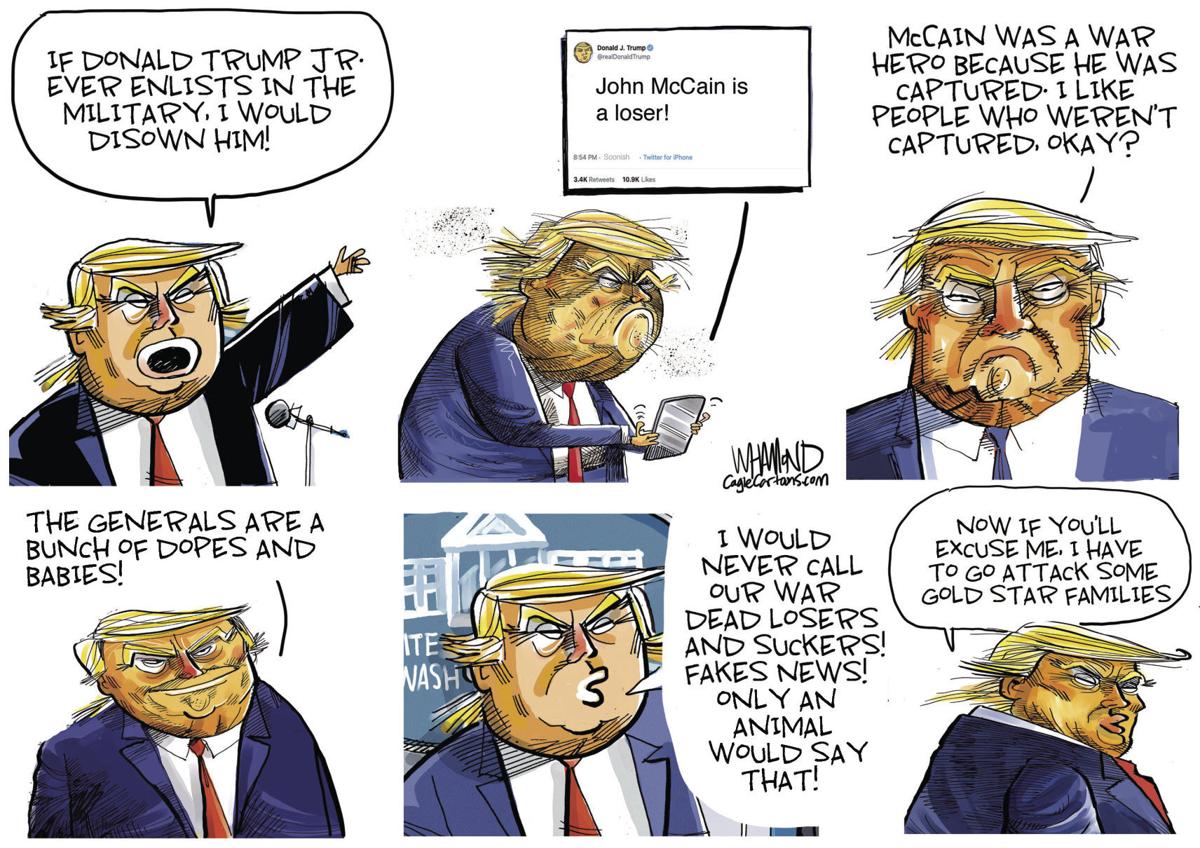 Butzer is the Catawba District representative on the Roanoke County School Board.
Duty, Honor and Country are three words that exemplify military service. I'm a 72-year-old white male who has voted for Republican candidates for president since 1968. That all ended in 2015. I can explain why in two words. John McCain.
My father flew 26 combat missions during World War II, was decorated for heroism and was awarded the French Legion of Honor by the president of France. I volunteered for military service during the Vietnam War in 1967. I hold members of our armed services in the highest regard, deserving of the respect of every American who enjoys the freedoms we have in this country. We owe our freedom and quality of life to the service and sacrifice of our active duty military and veterans.
In July of 2015, when asked if John McCain was a hero, Trump said this, "He is not a war hero. I like people who were not captured." I remember seeing the event live and to my disgust people in the audience laughed at what he said.
Trump never served a day in the military because he obtained five draft deferments during the Vietnam War. "Bone spurs," he said.
On April 9, 1942, 75,000 American and Filipino soldiers were ordered by General MacArthur to surrender to the Japanese. They were forced to march 65 miles to various prison camps where for the duration, they were beaten, starved and some were executed. According to Trump, they are not war heroes.
During World War II, more than 28,000 U.S. airmen serving the 8th Air Force were shot down and forced to jump out of burning airplanes while flying combat missions over Germany and France. According to Trump, they are not war heroes.
Almost all the 591 POWs of the Vietnam War were pilots who were shot down over North Vietnam. John McCain flew 23 combat missions over a territory that was most heavily defended by antiaircraft missiles in the history of warfare. He was shot down, bayoneted, tortured and held captive for over five years. He was offered early release by the North Vietnamese when they found out McCain's father was the top American Admiral in the Pacific. McCain refused unless all POWs were let go. According to the draft dodging Trump, McCain is not worthy of being considered a war hero.
Fast forward to recent comments by the president disparaging military service, and just like in 2015, my vote will not go to Trump.
Anyone who says they respect and revere our active duty military and veterans surely can't support this president. Or, have we reached a point where voters who support Trump really don't respect or revere military service?
Catch the latest in Opinion
Get opinion pieces, letters and editorials sent directly to your inbox weekly!