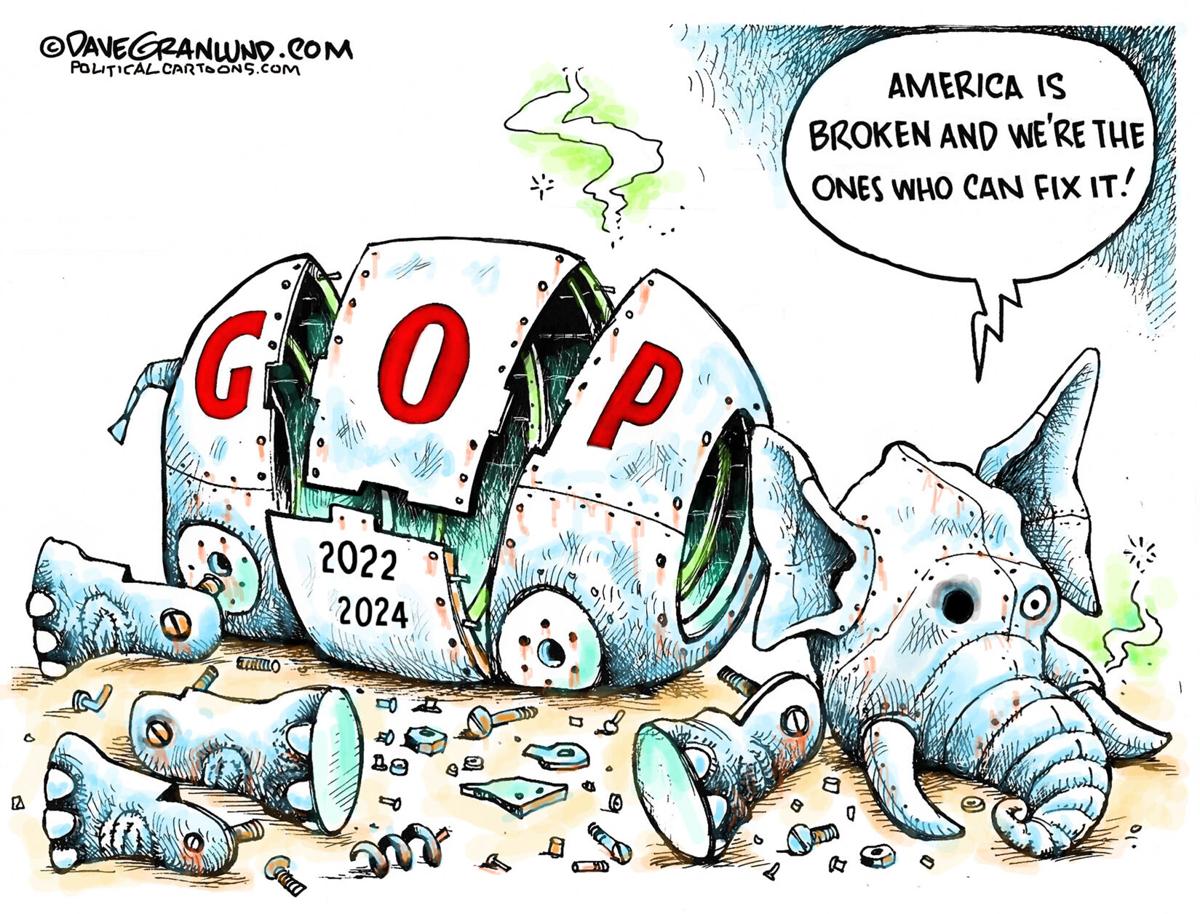 Virginia will have the nation's first major test for voters to show what kinds of Republicans can survive and thrive in the post-Donald Trump presidential period.
The state's Republican and Democratic parties have never been farther apart than they are today, which is reflected in how they are going about picking their nominees for governor and in the sets of candidates running.
Virginia and New Jersey are the first two states to elect governors in the Joe Biden presidency, but Virginia is the state to watch this year as nine Republicans running for governor define, or redefine, the party of Trump.
New Jersey Gov. Phil Murphy is a heavy favorite to win a second term on Nov. 2 in a state with more than 1 million more Democrats registered to vote than Republicans. Virginia Gov. Ralph Northam cannot run this year as the Old Dominion stands alone as the only state in which a governor cannot seek a second consecutive term.
In a normal year following a presidential election, the party that lost the White House campaigns for an open governorship in Virginia on any buyers' remorse and against the overreach often burdening the new administration just across the Potomac. This is not a normal year.
While Democrats delight in running against Trump, a strong GOP base across rural Virginia views him as the party's leader. Republicans running for governor include State Sen. Amanda Chase of Chesterfield County, who dubs herself "Trump in heels." Republicans who detest Chase remain quiet about Trump.
Those who would like to move beyond Trump fear losing party nominations. Some across the nation are quickly being censured by their home party, as was Sen. Richard Burr, a Charlottesville-born North Carolinian who was one of seven GOP senators who voted to convict Trump on Feb. 13 of inciting insurrection in the deadly Jan. 6 storming of the U.S. Capitol.
All five Virginia Democrats running campaigns to win their party's June 8 open primary for governor are strongly critical of Trump. As many as nine Virginia Republicans are engaged in an earlier contest for the GOP nomination to be decided in an early May Republicans-only convention contested by conservative candidates, few of whom are likely to run openly against Trump.
The GOP starting nine are, in alphabetical order: Chase, Delegate Kirk Cox of Colonial Heights, Peter Doran of Arlington, state Sen. Emmett Hanger of Augusta County, Merle Rutledge of Danville, Kurt Santini of Bedford County, Pete Snyder of Charlottesville, Glenn Youngkin of Great Falls and Sergio de la Pena of Fairfax County.
Larry Sabato, the dean of Virginia's political pundits with five decades of experience closely following state elections, points out that the GOP's greatest advantage this year is "a Democratic presidency and Congress. So far Biden is very popular, but there are many months to go before November."
Sabato notes that candidates matter. "Of course, the Republicans have to choose a good candidate for governor. We'll see. And Biden will have to become unpopular as Jimmy Carter, Bill Clinton, and Barack Obama were (Obama in 2009, not 2013). We'll see."
A good candidate alone and a Democratic president with dipping popularity near the end of his first year in office may prove to be insufficient in a changing and more liberal-leaning Virginia.
Sabato, who runs the University of Virginia's Center for Politics, points to the state's changing demographics.
"The biggest change is very tough for the Republicans in Virginia to navigate," he says. "Virginia is more Democratic than it has been since the mid-twentieth century—and that was a very different kind of Democratic. Virginia is now more liberal than it has ever been in its long history, mainly due to massive population shifts and diversity."
While Democrats shift leftward, Republicans likewise have been following the drift to the right of their national party, he notes.
"The corresponding piece of this is that the Republican Party has never been so far to the right. It is Donald Trump's party in a state that detests Trump, except in the rural areas. It's no accident that Trump lost Virginia by 5% in 2016 and over 10% in 2020."
According to Sabato, "the Senate's 'not guilty' verdict actually hurts the GOP. Instead of being out of the picture, Trump is still painting the picture. Trump has also pushed all the Republican statewide candidates even further to the right. At the very least, they have to praise Trump and pretend he's innocent. It's really going to get interesting if Trump is under indictment by November."
One very unusual but real possibility this year is that a split of Republicans over Trump will hurt GOP candidates through the formation of new parties or factions. Already, former 5th District GOP Rep. Denver Riggleman of Nelson County has joined a chorus of current and former Republicans strongly critical of Trump after losing a nomination battle last year to Rep. Bob Good, a one-time Liberty University athletics official supportive of the ex-president.
Bob Holsworth, a Richmond-based political scientist with decades of experience as a Virginia Commonwealth University professor and political consultant, finds an immediate third-party option for Republicans unlikely.
"I don't see a new party arising in the short term. Maybe at some point Virginia Republicans will get tired of losing and look to blue states that have elected Republican governors such as Maryland, Vermont and Massachusetts for some hints on winning statewide elections," Holsworth says.
Holsworth adds, "There is good reason to believe that the Trump hangover in Virginia's suburbs will not go away so quickly. To obtain the nomination in a convention, it's likely that all the GOP candidates will have to embrace positions on matters such as guns, marriage equality and abortion that make it more difficult to attract suburban voters."
"Even more problematic," according to Holsworth, "the Virginia 2021 elections will be perceived as the opening election of the 2022 cycle. And as our elections become increasingly nationalized, the identification of the Republican Party as the party of Trump will be a continuing albatross around the neck of the Virginia GOP."
Chris Saxman, a former GOP delegate who runs the pro-business group Virginia Free, notes that the Republican convention is early enough in May that Republicans who are not on board with the party's nominee would have plenty of time before the June 8 filing deadline for an independent candidate to join the Nov. 2 ballot. Riggleman has voiced a chance he might pursue such an option.
State Sen.Creigh Deeds, a former Democratic Party nominee for governor in 2009, said Republicans ran everything in Virginia as recently as a decade ago until they lost support in Virginia's burgeoning suburbs.
"When I got to Richmond, Democrats competed in rural areas, they won in cities and they struggled in suburbia. Republicans have traded the suburbs for domination in rural Virginia. Unfortunately for them, the suburbs are where the people are," Deeds notes.
Sabato says the current leaders among national Republicans do not appeal much to residents of suburbia.
"The Republican Party is the Trump Party, and his shadow will haunt the GOP in and out of Virginia for years to come. Not just Trump but QAnon, neo-Nazis and white supremacists, and nutty personalities such as Rep. Marjorie Taylor Greene define the Republican Party in the public mind. Not very appetizing for voters with taste," according to Sabato.
With Trump at the party's helm, Virginia Republicans may continue to find themselves in a shrinking rural box.
Gibson is communications director and senior researcher at the University of Virginia's Cooper Center for Public Service. The opinions expressed here are his own and not necessarily those of the Cooper Center.