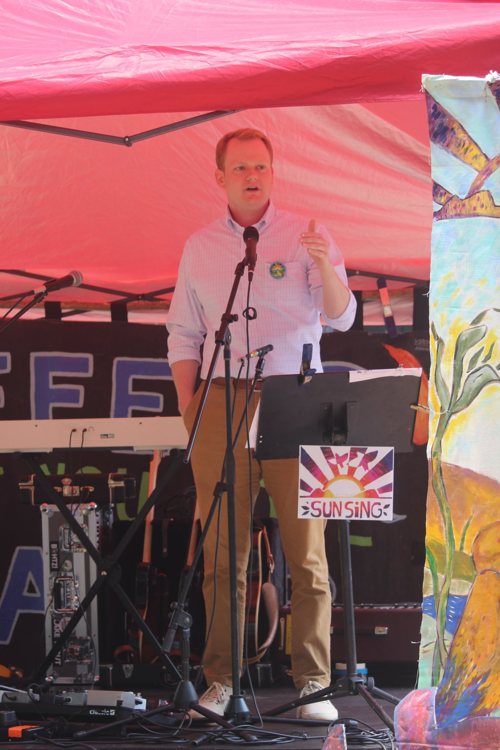 Two years ago, I took part in a powerful event in Leesburg highlighting the continued fight against the Mountain Valley Pipeline, a project that has harmed my community, our region's water, and the livelihoods of many of my constituents. People gathered that day to celebrate Appalachia and to bring our lived experiences and perspectives to the northern part of the state. We joined together in messages of solidarity for environmental and climate justice.
What I shared with the crowd that day in Leesburg still rings true: There is no need for the MVP and it should be cancelled.
Over the past two years, MVP's construction has polluted creeks and streams in Virginia and West Virginia, dried wells and ponds, and ruined farms. The company proved it could not prevent massive amounts of sediment from choking our streams, with state officials eventually ordering a fine of over $2 million for over 300 violations of the project permit. This destructive process — conducted on private land, seized for corporate greed — has resulted in the loss of livelihoods for many in the communities I represent.
That is why I introduced HB 646 in 2020 which increased penalties for violations. The bill passed and was signed by the governor. The pipeline is now projected to cost $6.2 billion, twice as much as originally estimated, and it is 3-½ years behind its original schedule. If completed, the pipeline could generate greenhouse gas emissions equivalent to 26 coal plants —the last thing we need during this critical time.
Unfortunately, Mountain Valley Pipeline and its proposed North Carolina extension, "Southgate," are not intended to serve the communities they disrupt. Instead, they would link to a national pipeline network that some argue is already overbuilt, at a time when demand for natural gas is in decline.
While construction inches forward, the environmental and legal risks continue to mount. As MVP tries to link an incomplete mainline project with the Southgate extension, courts have overturned various permits allowing the pipeline to cross waters, national forests, and the habitats of protected species. The North Carolina Department of Environmental Quality recently rejected, for the second time, a request for a water permit required for construction in the state. MVP also needs new water permits from Virginia, West Virginia, and a federal agency in the wake of litigation. Given all of the observed harms and uncertain future, this project must be cancelled.
When I joined my fellow Virginians for the 2019 event in Leesburg, organizers brought state and national allies together to share a vision for a healthy environmental and energy future for Virginia.
Since that time, we've witnessed significant progress. The similarly destructive Atlantic Coast Pipeline was canceled. The Virginia General Assembly passed policies addressing environmental injustices across the Commonwealth. And we passed the Virginia Clean Economy Act, which will hasten the shift from fossil fuel dependence and create new opportunities and access to clean, renewable energy sources. These milestones, and a growing global understanding of the climate crisis we all face, shape a more positive future in our Commonwealth.
We are neighbors linked by the same climate fate. What brings me hope is what we've seen in these two years: people have put their bodies, spirits, time, and hearts on the line to continue this fight. And as the fight against the Mountain Valley Pipeline builds momentum with each year, the fight for climate and environmental justice grows more formidable as well.
I want the two-year anniversary of the Leesburg rally to be an opportunity for Virginia and its elected officials to genuinely move forward with personal and political will that ensures a healthy and equitable future for the entire Commonwealth. Stopping MVP is the next step, but not the last step.
Hurst represents Giles County, Radford and parts of Montgomery and Pulaski counties in the House of Delegates.