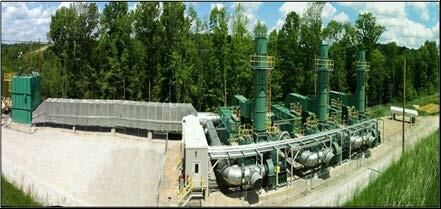 The recent announcement that the Mountain Valley Pipeline will fully offset its operational emissions by purchasing at least $150 million in carbon offsets through the next decade is an extraordinary development. Regardless of your views toward the pipeline itself, this announcement is a significant effort that deserves recognition and praise for three very important reasons.
No. 1: It curbs coal mine emissions
With its commitment to fund a methane abatement project at an active mine in Southwest Virginia, Mountain Valley's plan will unilaterally slash Virginia's underground coal mine emissions by approximately 25%. That is a staggering sum that will have a material impact on Virginia's ability to achieve its greenhouse gas reduction targets.
Mountain Valley — and the NextEra Energy subsidiary that will build, own and operate the methane abatement project — chose a metallurgical coal mine for this project. Unlike coal mined to generate electricity, metallurgical coal is necessary in the process of making steel and is not part of a greenhouse gas reduction plan.
So long as America is building new structures and running manufacturing operations, metallurgical coal will be needed and therefore mined. For the safety of workers at these mines, operators vent methane from the mine and into the atmosphere (this is the gas that canaries were historically used for).
This is the methane that Mountain Valley's project will capture through the installation and use of a regenerative thermal oxidizer (RTO), which can convert the methane into carbon dioxide and water vapor. Though carbon dioxide is also a greenhouse gas, the displaced methane is rated up to 80 times more powerful. RTO's have been used in industrial processes to control emissions for decades with very reliable performance.
Without abatement efforts such as Mountain Valley's plan, mining activities will continue to emit thousands of tons of greenhouse gases. This plan will set the stage to avert that.
No. 2: It raises awareness of abatement technologies
Greater use of solar, wind and other renewable energy sources are critical for our long term future, but achieving the energy and climate goals described in the 2015 Paris Agreement are simply impossible without the greater adoption of innovative strategies such as greenhouse gas capture, abatement and sequestration. We must at the same time understand that coal, oil and natural gas will remain for quite some time part of the global energy mix for a variety of reasons, including reliability and geopolitical security.
Regulators and industries have had access to many techniques for lowering greenhouse gas emissions but only recently began working in earnest to leverage them. It should be noted that the use of these proposed abatement technologies comply with the EPA's definition of best available and maximum achievable technologies.
A lesser recognized provision of Mountain Valley's plan includes a commitment to utilize more efficient equipment, reduce venting and take other steps to cut methane emissions that typically occur in the transmission of natural gas.
These are essential efforts, as is Mountain Valley's willingness to support remedies addressing emissions from active and abandoned wells across West Virginia.
No. 3: It raises the standard
Mountain Valley has drawn strident criticism from opponents, most notably for compliance violations levied against the company for erosion and sediment control failures during 2018, when the region endured record rainfall.
But in the years since, I have followed the company's progress in this area and I am impressed that the company has addressed its construction-related environmental challenges. Staff at the Department of Environmental Quality have repeatedly acknowledged Mountain Valley's renewed efforts to maintain temporary erosion and control devices and comply with state standards. Those efforts have paid off, with no major violations and only a minor fraction of the issues that happened in 2018 occurring in subsequent years.
With work on the project more than 92% complete, and the last remaining permitting issue poised for a resolution in coming months, it appears likely that the $6.2 billion MVP project will be completed and enter service. That the company went ahead with a $150 million-plus voluntary commitment to offset its emissions offers a compelling example of corporate responsibility and stewardship.
The company also has contributed millions of dollars to conserve core forestland, fund water-quality programs and support tree planting activities.
These results are good for communities, the commonwealth and the environment. They are a mark of good environmental stewardship and I strongly endorse Mountain Valley Pipeline's efforts here.
Johnson is former director of the Virginia Department of Conservation and Recreation and the former chief deputy/director, Virginia Department of Environmental Quality.