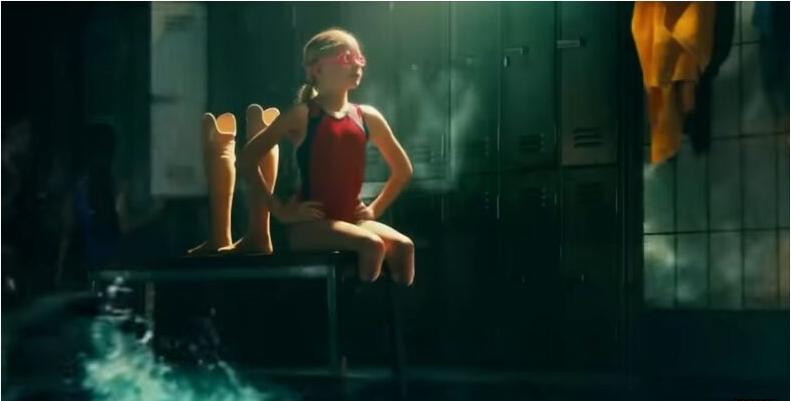 I watch the Super Bowl pretty much every year, generally enjoying the spectacle. But I've never quite understood the fascination of some viewers with the over-hyped commercials. The commercials are for getting up for more wings, not rating and discussing the next day.
Still, one commercial this year caught my attention. I looked up from the excellent seven-layer dip my wife makes once a year to see a Toyota ad about a swimmer. Initially I didn't pay much attention to the details, but subconsciously realized it had touched on the subject of adoption. After the game, I looked up the commercial and re-watched it several times, even feeling my throat tighten and eyes brim. I shared it with family members across three states. Let me share it with you.
The commercial starts with a young lady swimming in a darkened pool, identified as "Jessica Long, 13x Paralympic Gold Medalist." As Ms. Long (no relation, to my knowledge) turns in the water, you see clearly that her lower legs and feet are missing; meanwhile an old-style house phone starts to ring.
Jessica swims on, through scenes from her past. She passes by a lady at a desk, suspended in the water by cool special effects. The lady speaks into her phone, telling a Mrs. Long that her office had found a baby girl for adoption. "But, there are some things you need to know." Jessica swims through an inadequate orphanage, where a beautiful baby looks up from her crib.
"She's in Siberia, and she was born with a rare condition. Her legs will need to be amputated." There is silence on the other end of the line, while Jessica continues her swim, past a blond toddler learning to navigate artificial limbs; an older girl without her prostheses adjusting her swim goggles, ignored by able-bodied girls nearby; the same girl diving into the pool. "I know this is difficult to hear. Her life…it won't be easy," says the lady.
Jessica swims; the music soars. A poolside coach enthusiastically encourages young Jessica. Crowds in bleachers jump up in exuberant cheering. Jessica touches the pool's edge ahead of her competitors. Adult Jessica, still swimming through her memories, stops and pulls up her goggles to watch Mr. and Mrs. Long at their kitchen table. She flashes a radiant smile as her mother replies without hesitation, heart full of joy and boundless love for a child she didn't know existed until then.
"It might not be easy, but it will be amazing. I can't wait to meet her."
The ad, which interestingly never shows or mentions any car, ends with a message from Toyota: "We believe there is hope and strength in all of us."
The ad touched me, and many others, I'm sure. "It might not be easy, but it will be amazing." How many other times can we say this? When are the most amazing, most rewarding things in life easy?
It's been almost twenty years since I happily accepted the role of stepdad to two rambunctious, quarrelsome girls. A few people gently admonished me then that it was not an easy job. They were right at times. But it has been profoundly amazing.
Those two girls are grown now, married with their own kids. The older one has, you guessed it, an adopted son. It was a long process, full of frustrations and setbacks, before he came into their lives. It wasn't easy. But it is amazing. When I texted my daughter Mrs. Long's declaration, she replied "Yes! Adoption AND parenting all in one statement!"
In a night full of commercials pushing consumerism and indulgence, here was one with a profound, life-affirming message. Purchase this gadget or eat those chips or drink that soda and you'll have a moment of hollow enjoyment. But no fulfillment. Invest your life in someone who needs you and you'll find tears and sacrifice and exasperation. And—lifelong, inexpressible joy. It won't be easy. But it will be amazing.
I congratulate Toyota for choosing to tell Jessica's story instead of describing their latest vehicles. Sure, they want to sell SUVs in the end, but they reminded us of the importance of adoption in a world of unwanted children.
Adoption isn't for everyone, but it's got to be for more people than those who pursue it. The need is great need, both at home and abroad, especially for children like Jessica whom too many consider to be defective or disposable. Maybe, just maybe, some not-so-easy amazement is waiting for you.
Long is a historian, writer and educator from Salem.