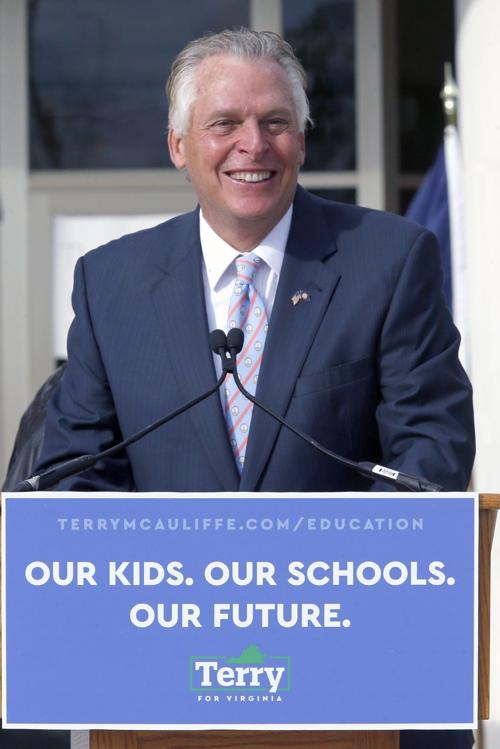 The COVID-19 pandemic has upended every aspect of our lives, and Virginia's next governor will be faced with building a stronger post-COVID economy.
Virginia has been ranked the best state for business and we got there by investing in education, keeping our economy strong and taking COVID-19 seriously. We did it before and we'll do it again. This is not a moment to slow down, and I am running for governor to defeat this deadly virus and keep building the strongest economy our commonwealth has ever seen.
I know I can do it because I have done it before. As Virginia's 72nd Governor, I came into office with an economy in dire need of help and built the New Virginia Economy. My administration created 200,000 good-paying jobs and announced more than 1,000 new economic developments, along with $20 billion in new capital investments. We made Virginia a great state to do business and created good jobs. The end result? Under my leadership, unemployment went down in every single city and county, and it dropped by nearly 50% in most rural counties. I was proud to see our commonwealth's economic success directly help Virginians' pocketbooks, with personal income increasing 14%. We made real, tangible gains that made a difference in Virginians' lives, and that is exactly what has me jump out of bed every day excited to get to work for our state.
To build a strong post-COVID economy is going to require building a strong rural economy. Earlier this year, I released my plan to support rural Virginia because rural communities and the local businesses that support them are vital to our commonwealth. My plan will revitalize local main streets, grow existing businesses and attract new ones, and deliver universal broadband to every part of the commonwealth within two years.
We also need to invest in our education system to make sure that all of our students have the tools they need to succeed. That is why I released an education plan that calls for making a record investment in education to ensure we raise teacher pay, provide pre-k to 3- and 4-year olds in need, and get every student online. And we have to make sure our students are prepared to enter the workforce. I want to create the best workforce in the nation with the skills and training needed to step into jobs here in Virginia. It starts in our K-12 schools and continues into higher education. I will transform it to ensure institutions are much more affordable and aligned with workforce needs. I will build new pathways to the workforce, whether through a four-year college, community college, job training, or other pathway.
These are the kinds of strategic plans that we need to keep our momentum going as we start building a post-COVID economy. Virginians want to hear about our plans to lift them up, not drive them into a ditch. My opponent Glenn Youngkin recently doubled down on his dangerous economic plans, which would lead to massive cuts to funding for public safety and schools and would jeopardize the economic growth that we have worked so hard to build. Glenn opposes the American Rescue Plan, despite the fact that it is already helping more than seven million Virginians and keeping small businesses, schools, and local communities afloat.
Don't just take my word for it — Glenn has already been called out by newspaper editorial boards for his plan to drive Virginia "into the ditch." Even The Roanoke Times has said his plan is disappointing and would do nothing to help rural Virginia. And the numbers back that up. Glenn Youngkin's budget plan would take billions of dollars out away from cities' and counties' schools, public safety, and law enforcement hiring and salaries. If Glenn had his way, Roanoke would see over $4 million in cuts to police departments and over $33 million in cuts to educator salaries.
Glenn's plan would not only slow our economic growth, it would defund local law enforcement and jeopardize Virginians' safety. Glenn Youngkin's agenda would hurt working families in Virginia and take us backwards. We need to keep Virginia moving forward to get through this pandemic and make sure that all Virginians benefit from our recovery. That's what Virginians deserve, and I will not settle for less.
McAuliffe, governor of Virginia from 2014-18, is the Democratic nominee for the office again this year.