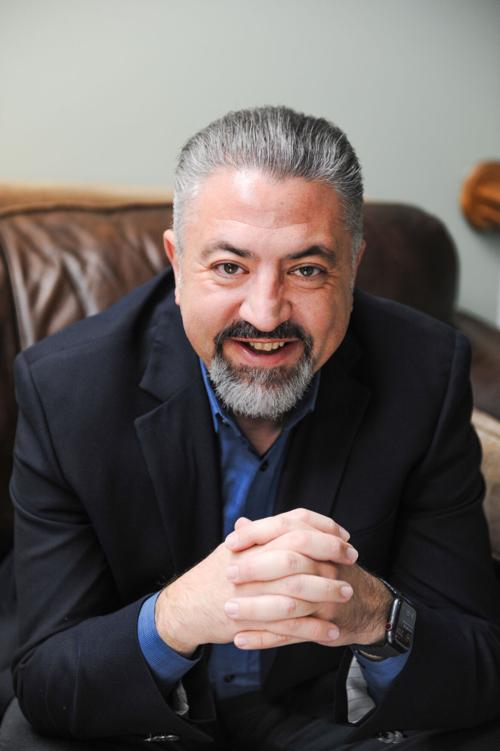 In December 1788, America held its first presidential election. Then, there were no nominating conventions, speeches, or rallies, and almost four months would pass before George Washington's unanimous selection became official.
Last November, America voted for a president for the 59th time, and it's safe to say that our most recent election bore no resemblance to the first.
Once, we politely shared our hopes for candidates and their success. Today, we are deeply suspicious of anyone with whom we disagree. Slick ads and incendiary posts have become political norms. And in a country that should take pride in its ethnic, religious, and racial diversity, a name like Ramadan can raise questions.
I wasn't born in this country. As a young adult, I left Lebanon with not much more than a plane ticket and a few dollars in my pocket to come to a place that has always held out hope and promise.
For me, things turned out well. I was lucky enough to give back to my community. To serve in the General Assembly. To vote in a building designed by Thomas Jefferson and peacefully debate our differences in the oldest continuously-serving legislature in America.
So to watch this week as incendiary speeches morphed differences into conspiracies, to see men and women wearing gas masks and riot gear storm our Capitol in an attempt to overthrow Congress. . . well, words don't fail me, but I can't use them here.
We didn't come to the edge of chaos overnight. Nations never do, and it takes a steady stream of real and perceived injustices to reach that place. For America, an American Revolution and Civil War brought us close, and we have been near the brink before.
But thankfully, we have always found a way back, and it began with leadership modeled by the first president.
George Washington was a masterful manager of men and their ambitions and knew that the first order of business would be to build respect for our fledgling country's leadership by insisting that self-interests be set aside.
When his nephew sought a federal appointment in July 1789, Washington denied him and wrote:
"My political conduct in nominations ... must be exceedingly circumspect and proof against just criticism … and no-slip will pass unnoticed that can be improved into a supposed partiality for friends or relations."
In these cynical times, our first president's words might be read as just another press release explaining away a questionable appointment.
But, no. General Washington understood that respect for those he would choose to serve would yield confidence in the decisions they would make. . . and that whether at war or in peace, shared confidence in leaders inevitably leads to shared commitments to common causes. Until 2016.
No matter where you live in America, one thing is obvious: America made a mistake in 2016. And last November, America overwhelmingly said we've had enough.
So now, for Republicans, the question is simple: How will they find out a way back from the political abyss?
Looking back, a young Republican party embraced classic liberalism and economic reforms, and obviously opposed slavery. Sadly for the party I once called home, Republicans have wandered off to political extremes no one might have imagined possible. In the process, they have torn gaping holes in the heart and soul of a party once focused on liberty and freedom. And if ever there was a time for a mea culpa for the GOP, this is it.
But that is not enough. Claiming your doors are open is not enough. Republicans have to invite people in. Work to actively gain the trust of people who have heard nothing but attacks over the last four years. The GOP must prove willingness to represent all, not just the few.
So start by denouncing White Supremacy and symbols of the Jim Crowe era. Accept that climate change is real. Support immigration. And engage minorities who are part and parcel of the fabric of these always great United States of America.
Party leadership has a choice to make: admit the mistake of 2016, ask for forgiveness and reengage conservatives who stood up to transactional politics, or continue riding the irrelevancy train that made an insurrection stop in Washington DC on January 6.
America needs opposing parties. But when political success at all costs becomes any party's mantra – when compromise becomes a word whispered only in the dark of night—we are all in trouble.
Ramadan is a former Republican member of the Virginia House of Delegates (2012-2016) and an adjunct professor at the Schar School at George Mason University. He can be reached via email: delegate@davidramadan.com