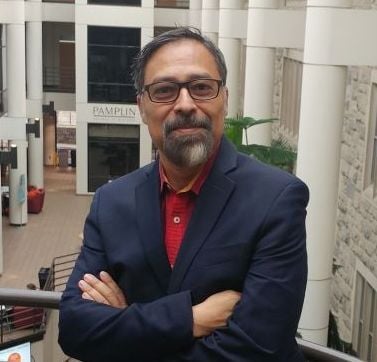 Sarangiis is Professor and Department Head of Economics at Virginia Tech.
Imagine the following game — two individuals faceoff each other in a game of holding their breath. The one who can hold their breath longer wins. This game has a strong element of danger: if neither gives in, they will both die from lack of oxygen. Of course, if they both give up quickly, then they are both losers. Economists who use game theory to model and study situations where the final outcome depends on the actions of more than one person call this a Game of Chicken.
The theory behind Chicken
The key thing to note about this game is the fact that your reputation matters (winning) more than dying. The equilibrium (formally Nash equilibrium) is one where one player gives in while the other player is still holding their breath. Observe that this is a situation from which no one wishes to deviate unilaterally – assuming the other player is giving in, you should hold your breath and vice versa. Hence there are two equilibria in this game in each of which you get the pleasure of calling the other person "Chicken" at the risk of dying.
It is not hard to see why politicians and diplomats are frequently engaged in in the game of chicken. Whether it is a trade war or a border dispute, no politician wants to seem weak in front of their voters. They will go on holding their breath or sticking to their position in a trade war regardless of the fact that it might be harmful to them (and their voters) just to show that they are tough. In fact, from the 1955 James Dean classic Rebel without a Cause to the Cuban Missile Crisis to the current fight over the stimulus package, the Game of Chicken is ubiquitous! Covid-19 has brought this fight to our sidewalks too.
A good parable for the sidewalks and walking/jogging trails of our time is the parable of Robin Hood and Little John who met for the fast time on a narrow log bridge over a swiftly flowing brook. The narrow bridge would only allow one person to cross at a time, leading to the fight between Robin and Little John right in the middle with the constant danger of falling into the water.
Social distancing has brought the same fight to our walking paths. Since sharing the pathway is not feasible, when two people approach each other on such a narrow path what happens – who given in? Let me list some of the most common types of people you will encounter. The unaccommodating type — they will not look at you or budge from the trail like the gentleman walking his dog in my neighborhood; he could put Ebenezer Scrooge to shame. Given his surly expression, I expect him to say "Bah humbug!" to me every single day, but he never does. The accommodating type — they will move off the trail onto the grass way before you get anywhere close to them, like the sweet couple walking their two dogs in my neighborhood. If you are lucky enough to play Chicken with them, you will win. The in-denial type — these folks pretend that there is no Covid-19 and social distancing is unimportant. Instead of going single file, they brazenly run right in the middle of the trail, quite happy to share the narrow space with you, just like the two friends I see jogging on the trail. Finally, the civil type — in this encounter there is mutual acknowledgement and a move to the grass with a brief exchange of smiles as our two opponents cross each other on the trail.
These are simply the types I encounter. What I have often wondered about is how the other player would behave in the battle for the sidewalk if they were facing a child or a person with disability? Do women treat other women similarly in this battle? Do the two genders treat each other differently? How would my friendly neighborhood Scrooge behave if they encountered not me but another person of color? Even these simple sidewalk wars can tell us a lot about our society and the times we live in.
What I wish for is that things end the way they did in Sherwood Forest. After a long fight which end in Robin falling into the water, they put their differences aside and Robin and Little John end up becoming fast friends.