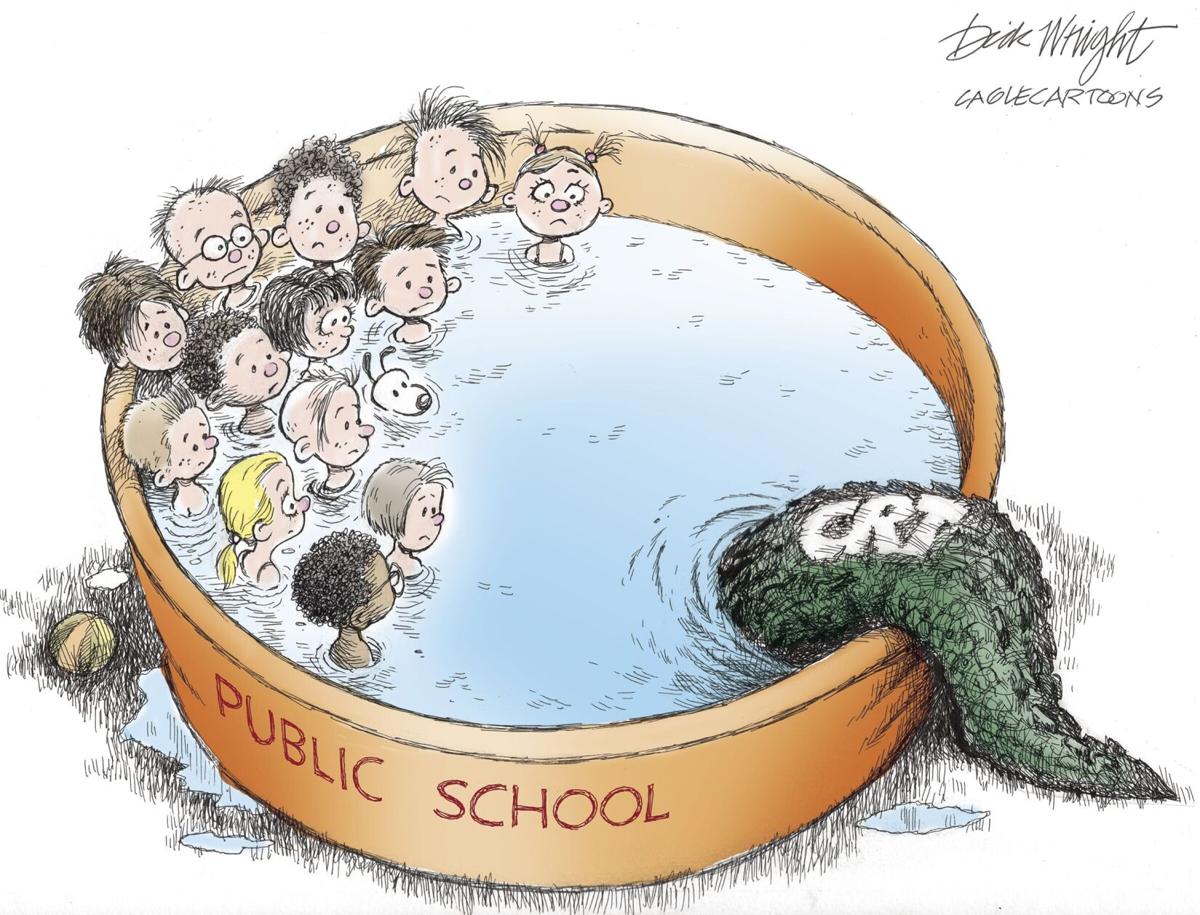 Critical race theory has expanded beyond academia into mainstream America, including Southwest Virginia.
The theory holds that white people are innately racist — they are oppressors by nature, and black people and other races are the oppressed.
It is hate speech — as derogatory to black people as to white. Moreover, teaching the theory to our children — attendance legally required — is really a hate crime, damaging all of them psychologically as well as socially. Even white promoters of the theory cannot escape its visceral-racist claim.
Marxists believe that, if they criticize a country relentlessly, they can destabilize it sufficiently to propagate socialism.
The neo-Marxist left has embraced critical race theory because the orthodox Marxist prediction of a proletarian revolution against the bourgeoisie has not happened.
So, to transform our society and redefine the American way of life, radical Democrats, Black Lives Matter, antifa, substitute a proclaimed opposition between white and black people and use it to incite discord.
As BLM co-founder Patrisse Cullors has said, "We are trained Marxists." Ironically, orthodox Marxists oppose the theory, as in the book, "The New York Times' 1619 Project and the Racialist Falsification of History," because it supplants the economic basis of Marx's thought.
Critical race theory exploits our sensitivity to past injustices in our history. Today we cannot comprehend that someone could think they were justified in owning another, and we find repugnant any rationale for Jim Crow racism. We regret these injustices even though no one living today is responsible for them. We do not want to deny them. We want to correct them.
CRT has been effective in garnering sympathy among unsuspecting, well-meaning people because of the inherent good will of virtually all Americans — the natural inclination to reach out and heal, whatever our race. We reject those comparatively few individuals who feel otherwise. We want everyone in this country to succeed.
There has been, and continues to be, slow but steady progress toward equality. We elected a black president, twice, and celebrate the achievements of Ben Carson, Thomas Sowell and Clarence Thomas. Most African-Americans — 80% — are not in poverty, and there is help for those who are. By not acknowledging the vibrant black middle-class, CRT itself diminishes them, and dismisses their accomplishments and contributions to this country.
The COVID-19 Hate Crimes Act became law to address the rise in hate crimes against Asian-Americans, supposedly due to the public identification of the source of the pandemic as China. But this increase occurred as critical race theory infiltrated public institutions and discourse. The underlying cause, more likely, is CRT's claim that merit is an inherently racist concept, and the resulting hostility of CRT adherents toward high-achieving Asian-Americans.
The rise in hate crimes against Asian-Americans can be attributed to their longtime support for a merit-based educational system, especially in terms of admissions. For example, the Chinese American Citizens Alliance Greater New York finds CRT a "hateful fraud": "Black Lives Matter rioters with CRT signs assaulted our rally supporting merit-based education." Tellingly, a Republican amendment in the Senate to withhold federal funding from colleges that discriminate against Asian-American applicants failed, mostly along party lines.
Our religions teach that we should focus on our deeper similarities, not our superficial differences. Martin Luther King Jr. said it most memorably: "I have a dream that my four little children will one day live in a nation where they will not be judged by the color of their skin but by the content of their character."
To defeat the destructiveness of collectivist thinking and racial categorization that blames, divides and demotivates, we must focus on the individual. This is why our Founding documents — the Declaration and Constitution — are so important, and why Neo-Marxists want to delegitimize and erase our history. We are a country unique in the world because our government prioritizes the individual, not a favored group. This provides each citizen the opportunity to use their talents as far as their ambitions will take them.
What to do: attend board of education meetings to voice opposition to critical race theory; appoint board members opposed to it; inspect textbooks and any course materials prepared and distributed by teachers for the theory; ask children what they are being taught in the classroom; promote adoption of local ordinances banning CRT from schools; replace disparaging, distorting (Howard Zinn) with balanced, accurate (Wilfred McClay) American histories; recognize that the National Education Association and many universities support CRT; join national organizations devoted to opposing critical race theory.
Skaff is a retired director of policy analysis for a policy organization in Washington, D.C. He lives in Roanoke County.