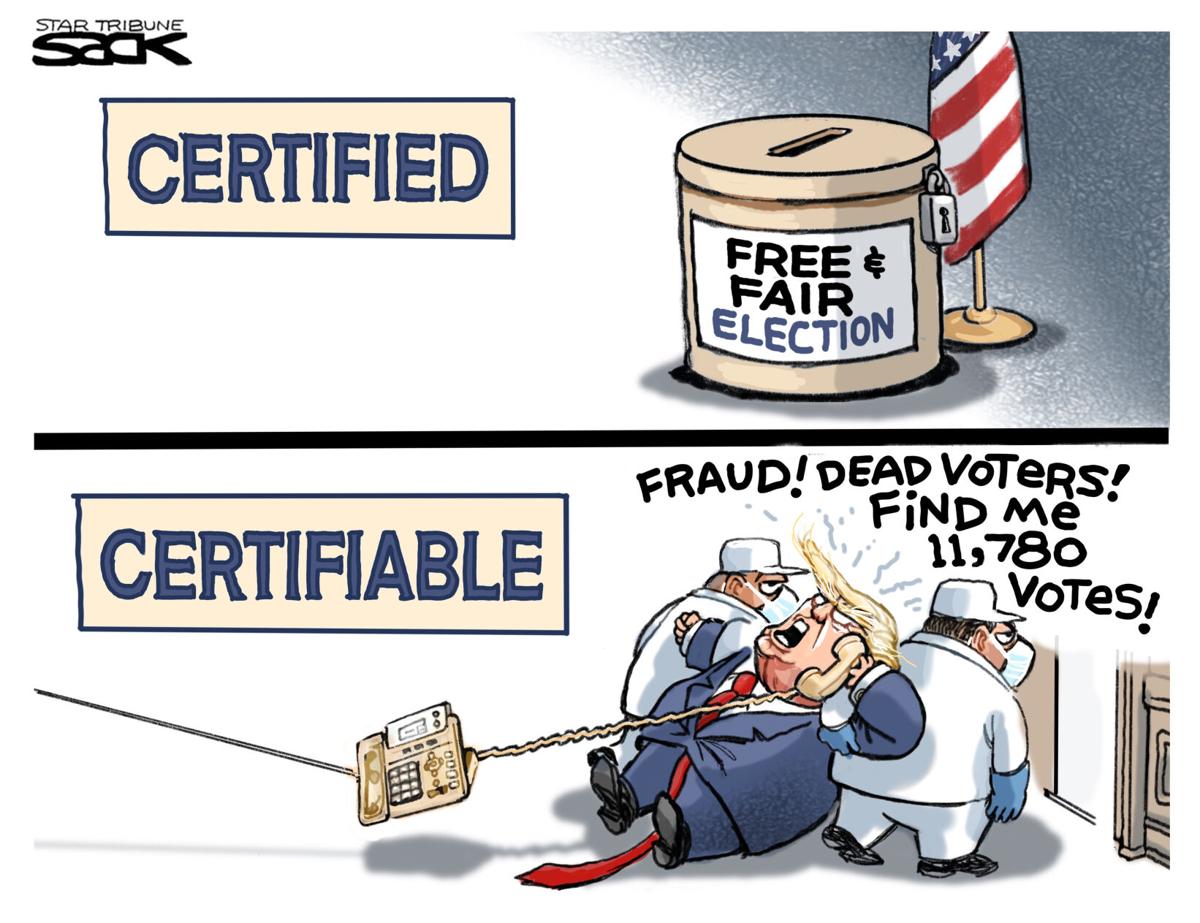 I teach political science at Radford University. My specialty is developing countries, mostly in Asia. Over the last four years, there have been many incidences that have shocked and surprised me as politics in my home country started looking more like the tumultuous politics I study abroad.
No incident took my breath away more than the phone call released over the weekend of President Trump speaking to Georgia Secretary of State Brad Raffensperger. In the recording, the President tells Raffensperger it's "pretty clear" that "we won very substantially in Georgia." He asks Raffensperger to "find 11,780 votes." "Fellas, I need 11,000 votes. Give me a break."
Critics of the President believe he was asking Raffensperger to manufacture Trump votes in order to flip the Georgia presidential vote. In the phone call, Trump intimates that there is a criminal "risk" for Raffensperger and those around him for not acknowledging Trump's victory. He menaces that the people of Georgia are "angry" over the result and that some folks aren't "ever getting elected again."
On the other hand, Trump defenders argue that the President wasn't asking Raffensperger to manufacture votes but was fighting to rectify malfeasance which led the President to appear to lose a state he actually won.
This whole affair reminded me of another scandal some years ago in the Philippines. Months after the 2004 presidential election in the Philippines, a tape came to light that exposed President Gloria Macapagal Arroyo calling the head of the election commission, Virgilio Garcillano. She starts: "Hello? Hello, Garci?" She continues "So, will I still lead by more than 1M?"(one million votes).
With her call, critics say President Arroyo was asking Garcillano to pad her vote total. They believe she intended him to protect her one million vote lead. In the context of the politics of developing countries, a leader's question can be taken as a command by a lower-level official. And the Philippines has a rich history of rigged elections under President Ferdinand Marcos (1965-1986).
When the scandal came to light, Arroyo was already well into her next term. Outraged opponents protested and called for her resignation. When that failed, they hoped to impeach her. With a combination of stonewalling (not allowing officials to testify), an apology for her "lapse in judgement" in making the call, and a coalition of allies standing firm, Arroyo was able to defeat the impeachment challenge. In an element worthy of a thriller, Garci went into hiding after the call came to light, eventually re-emerging five months later when things had settled down.
There are many differences between Hello, Brad and Hello, Garci. We in the US are getting the tape in real time. The Filipinos heard it much later when their president was already safely ensconced in her next term of office. We are also hearing the tape when President Trump lost the election, and this has been confirmed with the voting of the Electoral College. We also know that, in the case of Hello, Brad, the REPUBLICAN Raffensperger patiently and firmly rebutted President Trump's assertions about irregularities and entreaties to find him votes: "Well Mr. President, the challenge that you have is, the data you have is wrong."
President Trump famously referred to developing countries as "s$#%hole countries," but he has done a lot to make the United States more like the developing countries I study. Populist leaders are common there. In developing countries, they used to blame colonialists. President Trump blames Mexicans, China, or radical-left Democrats. In developing countries, ethnic politics are common. Political scientists joke that you don't need a vote in Kenya, just a census—since people vote according to their tribe. Here in the US, President Trump has given voice to a white nationalist politics that heretofore had been marginalized as "far right." In developing countries, elections often risk violence. Here, President Trump has threatened that the only way he could lose would be if the election were stolen. The Proud Boys should "stand back and stand by."
Something else we should remember from Hello Garci is that Arroyo survived it. After leaving office in 2010, she was pursued on various legal cases, including plunder (corruption) and electoral sabotage. She managed to ride out many of her confinements comfortably seeking medical treatment. Surprisingly, for someone with so many medical issues, she had the energy and drive to be repeatedly elected to Congress, even rising in 2018 to become the Philippines' House Speaker. Is there a Speaker Trump in our future or maybe court cases and medical treatment? With either outcome, we get a little more like the developing countries I study everyday.
Tan is a Professor of Political Science at Radford University. She can be reached at etan3@radford.edu.