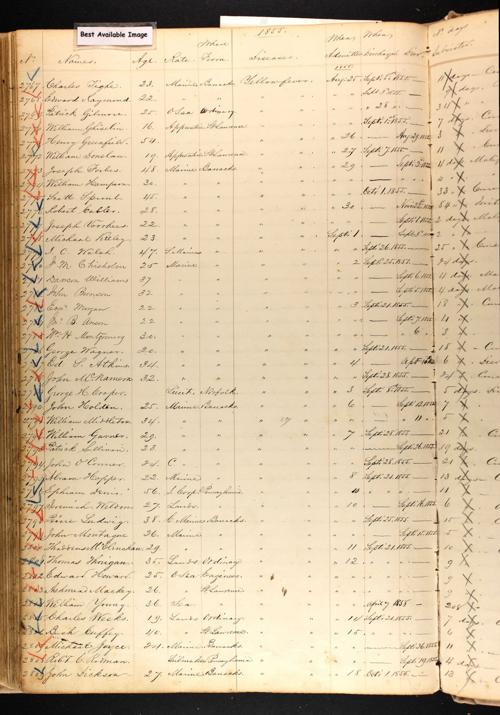 By sunrise that Friday morning, it seemed like every man, woman, and child in Portsmouth, Virginia, was on the move.
Horses loaded with bags, porters laden with trunks, wheelbarrows, carts, suitcases, boxes, entire families scurrying in amoeba-like blobs.
Where a side road or alley intersected with High Street, more families converged into the stream of panicked people.
Cart wheels rattled over cobblestones, dogs barked, neighbors hollered as they bustled, creating a swirling cacophony of fright. A whole town, fleeing from something, unsure of what, faces filtered with fear.
It was Aug. 3, 1855, and Norfolk and Portsmouth residents had been pelted with a steady drip, drip, drip of terror in the past month.
The steamship, Benjamin Franklin, had arrived on June 19 from St. Thomas in the Virgin Islands for repairs. A week and a half after that, on June 30, a doctor diagnosed the first cases of yellow fever in some tenements, just a few hundred feet from the shipyard where the Franklin was being repaired.
On July 8, after a man working on the ship got sick and died, the town council sent the infested ship back to quarantine. They posted guards on the causeway leading from the shipyard to the main part of town. When people living in apartment buildings across the river in Norfolk began getting sick, the mayor there walled off the tenements and stood guard himself.
But the biological enemy was too much. Every summer, ships steaming north from the Caribbean — with passengers already infected with the virus — would dock in an American port city, and unload all the ingredients of a yellow fever outbreak. Some summers were worse than others, depending on the weather or how often the fever had struck that particularly city.
The year before the Norfolk and Portsmouth outbreak, an epidemic had killed more than 1,000 in Savannah; two years earlier, a major outbreak took nearly 8,000 in New Orleans.
In Philadelphia, 1793, the most infamous yellow fever epidemic, President George Washington and the Congress fled the city to save the nation's government from an epidemic that eventually killed more than 5,000.
And that's why the people of Portsmouth were rushing toward the ferry that morning. No one knew what caused yellow fever. They did know that it tortured its victims: those who entered its fatal phase, sunk into a spiral of abdominal pain, vomiting, and dehydration that led to kidney or heart failure.
And they knew that the only sure way to save themselves, proven through dozens of yellow fever epidemics, was to get as far out of town as possible. An estimated six out of 10 residents fled. Many of the wealthy evacuated to springs resorts in western Virginia; others joined relatives in other towns or states, some got what they thought was far enough away and put up makeshift shelters along the road.
By October, in just 90 days, yellow fever killed more than 3,200 people in Norfolk and Portsmouth, about one out of three people who stayed behind. The young, progressive mayor died, along with the postmaster, police chief, the founder of an up-and-coming railroad, bankers, a journalist, ministers, doctors and nurses from other who rushed in from other cities to help. An entire family perished. You can drive five hours west to Elmwood Cemetery, for physical proof. Or you could go to the Jewish cemetery, the Catholic cemetery, two cemeteries across the river in Portsmouth, or stop by the mass grave right in the upscale section of town, West Ghent.
We seem to have forgotten, or we take for granted here in 2021, that there's one essential key to having a civilization, a country, state, or town: survival. In Virginia, we often look way back to Jamestown for that, but the fact is cities like Norfolk and Portsmouth were fighting for their existence well into the 1800s.
Deaths from typhoid fever, cholera, and particularly yellow fever plagued American port cities for at least 200 years. It's certainly a setback to a city's economy when more than one out of three of its residents, along with most of its government and business leaders, all die within three months.
Scientific confirmation that mosquitoes transmitted yellow fever didn't come until 46 years after that summer of 1855. Since they didn't know what carried yellow fever, there was no vaccine. In fact, even after a Virginia doctor named Walter Reed — long story, but history credits him — first scientifically identified the mosquito as the carrier of yellow fever, it took 36 years for scientists to develop an effective vaccine. Thirty six years.
Many disputed Reed's "unproven" mosquito theory, but one who did not was the man who headed health and sanitation for the Panama Canal Commission. The French had tried to build a canal decades earlier, but were thwarted by mosquitoes transmitting malaria and yellow fever. Mosquito-borne diseases killed 22,000 men. Building a railroad across Panama had killed an additional 12,000 French.
Armed with Reed's discovery, the health officer instituted mosquito eradication tactics, digging trenches to drain swampy areas, developing sanitary drinking water instead of using rain barrels, and quarantining workers who got sick. Nearly 5,000 men died, but the canal was completed.
In the U.S., though, yellow fever was already fading, even without a vaccine. The key was a simple invention during the Civil War. A Connecticut company, Gilbert and Bennett, was taking an economic hit because they couldn't sell their wire sieves in the Southern states. An employee had the idea: paint the wire cloth to keep it from rusting, then sell it as window screens. They filed for a patent in 1868. A Chicago Tribune ad the following year advertised them:
"The annoyances of spring and summer, such as flies, mosquitoes, dust, etc,., can be obviated by using wire window screens manufactured by Evans & Co, No. 21 Lake Street."
With screens on windows, mosquitoes couldn't fly into houses and bite people. The last significant yellow fever outbreak in this country was 1905 in New Orleans, when about 400 died.
Walter Reed's science gave Americans the know-how they needed to quell a major scourge through use of a simple invention: screens on windows.
Window screens, a face mask for your house.
Lon Wagner is a former writer for the Roanoke Times and Virginian-Pilot, for which he wrote a 14-part series about the 1855 yellow fever epidemic.