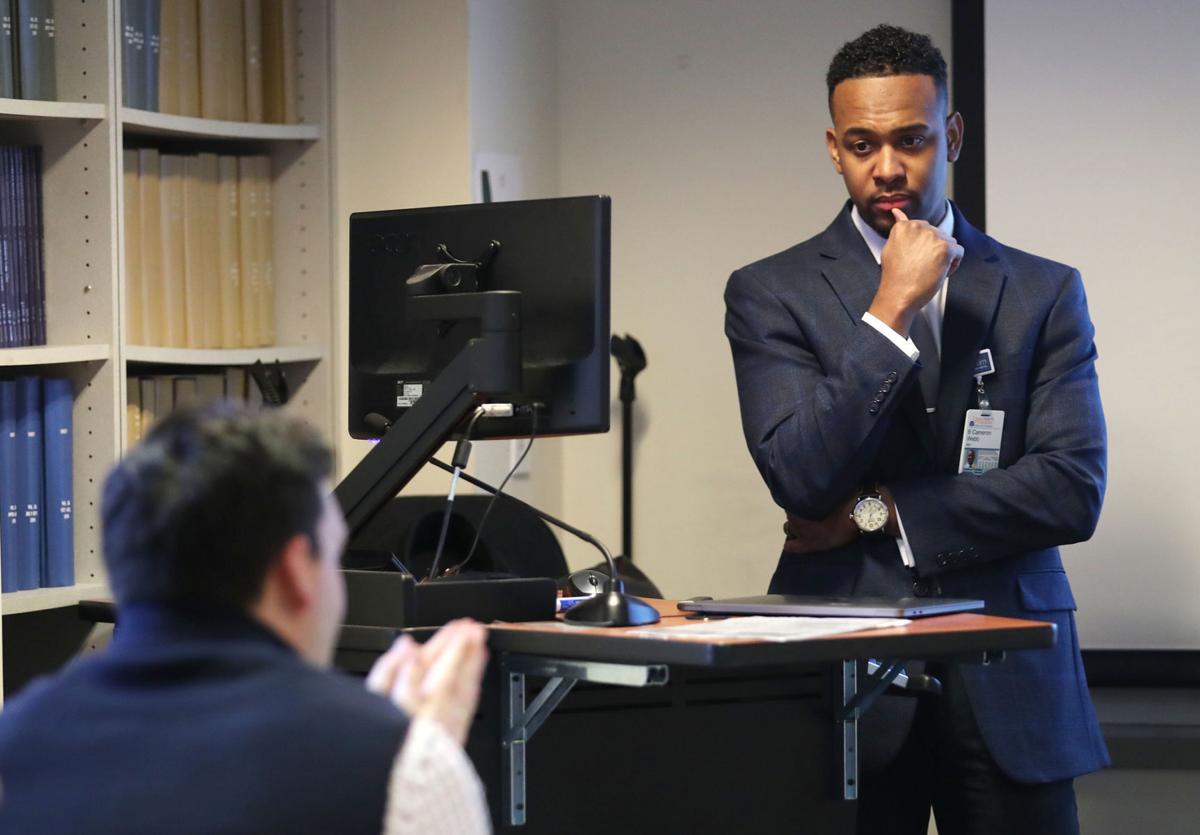 Webb is the Democratic candidate for the 5th Congressional District.
Editor's note: On Aug. 30, we published an editorial posting four questions for the candidates for the 5th Congressional District seat and pledged to run responses from the candidate. Democrat Cameron Webb responds here. The offer to Republican Bob Good still stands.
I am writing today to respond to the questions posed by The Roanoke Times to the VA-05 candidates. Thank you to the paper for creating a space for this critical conversation. I hope that this is only the start of a much larger discussion about how we can expand opportunity across our district. Please visit my campaign's website, drcameronwebb.com, to find out more about me and my views on policy.
Throughout the campaign I've heard about the pain caused by the issue of "the two Virginias," where Southwest and Southside Virginia have been left behind from the economic development that has come to the rest of the state. It is the reality and I pledge to face it head on and fight for our district so that economic and educational opportunities no longer stop at the 64 corridor.
1. What role, if any, do you see yourself playing in building a new economy for Southside Virginia?
It is critical for members of Congress to attract businesses and investment by using their platform to fight for discretionary funding and promote their districts, and I plan to do just that. I will also work to create the resources and environment needed for economic success. I think there are four critical components to achieving that: 1) rural broadband; 2) education; 3) job training; and 4) clean energy.
The necessity of investing in rural broadband cannot be overstated. COVID-19 has highlighted the problem as many are unable to effectively participate in remote learning or utilize telemedicine. I've experienced this first-hand with family in Southside and Appomattox. The solution starts with taking full advantage of the FCC's Connect America Fund and USDA's Reconnect Program to begin getting that last mile of infrastructure built.
I will expand upon education in question three, but investing in education and job training programs is essential for creating a workforce that will attract and sustain businesses. Expanding economic opportunity is one of the policy areas I worked on in the Trump and Obama White Houses and I hope to continue that work on behalf of VA-05.
Lastly, we have already seen in the region how effective clean energy can be in bringing new jobs and lowering the costs of energy. From the solar fields already finished in Ringgold and Dan River, to the seven more slated for construction in Halifax County, I will fight to further those investments to continue creating new jobs that are sustainable for the planet and tailored for the modern economy.
2. Have either of you read the report on the Southside economy from the GO Virginia economic development board?
I have read the report from GO Virginia Economic Development Board and think it highlights some of the problems we need to address in Southside, particularly how the education system has chronically failed our communities in the region.
Even without this report, the failure of the education system is just an evident reality. Only two of Danville's public schools have maintained full accreditation over the last few years and Standards of Learning scores have been decreasing in critical areas. There is no excuse for failing our children and it is something I will prioritize addressing as a member of Congress.
3. Is there anything you're proposing that would dramatically raise educational levels in Southside Virginia?
We must dramatically invest in our education system to ensure no child is left without the resources and opportunities for success. I believe we must invest at every level to do so and I support the framework of a "Marshall Plan" for education as described in your question. I think it is the right next step to ensure we increase funding for both education and economic development.
I could write an entire separate piece on education but some of the critical policies we must pursue include: closing the per student funding gap via federal funds, tuition-free community and public college for low income individuals, and extensive investment in vocational job training and apprenticeship programs. These actions would be a huge step in the right direction for raising educational levels and ensuring all our kids have opportunities for success.
4. How would you reverse the region's population decline?
I think the key to addressing the region's population decline lies in creating opportunities for economic success. From rural broadband to education to vocational job training, all of the investments addressed in my previous answers are key ways to create a thriving and sustainable economy here that will allow young adults and families to build their lives here rather than seeking opportunity elsewhere. No one should need to move out of Southside or Southwest Virginia to find opportunity, and I will work to make that a reality.
Catch the latest in Opinion
Get opinion pieces, letters and editorials sent directly to your inbox weekly!