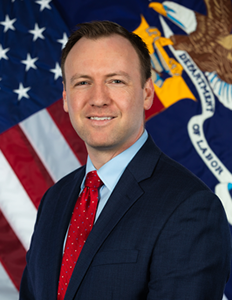 Wolfson is a deputy assistant secretary for policy at the United States Department of Labor.
Imagine a game of baseball where one team has home-field advantage, their own umpires, and can change the rules whenever they want. It would be impossible for visiting teams to win, and many would simply stop playing. Until recently, too much of the federal government's regulatory guidance was designed this way, with hidden rules that businesses only discovered when they were in violation. This vague red tape was a massive disincentive to play ball, which often got in the way of businesses hiring workers and expanding. The Trump Administration's unprecedented regulatory reforms started fixing this problem, bringing desperately needed relief to American job creators.
The scope of the problem is massive. The federal government's rules, the Code of Federal Regulations, fill more than 180,000 pages — clocking in at over 100,000,000 words. If someone's full-time job were to read all these pages, it would take them more than three and a half years, during which hundreds of rules would be added or changed. On top of these volumes, from 2008 to 2018 the federal government issued at least 13,000 more pieces of regulatory guidance. This number is an estimate because no one really knows how much guidance was even out there.
Guidance documents are supposed to provide clarity and help Americans comply with existing regulations to protect workers and the businesses that employ them. But for many years and culminating under the previous administration, guidance documents too often morphed into backdoor rulemaking, imposing sometimes onerous requirements on organizations without following the rigorous public-feedback process required for normal regulations. Worse yet, the public was often unaware the guidance existed, even when it was treated as legally binding by federal agencies. Some guidance was never made publicly available, was available only behind a paywall, or sat in a binder or drawer in some Washington office, and yet job creators were expected to comply. And when guidance was treated as a requirement, business owners lived in fear that a federal official would pull these documents out and threaten fines and other penalties for failure to comply.
This guidance body of law made lawyers happy, but it hurt workers and those who employ them. This system all changed last October when President Trump signed Executive Order 13891. The President's order ended this abusive practice and created a new, fairer system for American businesses and their employees. Across the Executive Branch, agencies must stop treating guidance as legally binding, take public input into account, and make guidance documents readily available. This Administration is committed to making transparency the new normal and using guidance to help businesses comply with the law.
Once the Executive Order was signed, the Department of Labor's Policy Office, which I lead, immediately started a Department-wide search and review of every piece of guidance the Department had ever issued — more than 11,000 documents, some dating back to 1954. We rescinded nearly 3,200 problematic pieces of guidance that were, for instance, outdated, unhelpful, or outside the Department's appropriate role. There are now 3,200 fewer guidance documents that business owners have to worry about before hiring additional workers or increasing employees' retirement benefits, and 3,200 more reasons to focus on creating jobs rather than jumping through invisible hoops. The helpful guidance that remains is now housed in a single, searchable online database (dol.gov/guidance) for everyone to access.
But that is not all. Per the President's Executive Order, DOL has also published a rule limiting our use of guidance in enforcement actions and giving the public opportunity to influence DOL's future decision-making about creating, revising, and even rescinding guidance. Across the Executive Branch, agencies are making similar much-needed changes.
Cutting obsolete, overbearing guidance is just one more way that DOL is advancing President Trump's deregulatory agenda.
Guidance should help businesses comply with laws and regulations — full stop. The era of the rigged game is over. This Administration is leading the charge to give job creators and workers alike every opportunity to succeed. Now that's a home run all Americans can cheer for.
Catch the latest in Opinion
Get opinion pieces, letters and editorials sent directly to your inbox weekly!