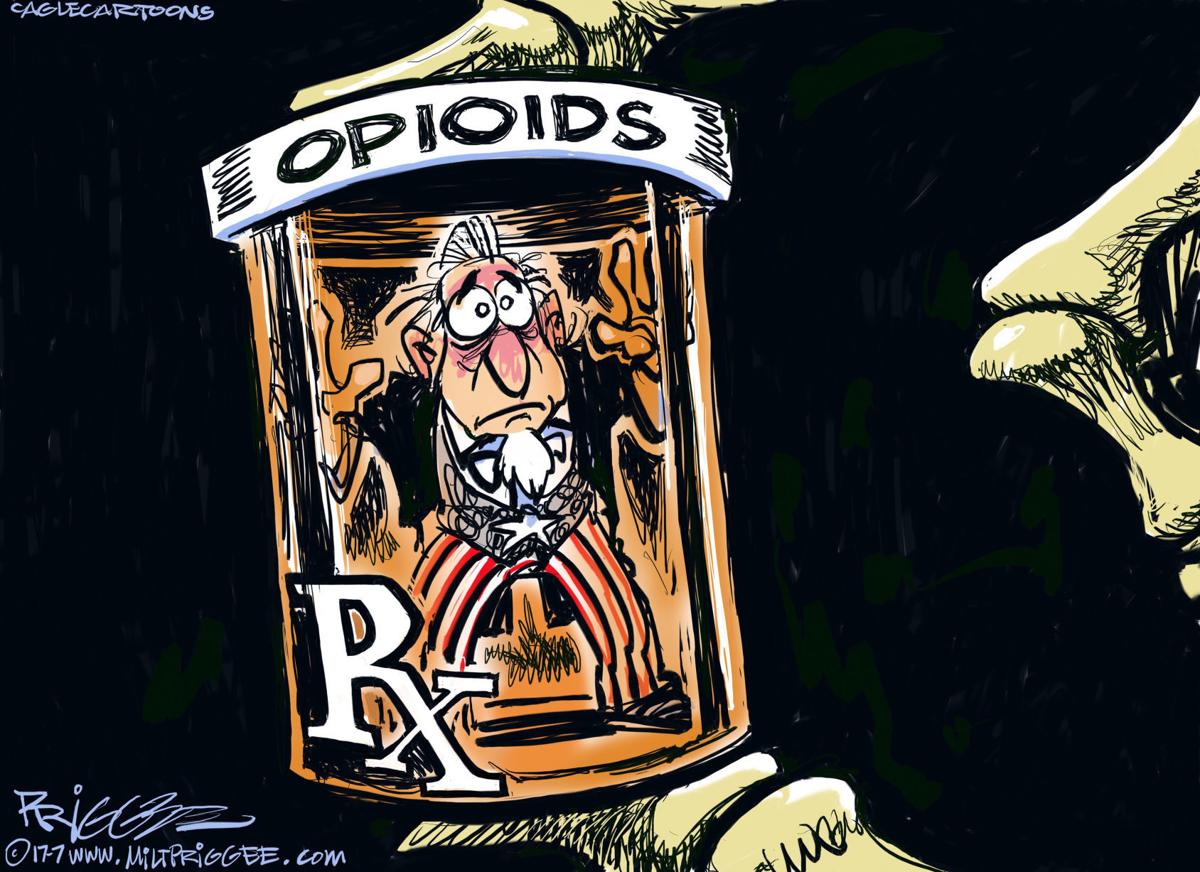 Cullen is U.S. Attorney for the Western District of Virginia.
The modern opioid epidemic is the most significant and vexing issue faced by law-enforcement and public-health officials in Western Virginia.
Initially fueled by the proliferation of OxyContin through the unscrupulous and illegal marketing practices of Purdue Pharma, the impetus for the epidemic eventually shifted to street heroin. Over the past few years, as overdose deaths have skyrocketed, the main culprit has been Fentanyl, a synthetic opioid 50 to 75 times stronger than a single dose of heroin.
The human toll is staggering. In 2017, more than 72,000 Americans died from fatal drug overdoses, up from approximately 63,000 in 2016. Stated differently, more Americans died from fatal drug overdoses last year than the total number of U.S. troops killed during the Vietnam War. Of these 72,000 overdose deaths, two-thirds were caused by opiates (primarily heroin) and opioids (mainly Fentanyl).
As The Roanoke Times recently reported, approximately 85 people died from opioid overdoses in the Roanoke Valley in 2017. Winchester, which was besieged by the epidemic long before Roanoke, saw 40 overdose deaths last year. This statistic confirms what local law enforcement and government officials have long feared: Roanoke is the new epicenter of this crisis in our district.
As U.S. attorney in Western Virginia, I have directed the prosecutors in my office to focus on meaningful enforcement initiatives to stanch the flow of these deadly drugs and deter misuse. From targeting and dismantling major drug-trafficking organizations that bring heroin and Fentanyl into our district, to prosecuting dope-peddling physicians and dealers who directly cause overdose deaths, we are committed to holding those most responsible accountable under federal law.
But while I firmly believe that vigorous prosecution is a critical part of dealing with this epidemic, it will not solve the problem. Accordingly, my office is taking a multi-faceted approach, supporting meaningful prevention and recovery programs.
Following the model started by my colleagues in the Eastern District of Kentucky, we are forming a Heroin Education Action Team (HEAT), which partners my office with families who have been affected by the crisis. These courageous mothers, fathers, brothers, and sisters will share their stories at community forums and schools throughout the district with the goal of helping others avoid the grief of losing a loved one.
We are also committed to meaningful and lasting recovery programs that address the root causes of addiction. Two weeks ago, Chief U.S. District Judge Michael Urbanski, the federal public defender, and I signed paperwork establishing a federal drug treatment court, one of only a handful of federal treatment courts in the country. Our program is unique because it will allow for medication-assisted treatment (MAT), if the U.S. Probation Office and the treatment provider recommend it as the best course of action.
The case for MAT is compelling, and is thoroughly discussed in "Dopesick," Beth Macy's groundbreaking (and heartbreaking) book tracing the origins and effects of the opioid epidemic in Southwest Virginia. In the book, Macy outlines the debate within the recovery community between proponents of MAT and those who support "sober," or abstinence-only, treatment programs.
Although MAT can take various forms, Macy explains that the most effective regimens involve intensive counseling and prescribing, under close medical supervision, opioid-based medications, like Methadone and Buprenorphine, to reduce cravings and lessen the awful effects of withdrawal. As Macy notes in her book, MAT has proven far more effective than abstinence-only therapy in helping the addicted break the vicious cycle of addiction and, in so doing, reducing the odds of relapse and accidental overdose.
Among the most compelling statistics cited by Macy is that less than 25 percent of opioid addicts who undergo abstinence-only therapy remain "clean" for two or more years. By comparison, up to 60 percent of those who undergo MAT do not relapse to illicit opioid use during that time period. These statistics firmly support the consensus among addiction experts that, in most cases, MAT should be the standard course of treatment for the opioid addicted.
MAT is not a perfect solution. Various individuals and groups, including some law-enforcement officials, treatment advocates, and state drug courts in Virginia, remain opposed to it. Among other things, these opponents cite the unlawful diversion of these opioid medications, which, because they are opioid based, can be abused, as well as the reality that many of those receiving MAT will need to remain on their medications for many years.
These risks can be mitigated provided that manufacturers, doctors, pharmacists, and counselors, who should be primarily motivated by wellness rather than greed, are vigilant and take action when abuse occurs. We will investigate and prosecute individuals and organizations who do not have patients' best interests at heart and who facilitate unlawful diversion of these medications.
Although we are optimistic about our federal drug treatment court, we recognize its limits. Because most who become ensnared in the criminal justice system end up in state, rather than federal, court, we will not be able to reach the majority of those suffering from opioid addictions. It is nevertheless my hope that our court will become a model for other jurisdictions in Virginia and pave the way for better treatment options.