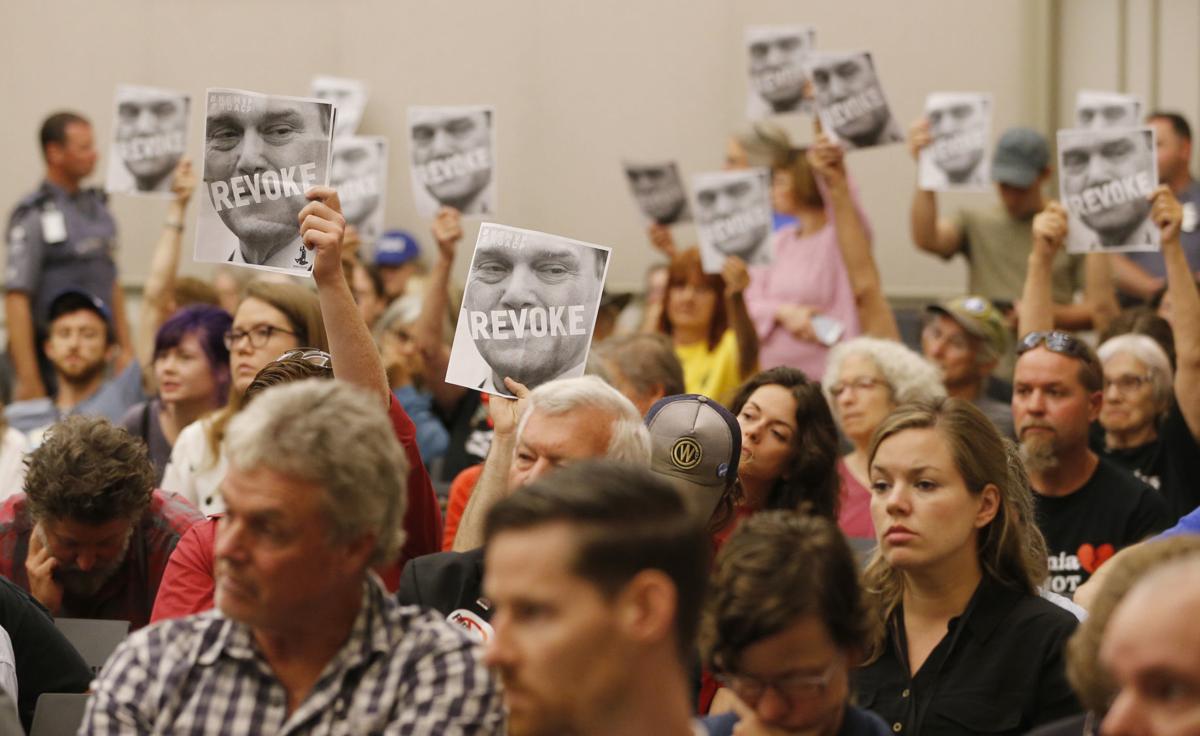 Hileman is an environmental hydrologist with a Ph.D. from the University of California, Davis. He was raised in the Catawba Valley of Virginia, and is presently a researcher at Stockholm University working on global water sustainability issues.
To Dr. Ralph Northam, governor of Virginia:
On Aug. 21, I was one of countless Virginians who stared mouth agape at the Machiavellian farce that was the State Water Control Board meeting where members reconsidered permitting for the Mountain Valley Pipeline (MVP). During an unhinged four-hour session, I watched leadership from the Virginia Department of Environmental Quality (DEQ) repeatedly ignore, gloss over, and misrepresent the overwhelming evidence that this pipeline should never have been approved, has already resulted in numerous violations of state water quality laws, and will continue to violate laws the state is obligated to enforce.
It is abundantly clear why the meeting of the Board was delayed for more than two months this summer: DEQ needed the time to whitewash its best — and still shamefully weak and flagrantly deceitful — case for this pipeline, and to compel a majority of the Board members to believe taking no meaningful action was their only recourse.
The crux of the DEQ's argument to the Board was patently absurd — that the state lacks authority to revoke Nationwide Permit 12. Unfortunately, DEQ was just getting warmed up. For the coup-de-grace, DEQ director David Paylor actually claimed that even if DEQ wanted to, it was powerless to prevent MVP from violating state water quality laws. That's right, according to Mr. Paylor, violations of state water quality standards are not by themselves sufficient to trigger a stop work order from the DEQ. Rather, all that can be done is to require MVP to reinstall the same ineffective sediment and erosion control devices that resulted in violations in the first place.
The State Water Control Law, however, says no such thing. Section 62.1-44.15:54 grants the Board unequivocal authority to revoke its approval of "linear projects subject to annual standards and specifications," including interstate natural gas pipelines. Similarly, Section 62.1-44.15:37.1 states that when an interstate natural gas pipeline results in "a substantial adverse impact to water quality," or "an imminent and substantial adverse impact to water quality is likely to occur," the DEQ has the authority to "issue a stop work instruction."
I fail to see how the DEQ's own actions are not a violation of state law. First, DEQ knowingly allows violations of water quality standards to occur, and then DEQ refuses to take corrective action that prevents predictable and repeated reoccurrences of violations. I strongly encourage you to review the relevant sections of the State Water Control Law yourself, and if you are as horrified as I am by what I can only assume was Mr. Paylor's attempt to honor corporate greed over environmental quality — and the lives of Southwest Virginians — kindly ask him to go. I reject the notion that Mr. Paylor is not smart enough to see through his own baseless arguments, and there can be no place in our state agencies for someone who so willingly flaunts the law, disregards facts, and condones harm to our irreplaceable water resources.
Gov. Northam, my academic and professional experience in water resources policy and management makes me keenly qualified to say DEQ has presented no evidence providing even a modicum of reasonable assurance that the construction and operation of MVP won't result in habitual violations of state water quality standards. The collective weight of the scientific community, who have presented many thousands of pages of technical information backing this statement, should keep you up at night.
This pipeline is not a critical infrastructure project as MVP faithfully repeats like a broken record. If it were, it would be routed and designed in a way that does not compromise the integrity of the pipeline itself. The biggest barrier to MVP being a successful project is MVP itself; it's an open secret MVP is in over their heads, and would not develop the project in the same way again. Yet MVP would rather proceed with a critically flawed project than risk not getting their pipeline at all. And DEQ appears to agree.
Gov. Northam, if you continue to side with pipelines over the people you were elected to serve, please tell me: what do you and the DEQ know — or fear — that forces you to disregard the law, science, and mountains of legally defensible evidence documenting environmental catastrophes along 103 previously pristine miles of Virginia? Alternatively, please share the evidence the DEQ has presented that gives you confidence this pipeline can be built and operated safely in our state.
One thing is certain: whether or not this pipeline ultimately gets built, you will forever be judged by your ongoing silence and lack of action.
Catch the latest in Opinion
Get opinion pieces, letters and editorials sent directly to your inbox weekly!